'Be Happy' mural completed in downtown Tyler
Updated: Jun. 21, 2018 at 11:01 PM CDT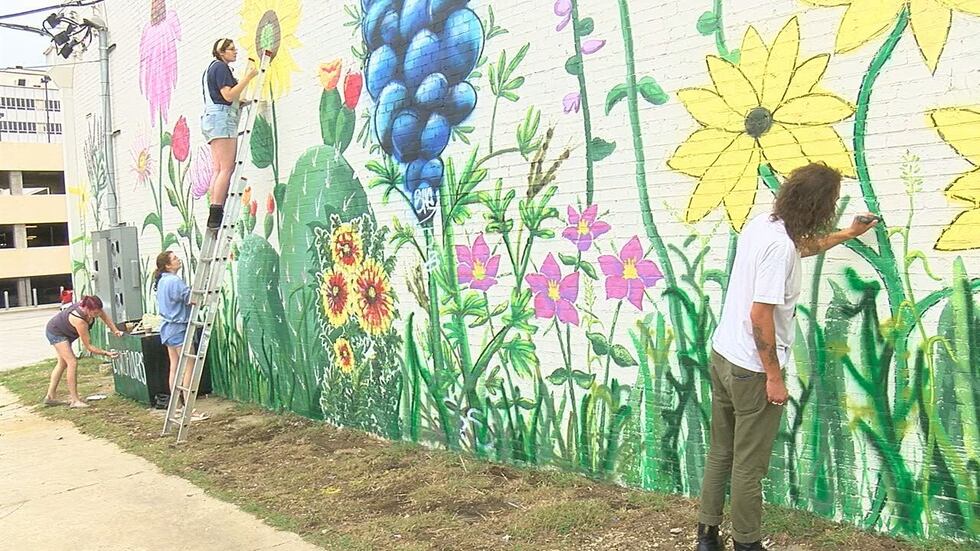 TYLER, TX (KLTV) - More than a dozen East Texas artists have been working over the past week to paint a new mural in downtown Tyler. It's an effort to help people 'be happy'.
The new mural is located on the back brick wall of the ETX Brewing Company. It faces South College Avenue.
The thirteen artists involved spent more than 100 hours on the piece that measures 70 feet X 20 feet.
Tyler native Lindsay Boone led the project. She says there are at least eighteen different East Texas native wildflowers on the wall because she wanted people to "see something that looks familiar." In addition to the flowers, "Be Happy" is inscribed in the center.
Annie Gilstrap with the ETX Brewing Company says the tag line for East Texas Brewing company is 'Beer Happy,' so it was an easy decision to shorten the line to 'Be Happy.'
"You can't look at the wildflowers and not be happy, they just bring a smile to your face because they're just joyful and bright," said Gilstrap.
Boone says her goal is to simply make people smile.
"You can see and experience the world around you in a much different way because of art, and that's what I want this to do for people," she said.
The artists involved include Lindsay Boone, Mikayla Willis, David Maldonado, Kate Googins, Tyler Shelton, Justin Fasulo, Rady Randall, Becky Martin, Maddi Travis, Jennifer Vaughn, Julianna Wynn and Chasity Erbaugh.
The artists ask that if you take photos with or of the mural, that you use #ETXWildflower when sharing on social media.
Copyright 2018 KLTV. All rights reserved