Gregg County DA race: The candidates speak out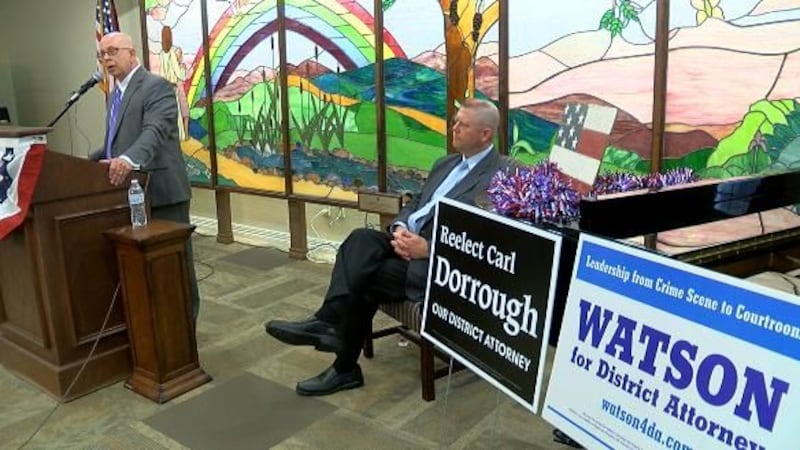 Updated: Mar. 5, 2018 at 7:11 PM CST
LONGVIEW, TX (KLTV) - Carl Dorrough, the incumbent Gregg County District Attorney has been challenged by former police officer and lawyer Tom Watson.
East Texas News sat down and spoke with both of them about why they each think that they are the right man for the job.
The two candidates were together at a political forum held in Longview on February 16.
Tom Watson said he believes his experience as a police officer, detective, and city attorney will aid him in prosecuting the accused.
Carl Dorrough thinks his time in the Gregg County District Attorney's office speaks for itself.
Watson started as a Kilgore police officer in 1994.
Dorrough has been DA since 2007 and in the DA's office since 1991.
Watson said he thinks cases should be prosecuted more quickly.
"In March of 2017, for instance, there were seven inmates in the jail that had been there from 3 to 5 years, and they were there just waiting for a trial. They weren't serving a sentence," Watson said. "These were individuals that had been arrested, and they had been lingering there waiting for a trial date, and it comes to a great expense to the taxpayers of course."
"We owe, not only to the citizens of this county but particularly to the victims to make sure that when we step up and step into the courtroom, we have all of our ducks in a row, we have everything in place so that we can, on behalf of the state of Texas and the victims, put our best foot forward, and try the case on the evidence because we don't want to be in that position of second guessing down the road if we did something wrong," Dorrough countered.
Since last March, Dorrough and his team have disposed of six of seven of those cases.
"If you can do that in an eight-month period of time with an opponent coming forth, why haven't you been more diligent in getting these cases ready and taken to trial previously?" Watson stated.
"We have to ensure the integrity of the system is in place and that the law that applies to me is the same law that applies to anyone else. No one is above it; no one is below it," Dorrough said.
Watson has been running his campaign with the endorsements of the Kilgore and White Oak police chiefs, and the Gregg County Sheriff.
"It's very unprecedented for those kinds of agencies or those associations, especially the chiefs and the sheriff, to come out and endorse the challenger over the incumbent," Watson stated.
Dorrough said his door is always open to law enforcement working on a case.
"There are a number of officers who support me and have publicly said so," Dorrough said.
"I think that with my diverse skill set, I think it would serve very well for the voters and for the citizens of Gregg County because I'm more rounded in the whole legal area," Watson stated.
"Experience in this office, knowledge in this office, independence from other entities, the non-political manner in which I've run this office are vitally important," Dorrough said.
Election Day is March 6, and Gregg County is using countywide polling places for this election. That means any registered voter can vote at any Gregg County polling place that is open on Election Day.
Copyright 2018 KLTV. All rights reserved.