Tyler woman's social media post goes viral when she felt someone was following her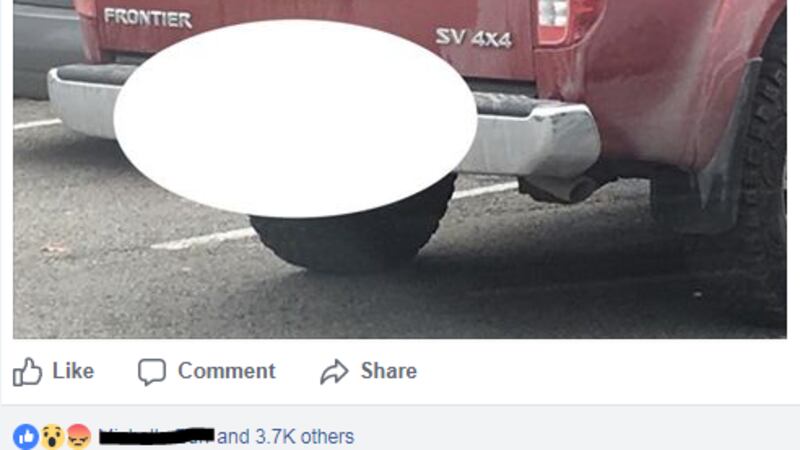 Updated: Jan. 3, 2018 at 8:14 PM CST
TYLER, TX (KLTV) - An East Texas woman says she felt threatened by a stranger while shopping on Tuesday, and her social media post about the incident has sparked a conversation about safety and social media accusations.
Wife and mother of five Calli Williams went shopping at Dillard's in Tyler's Broadway Square Mall Tuesday afternoon.

"I could feel someone behind me," Calli Williams says.

Williams says she believed a hooded man was following her, with intention to hurt her. Immediately after Williams got safely into her vehicle, she informed local authorities of a potential threat, and later posted a picture of the man's vehicle, with a warning to Tyler residents on Facebook stating, "if you see this vehicle, protect yourself…this post was made to inform and make others alert."
Tyler Police Officer Don Martin says she did some things right.

"She did the right things, because once she came back into the store, she noticed this person was acting unusual, their behavior was not the norm of trying to hide the face, being a little too close to her and then following a little too close to her," Tyler Police Department Public Information Officer Don Martin says.

Although he agrees with those actions Williams took, Officer Don Martin says by then posting the accused's license plate number without hard evidence of a threat could be considered false accusation.

"When they post this on social media websites, it's almost like they are convicting someone, and putting their information out there, the suspect's information, the vehicle information, the license plate, and maybe they haven't done anything wrong," Martin says.
The man who is the subject of Calli Williams' post responded with his own post on social media. He said that he was shopping with his wife that day, and that he did not intentionally frighten Williams when they walked out of the store at the same time.
The man said via his daughter's social media post that he spoke with the officer from the mall on Wednesday about the incident. He said that he asked if there were reports to security during the time frame the incident happened, but the officer said no report was made. The officer ran a background check on the man, he said, and then decided the incident was "a big misunderstanding, and that "I was in the wrong place at the wrong time."
He asked Williams to remove the post since he had been cleared by authorities. 
Williams responded, also on social media, saying she did encounter a situation that made her feel threatened. She said "I do not retract anything I said or how I felt, but I do regret sharing his personal information on social media."
She went on to say she "took the power of social media for granted and for that I am sorry, and I am publicly apologizing for not keeping my experience more private," and "This man meant no intentional harm to me. I removed my post." 

Williams says she hoped to warn others to be aware of their surroundings when she posted the picture,  which received 20,000 shares, and nearly 1,000 comments,  She says she received an abundance of backlash after posting her warning, but she says she will not let it stop her from wanting to inform the public of potential danger.
Police say if you experience any kind of potential threat, make sure to immediately call authorities.