Power of Prayer: Protestant Reformation 500th anniversary
An English-language ministry is reaching out to the thousands of visitors making a pilgrimage to the German city known as the birthplace of the Reformation.
Updated: Nov. 7, 2017 at 3:34 PM CST
WITTENBERG, GERMANY (KLTV) - As Christians around the world mark the 500th anniversary of the start of the Protestant Reformation, an English-language ministry is reaching out to the thousands of visitors making a pilgrimage to Germany.
On October 31, 1517, Martin Luther, a German monk and professor of Bible studies at Leucorea University in Wittenberg, Germany, is said to have tacked a series of writings on Castle Church. The list proposed reforms within the Catholic Church, eventually sparking the creation of thousands of new denominations.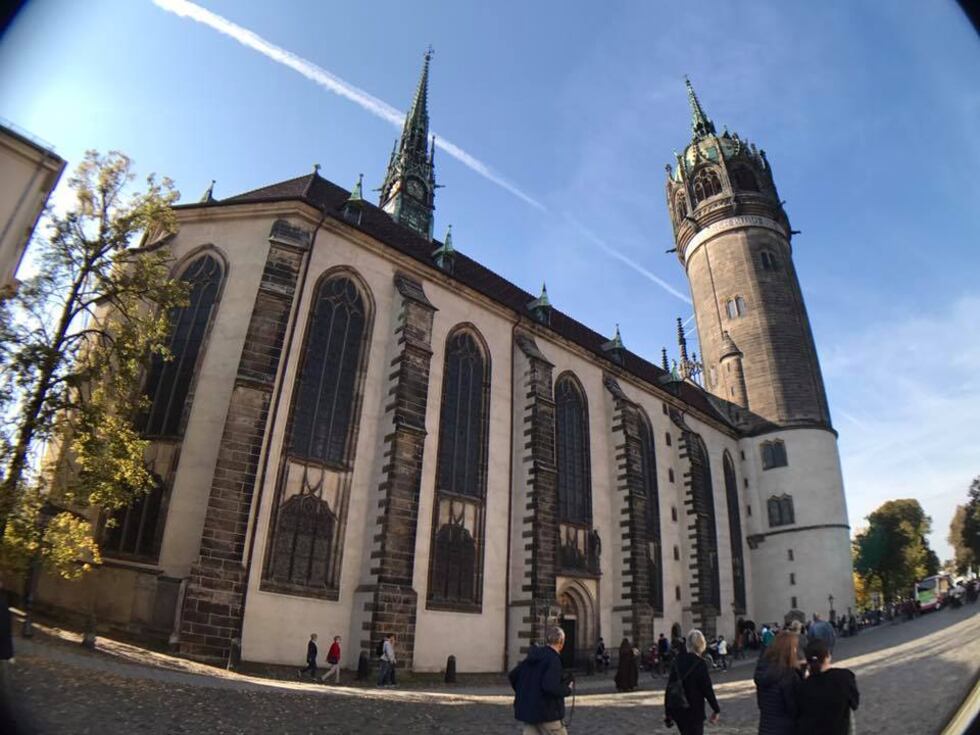 For the last two decades, Wittenberg English Ministry has been educating the town's visitors on the impact Luther's 95 theses had on Christianity. Reverend Robert Flohrs, a Lutheran pastor, serves as the executive director.
"He (Luther) and his colleagues, the fellow reformers -- the Lord put them in this place at this time and to really challenge people in their faith to look to scripture and not to human beings for their guidance."
The ministry offers five services each week in Wittenberg's historic churches.
"We get people to read scripture or preachers come from all over the world, mostly North America, to preach here for two weeks."
Just as Luther's translated Bible spread scripture across 16th century German, people today are discovering the Protestant Reformation in a familiar language. Already this year, more than six thousand faithful have worshiped together in English.
Luther's legacy is clearly visible from all points in Wittenberg. Words from his famous hymn 'A Mighty Fortress is Our God' now adorn the bell tower of Castle Church. Luther is buried inside, encircled by statues of his fellow reformers, including Philip Melanchthon.
Reverend David Mahsman, of St. Louis, Missouri, is spending two weeks in Germany as a guest pastor. His sermon is on God, change, and the Reformation.
"This is the place that God chose to restore the Gospel to the church and to the world," Mahsman said.
Ministers share their biblical messages from the same pulpit where Luther preached five centuries ago.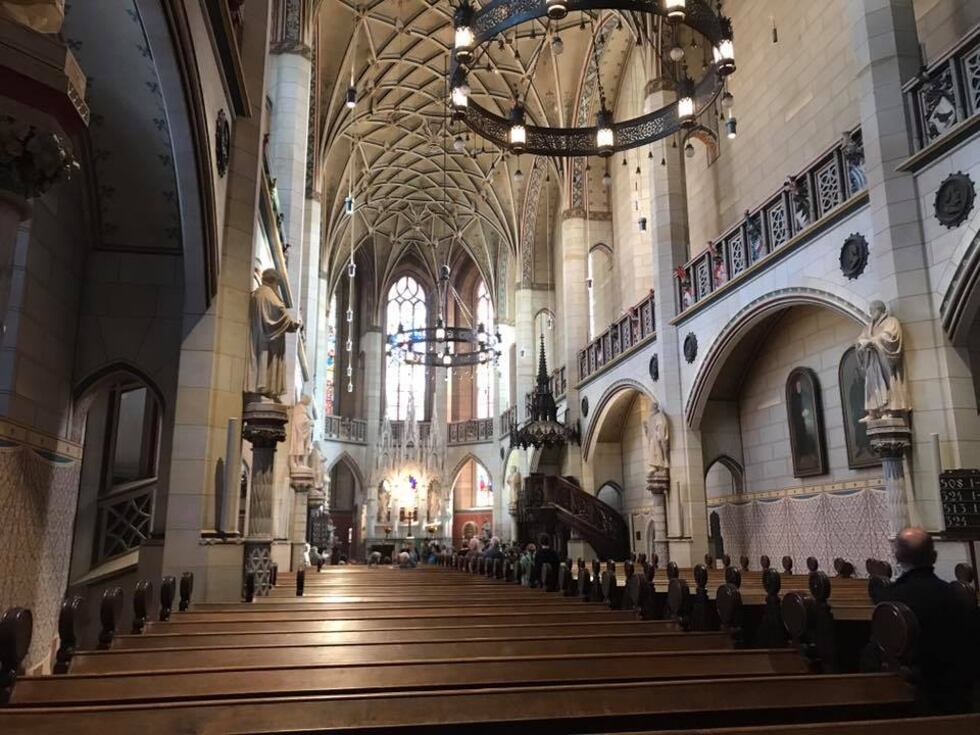 "I can tell you that so many more people have come here this year have been, shall we say focused on the Reformation, who never thought of it before," Mahsman said. "They're coming to a realization about again what happened in this place and the importance of the gospel of Jesus Christ and their lives and the lives of fellow Christians. Something that happened here that, you know, you can't go to another place quite like this."
Luther's teaching on the relationship between God and the individual can be explored in many of the town's Renaissance-era churches.
"People have told us that it is very moving to come to the historic churches," said Flohrs. "The castle church that you see in the background, and the Town Church down the street, and the little Kapelle -- the chapel where Martin Luther did baptisms and weddings."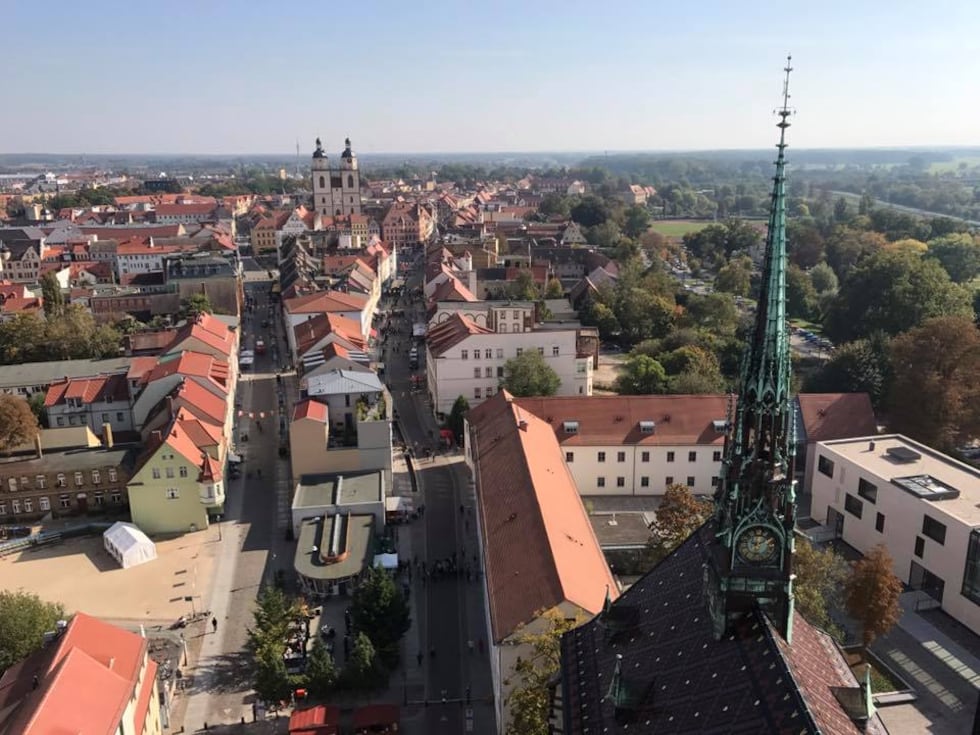 At Saint Mary's Town Church, Luther's influence is even reflected in religious art. The 16th century altarpiece painted by Lucas Cranach the elder illustrates Lutheran Sacraments, the Last Supper, and even Luther as a teacher.
"I think that's part of what we're trying to do here at English Ministry is to remind people that scripture really is what we Christians need to be paying attention to. Because of all the challenges in the world, that it really comes down to following scripture and what it says, and its encouragement to us through the life and times of Jesus Christ."
Centuries after his spiritual revelation, Martin Luther's bold actions are still echoing throughout Christianity.
Wittenberg English Ministry has grown to include devotionals and services from May to November each year. They are planning special tours and commemorations throughout 2017 for the 500th anniversary of the Reformation.
To learn more about their purpose, click here.
Do you have an inspiring journey of faith or know of a ministry that's making a difference in your community? To share your experience with the Power of Prayer, send us an email by clicking here.
Click here to learn more about our long-running Power of Prayer series.
Copyright 2017 KLTV. All rights reserved.