Longview Animal Control supervisor helps pass cruelty law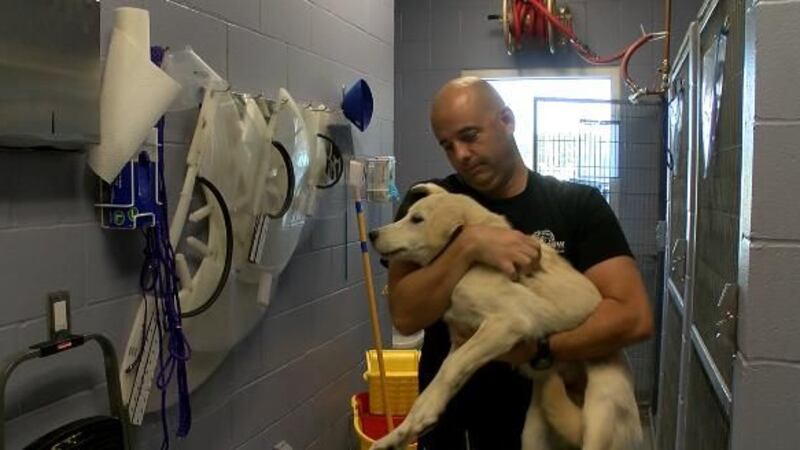 Published: Oct. 22, 2017 at 10:57 PM CDT
|
Updated: Oct. 23, 2017 at 6:27 AM CDT
LONGVIEW, TX (KLTV) - With the passing of Texas Senate Bill 762 it became a felony 3 to abuse or torture an animal in the state of Texas. There have been two cases of animal abuse in Longview since the law was enacted; One involving a man who hit a cat with a baseball bat. An arrest was made in that case.
There was also a dog found in Longview with an arrow in its back. That dog, named Robin Hood by employees at the Longview Animal Care and Adoption Center, was adopted Saturday, just hours after being cleared for adoption after recovering from surgery. Police are still investigating that case.
Chris Kemper with the Longview Animal Control spoke to the Senate to help get the bill passed into law.
Chris Kemper does a little bit of everything at the Longview Animal Care and Adoption Center. Sometimes he aids Veterinarian Christine Prior in surgical preparation.
He has also worked several animal abuse cases. That why he and seven others from across Texas spoke to the State Senate about:
"Why it was important to have enhanced punishment for the most heinous of crimes: intentional acts of animal cruelty. Acts like torture. Acts like hitting a cat in the head with a baseball bat. Acts like shooting a dog intentionally with a crossbow, and that punishment was enhanced and it passed," Kemper explained.
And the two cases he mentioned happened after the law went into effect.
"Which probably makes us one of the first areas in the state to have actually used this enhanced punishment," Kemper said.
He says the link between cruelty to animals and people has been established.
"Acts of cruelty towards animals are red flags; are indicators and predictors of future behavior. So it doesn't mean anyone who abuses an animal is going to go on to become a serial killer, but it does mean that nearly everyone who is a serial killer started on animals," Kemper stated.
But he feels a stiffer penalty could make abusers or potential abusers think twice:
"And maybe intervene before it reaches the point that it elevates towards crimes against people," Kemper said.
And, Kemper adds, as part of their punishment, the guilty offender may have to pay for the animal's health care and/or be banned from owning another animal.
Kemper says he was invited to Austin by the Texas Humane Legislation Network who helped sponsor the bill. With the new law those found guilty of animal cruelty spend 2-10 years in prison.
Copyright 2017 KLTV. All rights reserved