Military records dispute East Texan's claim of lost Christmases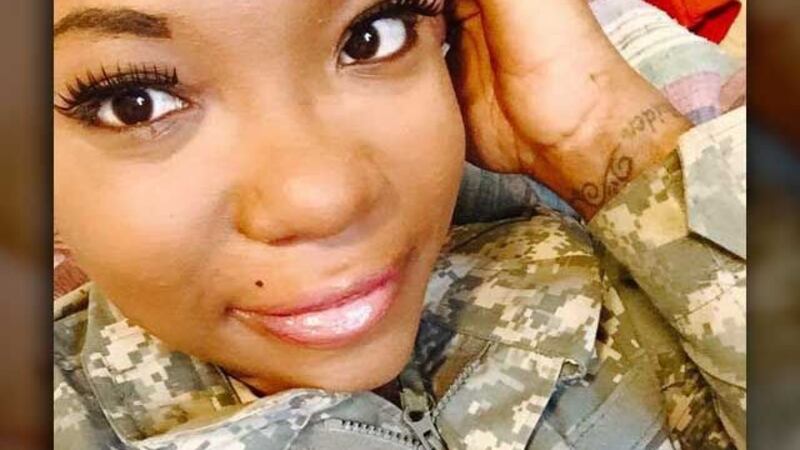 Published: Dec. 30, 2015 at 1:07 AM CST
|
Updated: Dec. 31, 2015 at 3:31 AM CST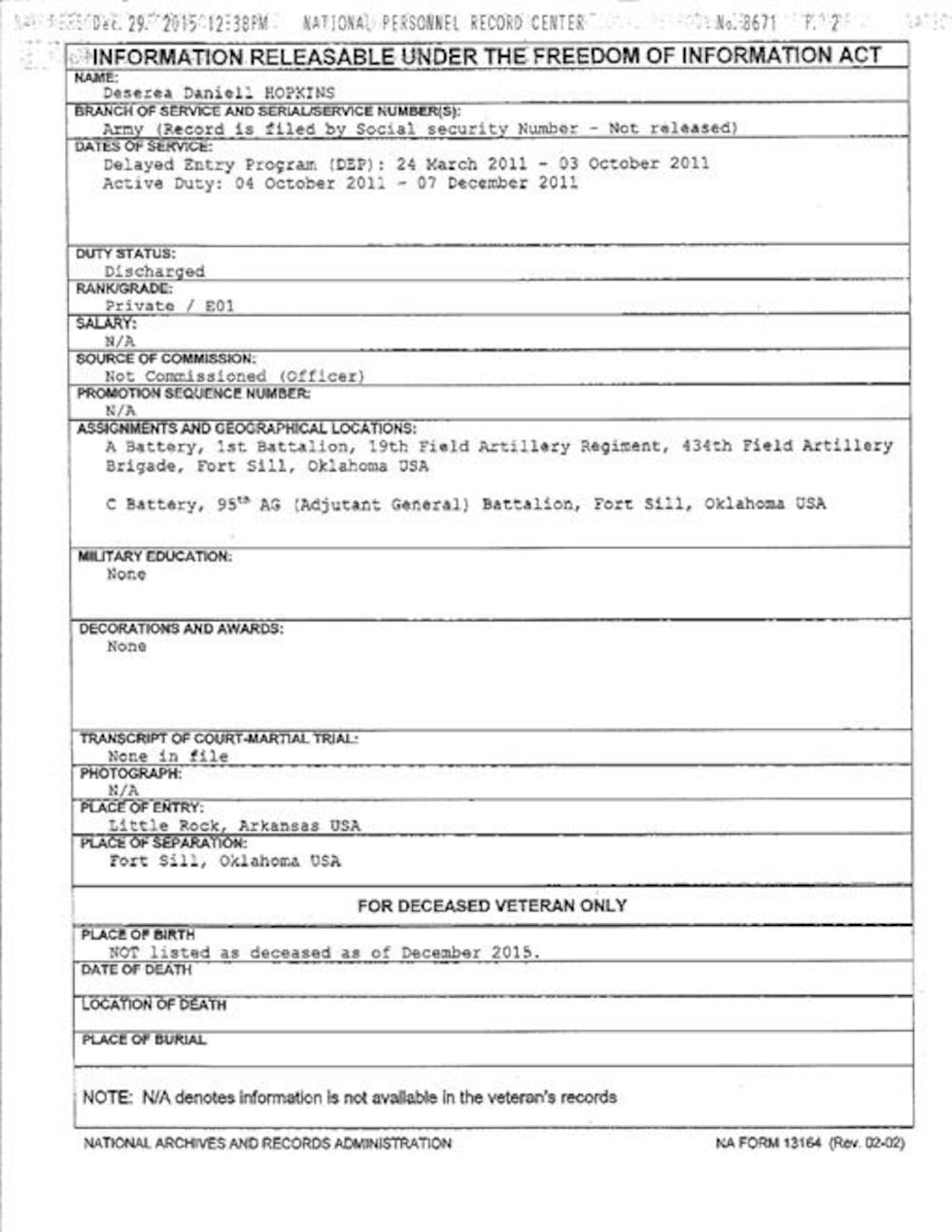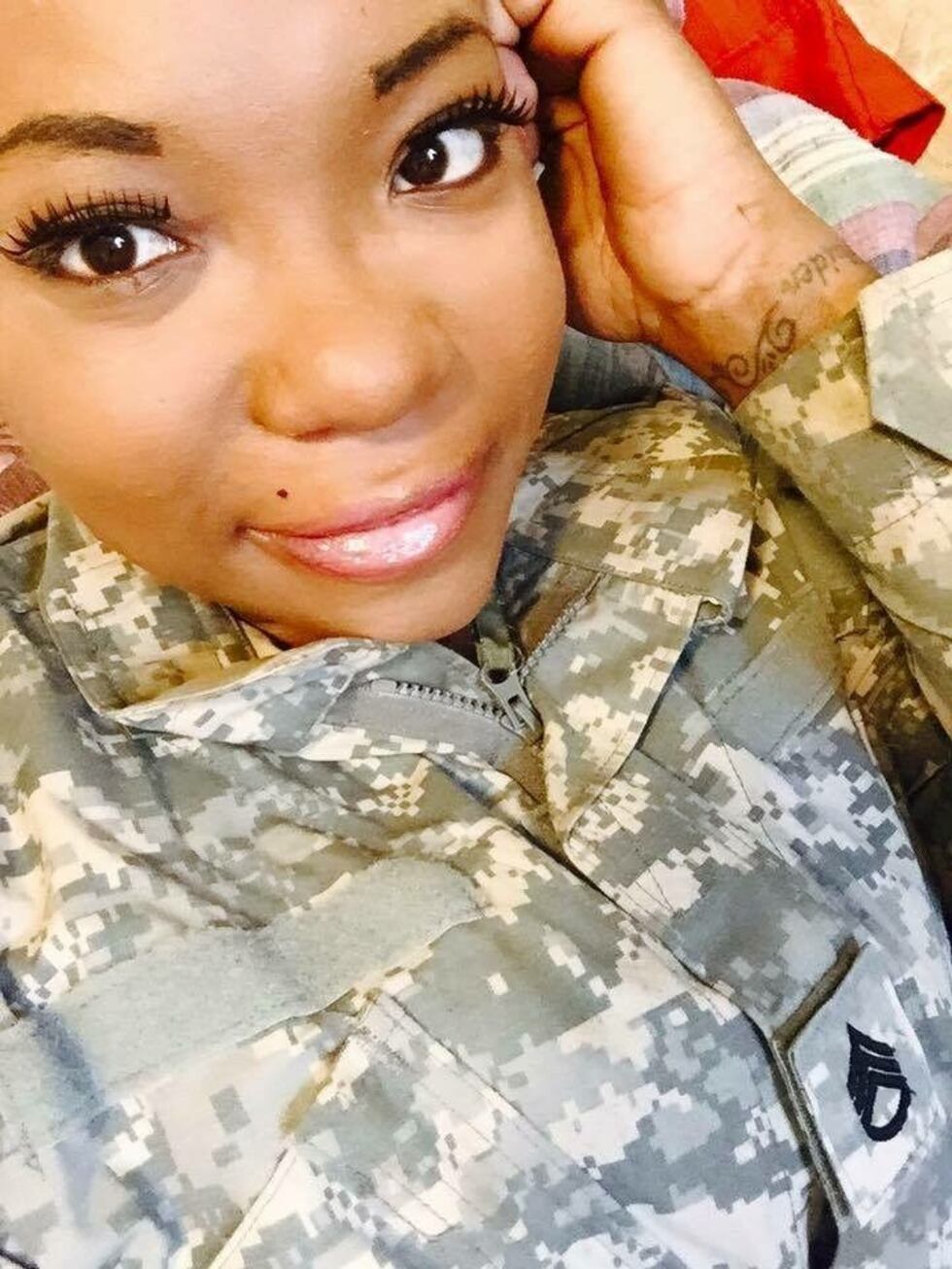 LONGVIEW, TX (KLTV) - On Dec. 24, we contacted the East Texas Military Family and Friends Support Network and told co-founder Anna Gonzales that we were looking to do a story that day with a veteran or military family.
Gonzales gave Deserea Hopkins our reporter's phone number. Hopkins called our reporter, and we interviewed her and her children for a story that aired in our 5 p.m. newscast on Christmas Eve.
Due to multiple complaints we received about Hopkins and her military service, we contacted the U.S. Army. Today, Dec. 29, we obtained an official copy of Hopkins' U.S. Army discharge record that shows the information she provided to us was not accurate.
Hopkins enlisted Oct. 4, 2011, in Little Rock, Ark. and separated from the military just over two months later, according to NA Form 13164 provided by the National Personnel Record Center the National Archives Records Center. Hopkins was discharged Dec. 7, 2011, at Fort Sill, Okla., having never risen above the rank of private first class. A photo Hopkins provided shows her wearing the patch of a higher rank.
Records also reflect that Hopkins' active duty did not occur over any Christmas holiday.

The military document shows Hopkins did not deploy overseas. Hopkins claimed during the recorded interview that she had been on two deployments – one in Iraq and another in Afghanistan. She also claimed to have, "kicked down doors" and made arrests. None of those claims are substantiated by military records. Quite the contrary.

In addition, the documentation shows Hopkins earned no decorations or awards.

The story and the documents do not match. 

So, how did this happen?

To find out, we contacted Gonzales again. Gonzales said she personally helped Hopkins' family by giving them gifts and food, and that she believed Hopkins' story was credible.

"I had no reason to doubt [Hopkins' story]" she said Tuesday. She said she did not ask Hopkins for a DD214.

Gonzales also said she believes this is the first time she and her organization have been scammed in 10 years of service.

Hopkins came to Gonzales as a direct referral from a good Samaritan who wanted to help. Gonzales said this is the first and only time she has taken on a case brought to her by someone other than an established group. Normally, Gonzales said she finds people to help through veteran recognition groups, such as the Jaycees.

In messages to Gonzales, the good Samaritan said Hopkins has "had a tough life and has bounced back and finished high school, has a college degree, and an Army veteran."
Gonzales said that in her assistance interviews with Hopkins, Hopkins spoke about being deployed overseas. Gonzales said she was convinced that Hopkins was a veteran, and was in need.
Gonzales said she also felt confident because she knew Hopkins had spoken with Lori Thomas with the East Texas Veterans Resource Center. Thomas said she also did not ask Hopkins for her DD214, because Thomas assumed Gonzales had "already vetted her."
We contacted Hopkins on Friday after we began hearing from concerned veterans. We asked Hopkins to provide her DD214; she said she would have to get it from her house that night after her family celebrated Christmas.
Friday night, she said she could not find the document and she would check a safety deposit box or get another copy from the VA if she could not find it. On Monday, we spoke with her again, and she said she was at work. That's when we requested the official document from the U.S. Army.
On Monday afternoon, however, Hopkins chose to stop communicating with us. A final text message says, "I'm done. There's nothing I can do to prove to the world I am not a liar & I don't even want to argue anymore. No matter what I'll never have my life back."
Others who helped Hopkins during the holiday season have also reached out to us.
Stoney Stamper, a local author, told us he does a Christmas giveaway to underprivileged families in the area. He said, "we bought her $500 worth of gifts for her children, and I personally delivered them to her home last week."

We appreciate the hundreds of people across the country who recognized the apparent discrepancies in the story Hopkins told to us, as well as to local veterans assistance groups.
We regret that our efforts to recognize the sacrifice made by our military men and women turned into a story that misled and angered those it was meant to honor.
Copyright 2015 KLTV. All rights reserved.