Capital murder suspect's shock belt administered, judge terminates self-representation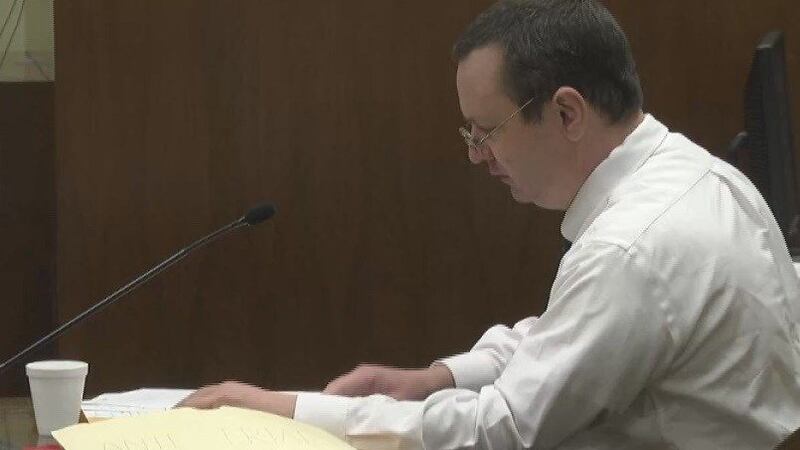 Published: Sep. 15, 2015 at 4:14 PM CDT
|
Updated: Sep. 15, 2015 at 11:43 PM CDT
SMITH COUNTY, TX (KLTV) - Editor's Note: The murder trial for capital murder defendant James Calvert continued Tuesday. Cody Lillich is in the courtroom providing live coverage through 7OnScene; follow his updates here.

Proceedings began Tuesday morning much like every other day of the trial -- objections from Calvert on previous testimony, and a verbal disagreement between the defendant and trial judge Judge Jack Skeen, Jr before jurors are allowed in the courtroom. Court ended with a shock, literally to Calvert's shock belt, and Skeen terminating Calvert's self-representation.

Early Tuesday morning, while the jury waited in the hall, Calvert raised issue with another court reporter being brought in to transcribe testimony. Judge Skeen said in order to get those transcriptions to him daily, the court must have deputy court reports working in the hearings.

READ MORE: James Calvert capital murder trial

Calvert tried to claim some court reports are under investigation, in which Skeen called out immediately as a lie, "Denied. That's it, bring in the jury."

After jurors were seated, testimony resumed from Detective Craig Shine, who led the investigation into Jelena Sriraman's death. Audio from the microphone Shine was wearing while Calvert was being booked was played, detailing his stubbornness to hand over the clothes he was wearing, which were used for DNA and evidence purposes.

He also tried telling the detectives that we wouldn't get in trouble for damaging his cell and acting up while in custody.

"Let's see. Oh, capital murder, is there anything above that?" Calvert was heard on recordings from the Tyler Police Department interview room following his capture.

First Assistant District Attorney April Sikes resumed questioning the detective about Calvert the night of his arrest, asking if Lucas, Calvert's then 4-year-old son, wasn't there if he would've shot at officers.

"[Calvert] said he would've shot those idiots," Shine said.

Shine then went into detail on the tactics used in interviewing Calvert. Shine is a member of the Tyler Police Department's Crisis Negotiation Team, and pointed out moments where he believed Calvert was intentionally changing his speech patterns. From the interview, the detective recalled Calvert's timeline of events before and after Sriraman's alleged murder, but never spoke of the time of the alleged murder.

He also recalled when Calvert said it was a good day for his son, Lucas.

"Was it a good day for Lucas?" Sikes asked Shine.

"It was probably the worst day of his life," the detective replied.

Shine also testified about a part of the interview where Calvert implied he had knowledge of where Sriraman was murdered. When Calvert was asked about witnesses during his interview, he told detectives he did not know anyone who lived around her.

Sikes then presented the court the alleged murder weapon, asking Shine whether the .40 pistol was mentioned during his post-arrest interview.

"Calvert didn't tell you about a .40 in the interview did he?" Sikes asked.

"No, he omitted that," the detective replied.

Sikes also mentioned the number of weapons police found in Calvert's trunk, some of which were pointing in Lucas' direction; a mention Calvert hotly objected.

"She's asserting the weapons were pointed at the child," Calvert exclaimed.

"I sure am," Sikes replied.

Calvert alleged that police records aren't allowed in evidence, and called Tyler police property log "untruthful" and "biased". When Sikes asked how the accusations makes Shine feel, he replied "considering the source, I'm fine."

Calvert then began questioning the detective about search warrants executed at his mother's home in October 2013, where in at least one instance, two dozen guns were confiscated from her home.

"I just want the jury to know the truth," Calvert said.

"What you can't handle is the truth," the judge replied.

The assistant district attorney said the truth is the state agreed to suppress the search of the home to protect Calvert's rights, which caused Calvert to laugh out loud in court, and Judge Skeen to excuse the jury for yet another discussion on courtroom manners. He even threatened Calvert that one outburst and he would be removed by "whatever means they have to control you."

"You are a defiant defendant. A rebellious defendant," Skeen told Calvert. "I've gone as far as I'm gonna go." 

After jurors were allowed back into the courtroom, Calvert began a second stream of questions about the search of his mother's property, forcing the judge to put order in record that Calvert be forbidden to mention the search, or his self-representation would be dissolved.

Calvert objected to security sitting so close to him, and requested the judge admonish him.

"If I'm gonna admonish somebody, you know who it's gonna be," the judge said.

Calvert then asked if police placed license plates in his car the day of his arrest, which Shine vehemently denied.

"James Calvert, don't you ever accuse me of committing a felony again," he replied.
He followed the question up by remarking on how "highly offensive to [the] jury and [the] courtroom" the capital murder defendant's line of questioning was.
Calvert refused to stand up when talking to the judge, leading a deputy in the courtroom to administer the shock belt worn by Calvert. The capital murder defendant screamed for about 5 seconds before Judge Skeen terminated his self-representation.
"I should have done this a lot sooner," Skeen said. "I don't have to take it. You're out." Court was then adjourned.

James Calvert is accused of shooting Jelena Sriraman before abducting their then 4-year-old son Lucas and fleeing to Louisiana, where he was eventually arrested. Calvert is acting as his own legal defense. Smith County District Attorney Matt Bingham has said he intends on pursuing the death penalty.

Copyright 2015 KLTV. All rights reserved.