Overton girls give out free lemonade after being shut down on Monday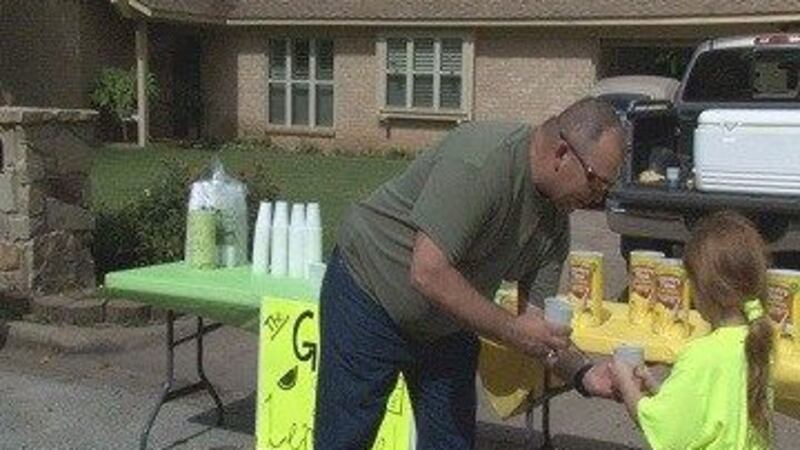 Published: Jun. 13, 2015 at 8:34 PM CDT
|
Updated: Jun. 14, 2015 at 12:39 AM CDT
OVERTON, TX (KLTV) - Nearly 150 people made their way to one East Texas neighborhood for a taste of what has become some controversial lemonade.
On Saturday, Zoey and Andria Green gave away lemonade in their yard for free, after their lemonade stand was shut down on Monday.
"I admire these children for wanting to do something for their daddy," Overton resident, Ruby Stanton said.
It was that admiration that brought Stanton and many other supporters out for a cup of lemonade.
"It's great, it's building good character," Shreveport resident, Steve Maxwell said.
Police shut down the sister's stand on Monday because they didn't have a permit. Stanton says that action may send the wrong message because children need to learn the value of a dollar.
"I think the psychology of it is all wrong because we need to teach our children that when they want something extra, they need to work for it," Stanton said.
Nelwin Perry lives next door to the girls. She was at the lemonade stand on Monday when the police came and shut it down.
"I just don't think it was handled correctly," Perry said.
When Louisiana resident Steve Maxwell heard their story, he agreed and drove this morning to Overton because he believes the police chief could have made a different call.
"I think he's got more important things to take care of," Maxwell said.
Perry hopes all of the support from today will eventually lead to action in the future.
"I'm glad there is support. And it's not so much for the police, it's support for the girls and the law that maybe needs to change," Perry said.
Even though the lemonade today was free, the girls and some of their friends greeted every guest with a smile and a cup.
Supporters believe this moment is preparing them for the future.
"This is something that they have learned how to deal with adversity and how to overcome adversity," Perry said.
Copyright KLTV 2015. All rights reserved.