TJC pitching duo happy to return from Tommy John rehab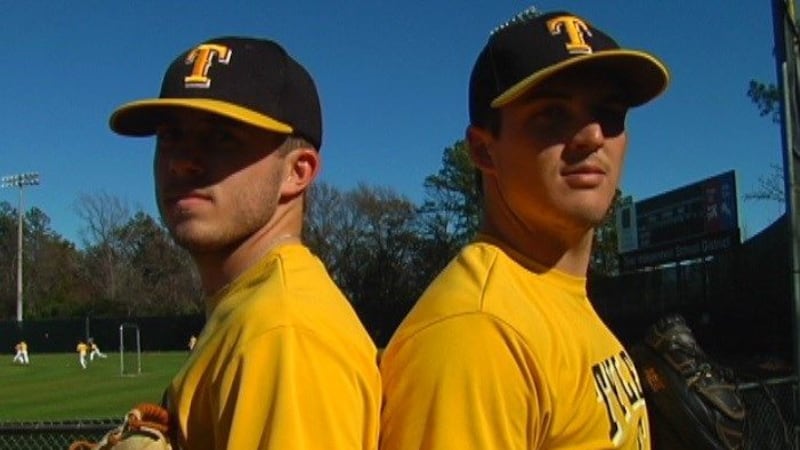 Updated: Feb. 9, 2015 at 10:07 PM CST
TYLER, TX (KLTV) - As a freshman at Vernon Junior College, Palestine native Jimmy Johnson's baseball future was in doubt.
"It was the second round of conference and I felt a pop in my elbow," said Johnson. "I kept pitching and knew something wasn't right. I knew surgery was going to come but I didn't want to face that until happened. It was the last resort and I got it."
After undergoing Tommy John surgery in December of 2013, Johnson ran into an old friend. Former Brook Hill pitcher Drew Robertson shared something in common.  Robertson was also rehabbing from Tommy John surgery at Azalea Orthopedics.  Johnson had no plans for 2014.  Robertson recommended TJC.
"I never thought about TJC until I saw Drew at rehab," said Johnson.  "He said I should come here and try it out. He talked to the coach for me. They told me they'd love to have me and I'm happy to be here."
Reunited in Tyler, Johnson and Robertson patiently waited to get back on the field after a long recovery.
"That was huge they were on the same timeline," said TJC head coach Doug Wren.  "They were close together. That rehab can be a long year."
"We did a bunch of the same workouts to get our arms back in shape," said Robertson.
Friends and now teammates, Johnson and Robertson both look healthy. Ready to make up for lost time.
"The work we had to put in to get back where we are, I'm excited for both of us," said Johnson.  "I think we'll both have a great season this year as well as the rest of the team."
"It was a tough journey," said Robertson.  "But luckily with the doctors we had it was a smooth experience and hopefully this year it will pay off."
Copyright 2015 KLTV. All rights reserved.