E. Texas man with terminal condition gets dream-come-true meeting with pop star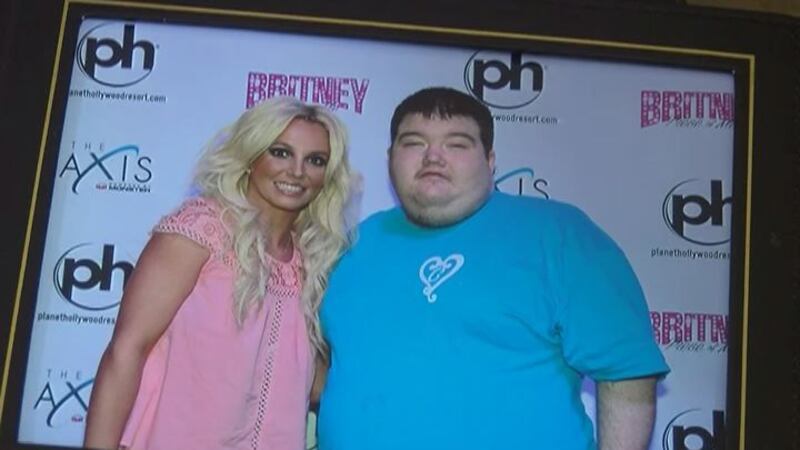 Published: Aug. 25, 2014 at 9:10 PM CDT
|
Updated: Aug. 25, 2014 at 10:07 PM CDT
LONGVIEW, TX (KLTV) - An East Texas family is back from their long awaited trip to see Britney Spears in concert.
Thousands of East Texans helped spread the word about Cory Moraw and shared the story we first told you about in May, until it finally caught the eye of the pop star.
Recently, doctors told Moraw he had between one and five years to live because of a disorder he was born with. His dying wish was to meet Britney Spears and, with the help of donations from the community and Britney Spears herself, that dream came true.

Last week, Moraw and his family attended one of Spears' concerts in Las Vegas and they say it was once of the best moments they have had together. When they go to the concert, it wasn't Britney Spears who felt famous.

"When we walked in the door they said, 'you must be Cory.' We were like 'who are these people and how do they know him?'" said Janet Russom, Moraw's mother.

His story has been shared around the world and even Perez Hilton wrote about it on his celebrity website.

First class tickets and VIP passes were paid for by Spears' camp, but it was East Texans who donated the room and spending money for the family.

"She just hugged him and he was like, 'Oh, Cory, thank you for letting me meet you.' I was like, that is just so cool that she said it that way," Russom said.

Cory said Spears was the nicest and sweetest person. He'd made her a card and brought her Skittles, her favorite candy.

"He'd written all over the outside of it and she was showing everybody and she was like, 'look at this card he wrote me,' and she opened it up and I thought she was going to start crying when she read it," Russom explained.

August 19, the day of the concert, is a special day anyway. It's Cory's sister's birthday. His sister died in a car crash years ago. Janet Russom said this was the first year she didn't wake up crying over her daughter's passing.

"But it was priceless. Getting to see him that happy was just priceless. You couldn't have asked for anything better than him meeting her," she said.

All in all, it was a successful trip and a wish fulfilled for an East Texas man who, in the end, stole the show.

Cory also received several signed posters and lots of t-shirts. He got to spend about fifteen minutes with the celebrity, longer than anyone else there. The family did have to change their flights and cut the trip short after Cory began getting very sick, but they say that moment was everything they had hoped for.
Copyright 2014 KLTV. All rights reserved.