Cooking with Peanut Butter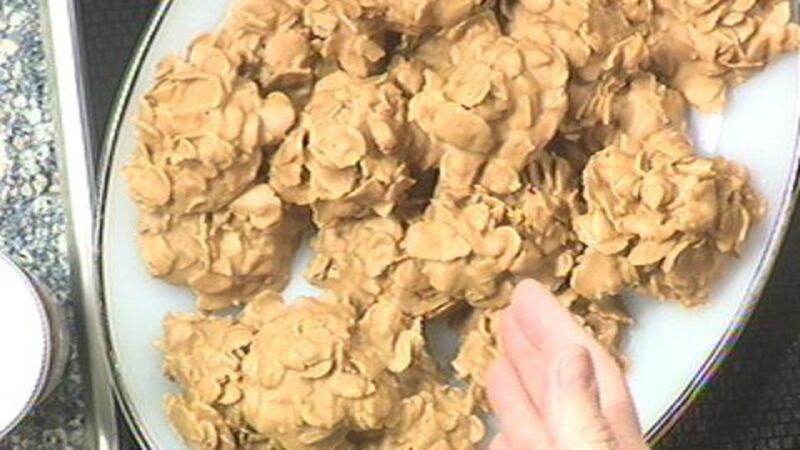 Published: Nov. 11, 2011 at 9:40 PM CST
|
Updated: Nov. 11, 2011 at 11:51 PM CST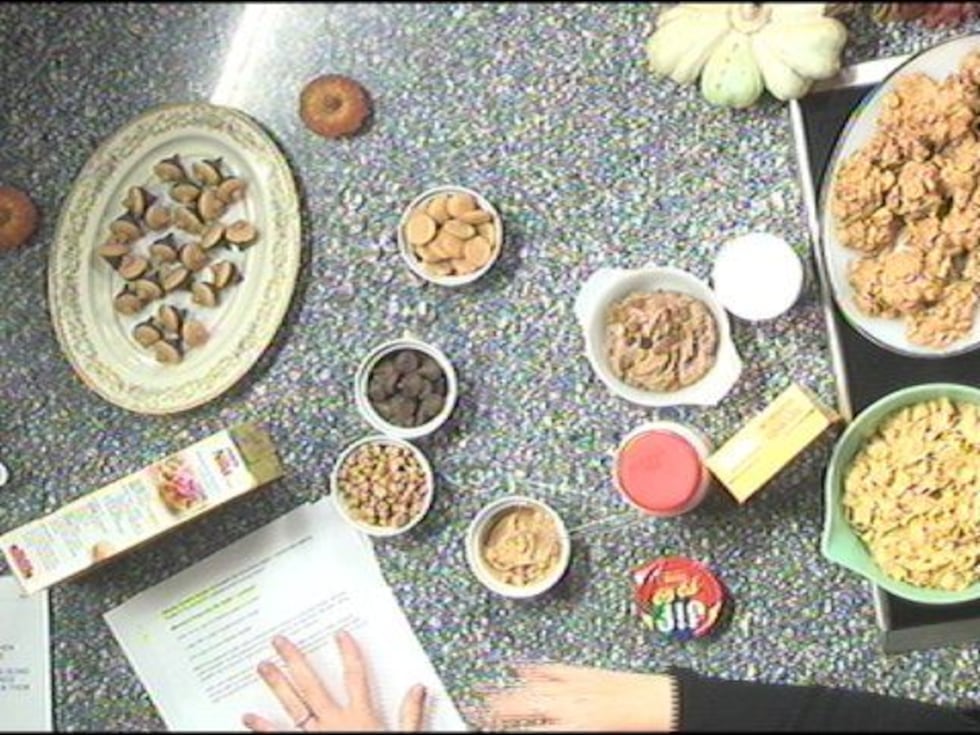 Wendy Snow's Peanutty No-bake "cookies"
One 16 oz. jar of creamy peanut butter
1 bag (two cups) butterscotch chips
3-4 cups of corn flakes cereal
Melt the peanut butter and butterscotch chips in a double boiler, stirring until smooth, or microwave in a large bowl at 30 second intervals, being careful not to scorch, and stirring between each interval.
Add corn flakes and stir until all are coated with peanut butter mixture.  Scoop with a cookie scoop or tablespoon onto a cookie sheet lined with wax or parchment paper and refrigerate until hardened.  Serve and enjoy!
Kelley Alexander's No Bake Peanut Butter Bars:
(Hughes Springs, Texas)
1/2 cup butter or margarine
1/2 cup packed light brown sugar
1 tsp vanilla extract
2 cups peanut butter
2 3/4 cups powdered sugar, sifted
2      cups semisweet chocolate chips
1.      Place butter, vanilla, brown sugar and peanut butter into a large microwave safe bowl. Microwave until butter and peanut butter are melted, one to two minutes (time will vary by microwave).

2.  Remove from microwave and use a large spoon to stir, making sure brown sugar has not clumped. Add in powdered sugar  a little at a time until you have a ball of dough that leaves the side of the bowl. Pat into a 9x13 pan.

3.  Pour chocolate chips into another microwave safe bowl and microwave at 30 second intervals, stirring after each, until completely melted. Spoon over top of peanut butter mixture and spread evenly.

4.  Allow to cool completely at room temperature until chocolate hardens again, or place in the refrigerator for faster hardening. Cut into squares and serve to some awfully happy people!
Caleb Canal's Apple Dip:
(Tyler,Texas)
1/2cup peanut butter
1/4cup of marshmallow cream
2tablespoons of nutella
Optional 1/4cup of raisins
Combine all ingredients in a small bowl; adjust amounts of each ingredient to suit your taste. (ed. note: I added more Nutella to make it more spreadable and chocolate-y. So good.)
Kyli Nail's Adorable, Edible Acorns:
(Tyler, Texas)
One box of Nilla Wafers Minis
One bag of Hershey's milk chocolate kisses
One bag of Reese's peanut butter chips
Put about ¼ cup of peanut butter chips in a small bowl; microwave until melted. (this is the glue)
Put two chocolate kisses in another small bowl; microwave until melted. (this is also glue.)
Dab some melted chocolate on the wide end of a chocolate kiss, and press the kiss onto the flat side of the mini wafer.
Dab some melted pb chip onto the flat bottom of a pb chip, and then place it in the center of the rounded top of the mini Nilla wafer.
Set aside onto a wax paper-lined cookie sheet to harden before using them to decorate or to serve.