'Crown jewels of the town;' West residents showcase historic homes for a good cause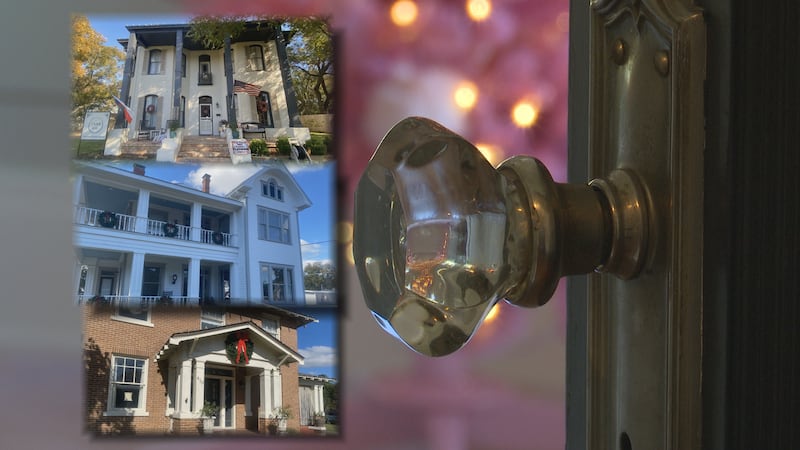 Published: Nov. 18, 2023 at 11:14 AM CST
WEST, Texas (KWTX) - Three historic homes in West are decorated for the holidays and open for tours as the community is welcome to take a trip to the past in the homes that are more than a 100 years old.
"We get a lot of requests from people that say, 'Hey, I had memories from when I was younger, can we come back to the house and kind of see how it is now?'" one of the home owners, Trevor Beurerlein, said. "We thought this would be a great opportunity for something like that to happen."
Beurerlein owns the 1888 Estate on Roberts St. He said he bought it because he wanted to preserve its history, including its craftsmanship.
"It was a main home for a long time, and, then, for a while, it was a bed and breakfast," he said. "People could actually rent by the room, and so you would get your key and go up there, and that would be your room for the night."
He said it was originally eight bedrooms, built by Zachary Davis, who was a well-known merchant in West.
"We just kind of try to preserve that history in the city so people can look back and see where it came from," Beurerlein said. "It's pretty neat."
West resident, Trey Kolar, is one of the owners of the Village House which sits on Oak St. in West. He said it was built around 1900 and was owned by the Montgomery's. It was used as a doctor's office for many years. Now, Montgomery's descendants and Kolar own the property.
"It's been a great property since and sat vacant for many decades, honestly," Kolar said. "People always look by and kind of see it deteriorate over time. We kind of brought it back to life."
Carla Sykora owns the Oak House which sits on Oak St. in West, across the street from the Village House. She said the home was built in 1919, and the family who owned the Ford dealership for many years in West lived in the home.
The three West residents bought and renovated the homes a few years ago, preserving many of the houses' historic features.
Doors, windows and even doorknobs are original features people can still see in the Oak House. Meanwhile, detailed woodwork still runs throughout the Village House.
"The bones were kind of basically not touched, but the layout and everything was kept to the original," Kolar said. "Not every day you see these beautifully preserved homes."
Houses no longer look like the 1888 Estate, according to Beuerlein.
"The outside walls are literally three bricks thick," he said. "Houses aren't built like this anymore...If it wasn't for people like us that are coming forward and keeping these properties up and all that sort of thing, they would go to the wayside, and you would lose a lot of the charm for the town."
All of the historic homes are rented out as Airbnbs. One of the homeowners said people from all over the country rent out the home to stay in West.
However, this weekend, the group is opening up the homes to the community for holiday tours.
"We would love to invite the Central Texas area to come see these homes," Sykora said. "They're really the crown jewels of the town of West, and we're super proud of the restoration and what they really mean to the community."
"It really keeps history alive," Kolar said. "We really want everyone to experience these houses again."
Proceeds from ticket sales will go toward high school students who are planning to become a teacher.
"We're partnering with the local West High School Future Teachers Association to help them start a fundraiser for their opportunities that they have to attend workshops and conventions," Sykora said.
The organization recently began at the high school, and students are working to raise funds that will help them with their future careers.
The money from this fundraiser will fund competitions where they can build lesson plans, bulletin boards and books to prepare them for teaching.
"We start from the bottom, so it's kind of cool that we're the ones getting to help build up this program by volunteering and getting that money to help us," Ashlyn Busby said.
The students in the organization helped prepare the homes for the tours by decorating them for Christmas.
People can view the holiday decor and take a tour inside the three homes Saturday and Sunday from 3 to 8 p.m.
Tickets for the Historic Holiday Tour of Homes in West are $35 per person.
Copyright 2023 KWTX. All rights reserved.