Gov. Abbott announces $15K reward for information on deadly flea market shooting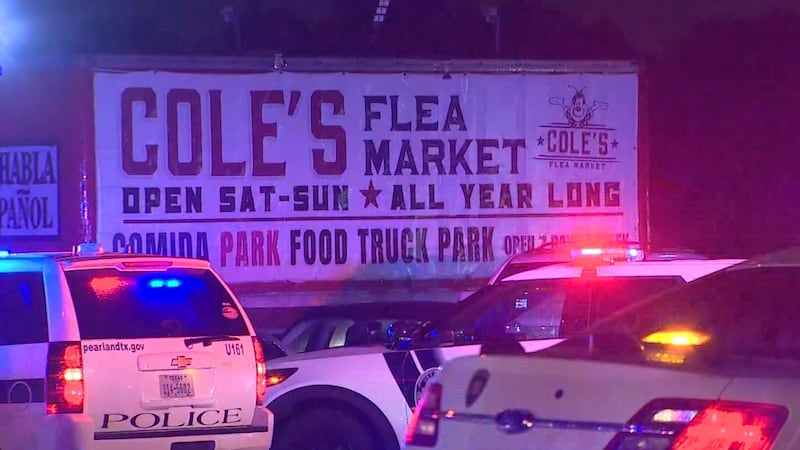 Published: Nov. 13, 2023 at 1:34 PM CST
AUSTIN, Texas (KWTX) - Governor Greg Abbott has announced a $15,000 reward for information leading to the arrest and capture of Texas Department of Public Safety top 10 fugitives involved in a shooting that killed one child and injured four others, including another child, at Cole's Flea Market in Pearland, Texas Sunday evening.
"Texas mourns the loss of a precious child following the devastating tragedy in Pearland yesterday, and our hearts are with the four other victims in the hospital as they recover from their injuries," said Governor Abbott.
"The State of Texas is deploying our full support to local law enforcement to ensure the perpetrators of this crime are caught and brought to justice. Please join Cecilia and me in prayer for the families and loved ones of those lost and injured, as well as our law enforcement officers who are working to quickly apprehend and arrest these heinous criminals."
In addition to $5,000 from Brazoria County Crime Stoppers, the State of Texas is offering a $10,000 reward for information leading to the arrest and capture of the suspects.
To be eligible for the cash rewards, tipsters must provide information to authorities using one of the following methods:
Call the Texas Crime Stoppers hotline at 1-800-252-TIPS (8477)

Submit a web tip through the Texas 10 Most Wanted website or Facebook page

Submit a tip through the DPS Mobile App
All tips are anonymous regardless of how they are submitted, and tipsters will be provided a tip number instead of using a name. Callers' anonymity is guaranteed by law, and you could earn up to the $15,000 amount listed for each fugitive. These fugitives should be considered Armed and Dangerous. Never try to apprehend a fugitive yours
Copyright 2023 KWTX. All rights reserved.