East Texas Rabbit Breeders Association holds fall extravaganza in Longview
Published: Nov. 10, 2023 at 1:17 PM CST
|
Updated: Nov. 10, 2023 at 6:13 PM CST
LONGVIEW, Texas (KLTV) - If you're looking for a nice, warm indoor activity for Saturday, we may have just the thing. It's the American Rabbit Breeders Association Rabbit Show at Maude Cobb in Longview. There are 52 breeds of rabbits, many of them will be represented, and they're all cute.
Rabbit Show Secretary Katie Finch tells me the show would have included cavys but they don't have a cavy judge this time around. That's okay because there still will be hundreds of balls of fur to see, in the form of rabbits. Katie said her family got started because of 4H.
"We started to compete at the county fairs. We had a lot of interest but our very first year my kids were going on vacation during county fair shows so to substitute we went to an ARBA show and they fell in love with it," Finch said.
She said they do a lot of traveling since there are pretty much shows every weekend. Her oldest son has had shows in 13 states and his goal has become:
"To show in half the continental U.S. before he's an adult," Finch said.
That's a 25-state rabbit chase. The show is a competition, each breed going against the "perfect" rabbit of any given breed, but some will be for sale.
"Any sales are going to be private sales from person to person we do ask that anybody that is selling have that animal exhibited because you don't want to have somebody, a kid of course, 4H kid come by and buy something that's not showable," Finch said.
Karen Sterrett from Mississippi has several that are definitely showable but probably not for sale. She got into rabbits three decades ago when she lived in California.
"I bought a horse, and they said by the way it comes with a free bunny," Sterrett said.
She eventually graduated to Giant Chinchillas, which are actually huge 13-pound rabbits.
"And they're not done growing yet," Sterrett said.
She said the big bunnies are in the rare breed classification. That means there aren't 100 others to compete against in each show like more common breeds. There's:
"Maybe five or ten if you're lucky," Sterrett said.
She's won quite a few times. She must have a lucky rabbit's foot. Or maybe 32. Karen highly recommends the rabbit show experience because of the rabbits, the people the places:
"And generally, most shows, it's only four dollars a class to enter and try. So, it's not cost prohibitive to try it," Sterrett said.
Katie said rabbits range in cost from fifty to a few thousand dollars. But if you want to be able to pull that giant rabbit out of a hat, well that hat will cost you too.
Tonight, the show at Maude Cobb in Longview begins at 7 p.m. and runs until 10:30 p.m. On Saturday, it goes from 9 a.m to 3 p.m. It is free to attend.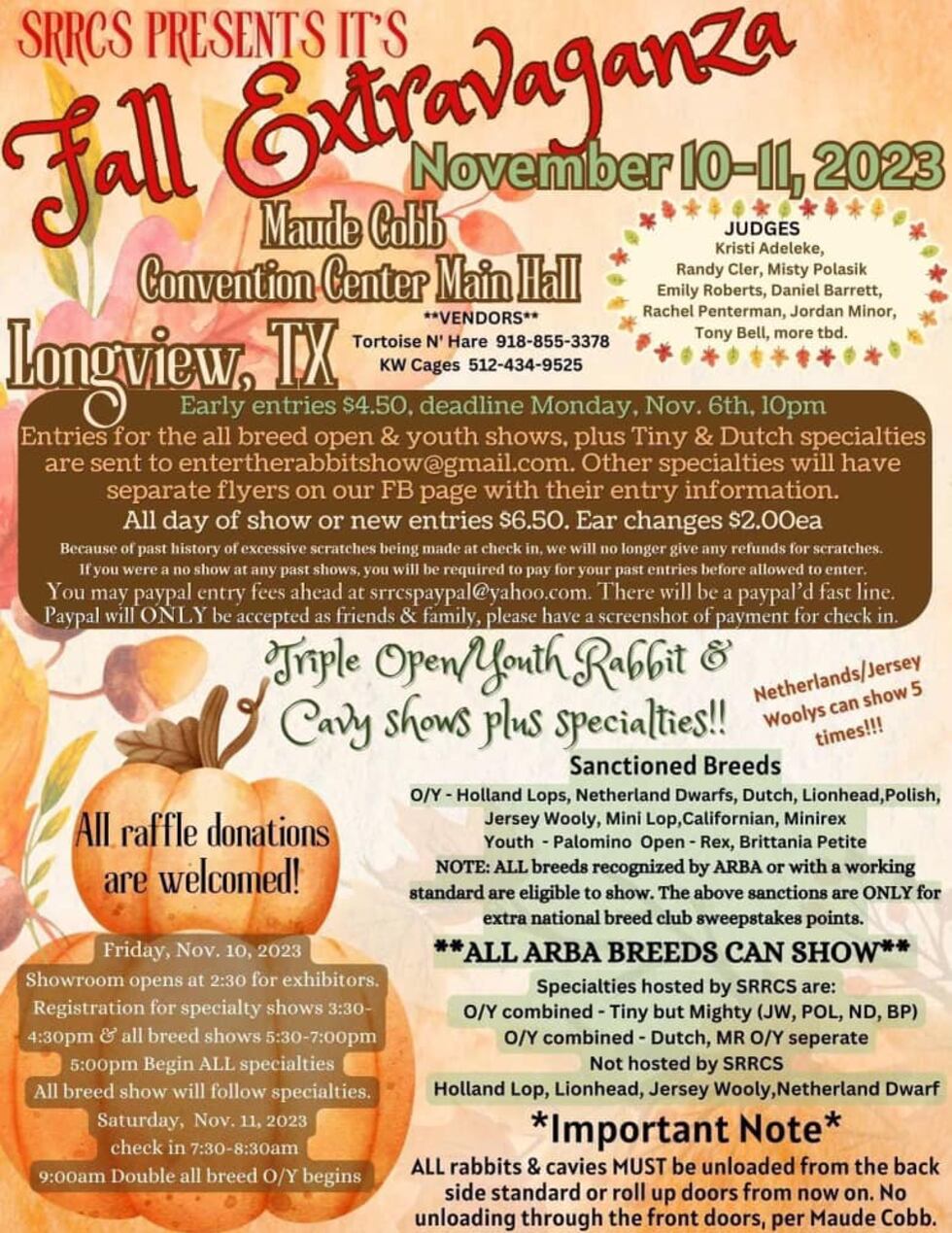 Copyright 2023 KLTV. All rights reserved.