Texas Tech falls to BYU in Utah 27-14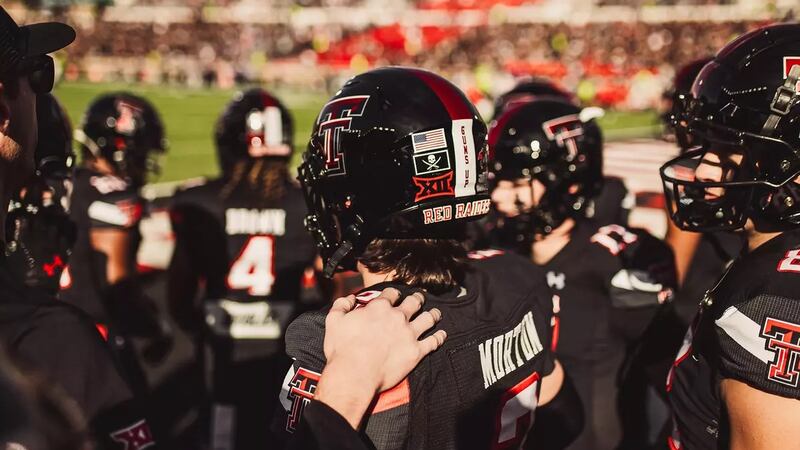 Published: Oct. 21, 2023 at 5:24 PM CDT
|
Updated: Oct. 21, 2023 at 9:48 PM CDT
PROVO, UTAH (KCBD) - True Freshman Quarterback Jake Strong made his first career start on the road Saturday.
The Red Raiders struggled offensively in the first quarter, not getting on the board until the second quarter. Running back Tahj Brooks fumbled the hand-off from quarterback Jake Strong and BYU's Eddie Heckhard recovered and took it to the end zone for a 5-yard fumble return. Cougars led 14-0.
Texas Tech saw the end zone in the second quarter when Strong's pass was complete to Lubbock native, wide receiver Xavier White for a 72-yard touchdown to put Texas Tech on the board. From there it was a scoreless second quarter for the Red Raiders as there were two interceptions. The Cougars' last touchdown of the game was Slovis' pass to Lassister for a 4-yard touchdown. BYU led 24-7 at halftime.
Defense in the third quarter kept both teams from the end zone and BYU added three more points after Will Ferrin kicked a 41-yard field goal to make it 27-7. The Red Raiders added to their score in the fourth when Brooks ran for 1 yard for a touchdown, BYU led 27-14.
Texas Tech fell to BYU in Utah 27-14 and will have their bye week next Saturday before hosting TCU on Thursday, Nov. 2 at 6 p.m.
Texas Tech Rushing:
Tahj Brooks: 31 CAR | 105 YDS | 1 TD
Cam'Ron Valdez: 5 CAR | 38 YDS
Jake Strong: 5 CAR | 7 YDS
Texas Tech Receiving:
Xavier White: 3 REC | 98 YDS | 1 YD
Jordan Brown: 1 REC | 36 YDS
Myles Price: 2 REC | 27 YDS
Copyright 2023 KCBD. All rights reserved.