Chapel Hill loss gives way to new No. 2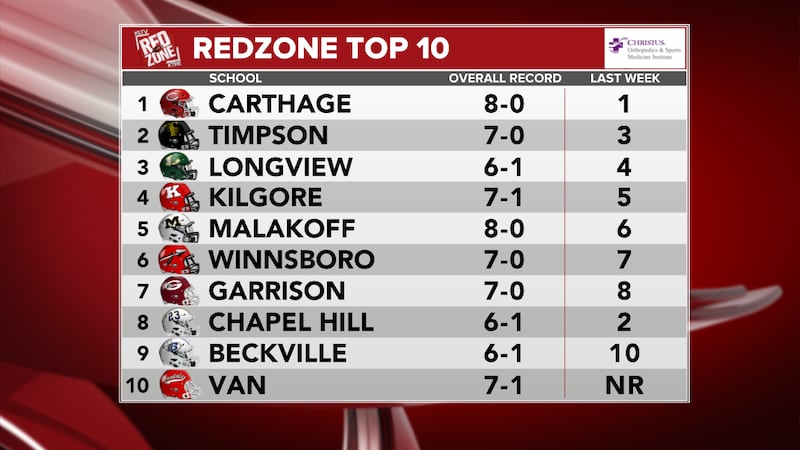 Published: Oct. 17, 2023 at 3:43 PM CDT
EAST TEXAS (KLTV/KTRE)- Here are this week's Red Zone standings for East Texas teams:
1. Carthage (4-0) 8-0 - The nine-time state champions continue to win. Carthage defeated Rusk 49-14 last week to improve to 8-0 overall. This week, the Bulldogs travel to Center to take on the Roughriders (2-1) 5-2.
2. Timpson (3-0) 7-0 - The Timpson Bears continue to roll this season. Timpson defeated West Sabine last week 56-8. This week the Bears are back at home as they welcome the Joaquin Rams (1-3) 1-6.
3. Longview (4-0) 6-1 - The Longview Lobos improved to 4-0 in district play last week following a 63-0 win over North Mesquite. This week, the Lobos head to McKinney to take on McKinney North (4-0) 6-1 with a district championship on the line.
4. Kilgore (4-0) 7-1 - The Kilgore Bulldogs only loss this year came to Carthage in Week 1. Since then, the Bulldogs have won seven in a row. Kilgore beat Henderson last week 46-17. This week, the Bulldogs play their final home game of the season as they welcome the Athens Hornets (2-1) 5-2.
5. Malakoff (4-0) 8-0 - The Malakoff Tigers have been rolling through district play. The Tigers beat Eustace last week 76-7,and they have only allowed seven points in four district games. Malakoff is off this week before heading to Mexia on Oct. 27.
6. Winnsboro (4-0) 7-0 - The Winnsboro Red Raiders beat Pottsboro last week 52-28. Winnsboro will make the trip down Highway 37 this week to renew an old rivalry as they face the Mineola Yellowjackets (2-1) 3-4.
7. Garrison (3-0) 7-0 - The Bulldogs were off last week. This week, Garrison is back in action as they travel to Grapeland to take on the Sandies (1-3) 2-6.
8. Chapel Hill (2-1) 6-1 - The Chapel Hill Bulldogs suffered their first loss of the season last week, falling to Lindale, 35-23. The Bulldogs look to rebound this week at home against the Henderson Lions (0-3) 1-6.
9. Beckville (3-0) 6-1 - The Beckville Bearcats beat Ore City last week, 74-13. The Bearcats have outscored their opponents 235-39 in just 3 district games. This week, the Bearcats are back at home to face the Frankston Indians (3-1) 6-2.
10. Van (4-0) 7-1 - The Van Vandals enter our Top 10 this week for the first time this season following their 56-36 win over Center. The Vandals' only loss this season came to Chapel Hill in Week 2. The Vandals are off this week before heading to Carthage to take on the Bulldogs on Oct. 27.
Copyright 2023 KLTV. All rights reserved.