Timpson star athlete Terry Bussey commits to Texas A&M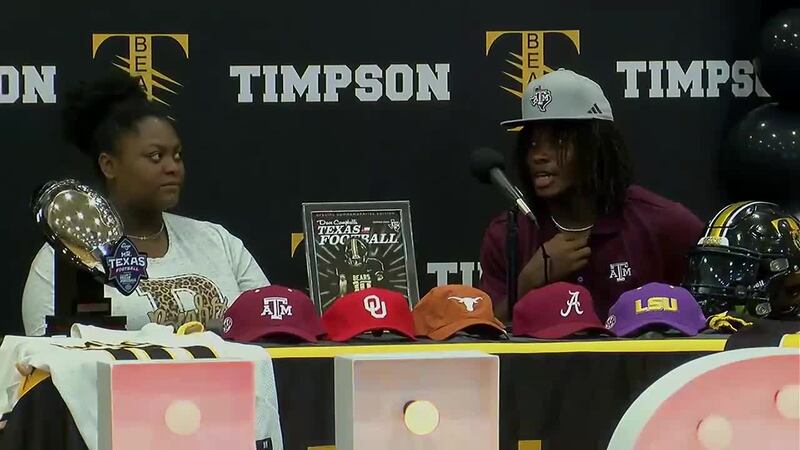 Published: Sep. 28, 2023 at 11:35 AM CDT
|
Updated: Sep. 29, 2023 at 8:08 AM CDT
TIMPSON, Texas (KTRE) - Timpson star football player Terry Bussey has announced his intent to play college football at Texas A&M. When asked about what it was about Texas A&M that helped make his decision.
"The relationships I built with all the coaches, they're amazing," he said. "I feel like it was a great fit for me academically and in the football department. So I feel like it was just the right choice for me."
Timpson Bears head coach Kerry Therwhanger said, "It's a great university. He's talked about being an engineer can't go to a better school for engineering than that. Like said, athletically, any of the ones that he had up there, were gonna be great. But for him, I think it's the best fit. It's close enough that family and friends and coaches like myself, can get there and watch him play. You know, I can't say enough about the experience that we've had with this and the fact that he chose to stay close to home and take his talents to A&M, fantastic."
Terry will be studying mechanical engineering at Texas A&M, and being the strong Christian that he is, he says this experience is all part of Gods plan.
"It means a lot to accomplish one of my goals, but it's just one of many and God has a plan," he said. "He's already written when I was born, so he had a plan for me since since I was born. So this is all part of it."
So what's next for Terry? Well how nice would it be to finish with a state championship.
"Has been everything to finish my senior year with the guys I grew up with. It's been great. I feel like we can end it on a high note and try to get a state championship," he said.
And with the Timpson Bears going into week 6 undefeated, it could be the storybook ending for this athlete, his teammates and the community.
Copyright 2023 KTRE. All rights reserved.