Kitchen Pickin': Close to 'tis the season
Published: Sep. 27, 2023 at 4:20 PM CDT
EAST TEXAS (KLTV/KTRE) - Christmas shopping is a yearlong affair on the picking front. But now that we're hitting the fall side of sales, the holiday is becoming even more prominent as it's time to buy your bargain Christmas decor before it gets too cold for outdoor sales.
Fitz and Floyd cheese plate with spreader
Jeff: Fitz and Floyd is a moderately popular brand on the picking front. Any time I see these snack plates I think about the crackers and cream cheese concoction my wife makes with the spicy jelly on the cream cheese.
Steph: That's a good use for it, for sure. Any spreadable cheese can be served on this cute cheese plate in the Holly Hat Snowman design. Has the matching spreader, too, which is nice. Sometimes they get lost so you only find the plate itself at yard sales. This is a nice find just in time for holiday season prep!
Nativity scene salt and pepper shakers
Jeff: These come from Wal-Mart, which isn't necessarily known for quality decor. But it's a nativity scene and a pair of shakers, which separately are pretty popular. Plus they just have a kind of campy look.
Steph: I like these. They're a more lightweight ceramic than, for example, Fitz and Floyd uses. But it's also less expensive, so if you're on a tight budget, you can still have something lovely to help you celebrate the Christmas season on your dinner table.
Porcellana beverage napkins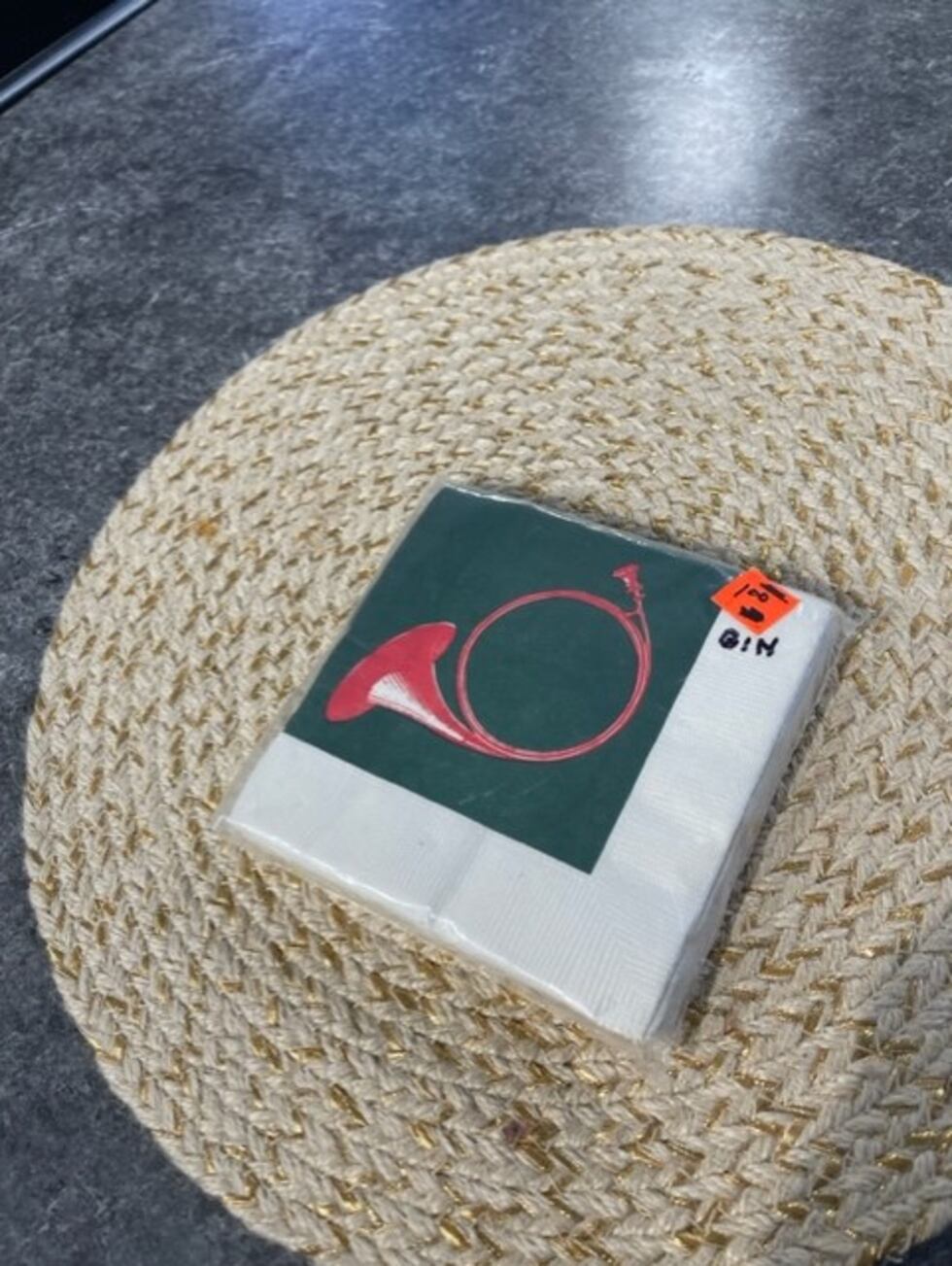 Jeff: I tried looking this brand up but there's nothing really out there. I imagine back when more industry was based out of the U.S., there were a lot of brands that either closed or changed names. I see it all the time with vintage hats. But that Made in the U.S.A. branding usually means you can count on it being quality and that's probably the case with these napkins. The really cool thing about getting something like this for 50 cents is I can just keep it and use it for myself. Fifty cents for 24 beverage napkins is a deal I'd take all day for personal use.
Steph: Agreed, they'll be nice to have in your kitchen during the holidays. Festive and practical.
Fingertip towels
Jeff: Whoops! These belong in the bathroom, not the kitchen. I think we paid a dollar for these. Mrs. Picker decided to get them and I never argue at that price.
Steph: I remembered the name of this pattern after the show, as predicted. Greek Key. These are in great shape, perhaps never used. They're nice to have in the bathroom for your guests.
Tervis tumblers
Jeff: One of the few companies still putting out that Made in the USA brand. Tervis is another one we always consider.
Steph: The patterns are so cute on these tumblers. They have a fun '70s vibe. They're in perfect shape. Good find.
Cake holder
Steph: I love that the average housewife back in the day had a special cake carrier to take her pound cake to church dinner, a sick friend, or whatever. So old fashioned and sweet. I like that someone painted this with yellow roses here in Texas to freshen up what was probably a rusty and not so pretty carrier. I love displaying it in my dining room. I found it at a vintage shop that used to be on the square in downtown Tyler, which has been gone for years now.
Jeff: Another cool, old treasure from Steph. That little dent she put in it gives it even more character.
Copyright 2023 KLTV. All rights reserved.