Tyler police investigate shooting near Hubbard Middle School
Published: Aug. 28, 2023 at 3:23 PM CDT
|
Updated: Aug. 28, 2023 at 6:14 PM CDT
TYLER, Texas (KLTV) - Hubbard Middle School was under secure status after a shooting near the new campus construction site Monday.
As of 3:50 p.m., Hubbard Middle School received an all-clear status according to Tyler ISD.
Reports of a shooting near Hubbard Middle School came in just before 3 p.m. Tyler Police Department PIO Andy Erbaugh confirmed that shots were fired near the construction site of the new Hubbard campus near Rose Rudman Park.
Erbaugh said this was not a random shooting. He said the suspect and victim knew each other, but they are not yet sure which party fired shots first.
According to Erbaugh, one victim is in the hospital, and at least one of two suspects involved was at large. The suspect was considered armed and dangerous. Bullet casings from both a pistol and a rifle were found on the side of the road once police arrived. The victim was awake and alert, Erbaugh said in a briefing just before 4 p.m. Police were searching Rose Rudman and nearby homes as tips came in. Erbaugh said there were several witnesses who remained on the scene.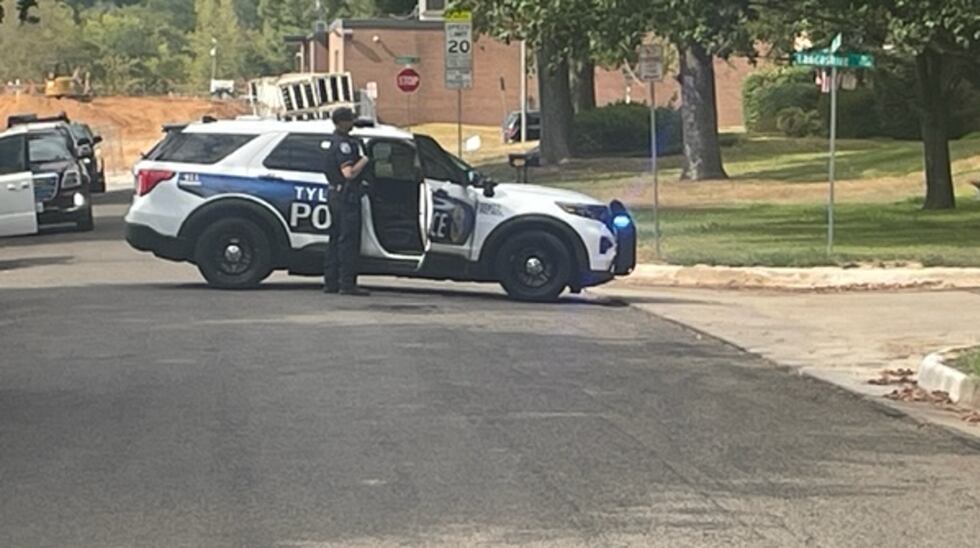 Hubbard was under secure status following the incident, and New Copeland Road was shut down as investigators secured the scene. It has since been reopened. Students and staff at the school were not in danger, Tyler ISD spokesperson Jennifer Hines said after the incident.
The Tyler ISD website says that "secure" status means that students remain inside buildings and continue business as usual. Teachers increase situational awareness, ensure that all students are in classrooms and accounted for, and conduct business as usual.
Erbaugh said at about 4:45 p.m. that two suspects had been detained and were being questioned. Since then, they have been taken to the police station for further questioning, along with another suspect detained at the house on Stratford Drive.
Evidence found at the scene of the shooting led investigators to the house. They are in the process of obtaining a search warrant. Erbaugh also said K-9 firearm search units from Mt. Pleasant will go through Rose Rudman Park to make sure no evidence was abandoned.
Police urge anyone who sees someone suspicious in the Tyler area to call 911, and do not approach the individual.
Copyright 2023 KLTV. All rights reserved.