Texas Tax Free Weekend 101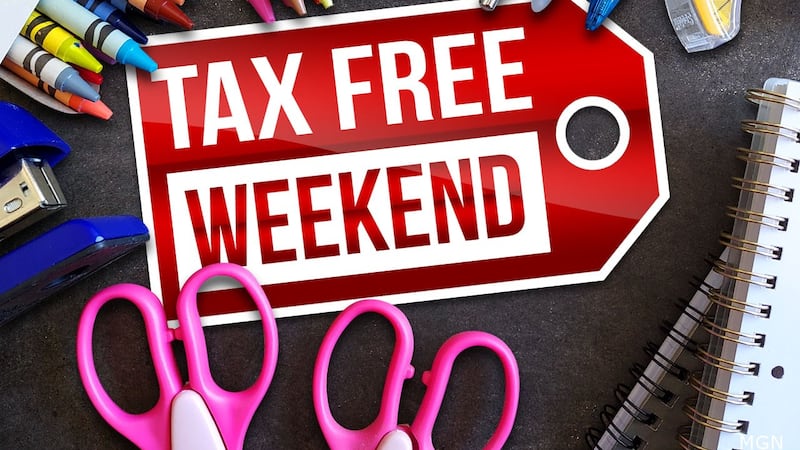 Published: Aug. 1, 2023 at 2:17 PM CDT
WACO, Texas (KWTX) - Texas' tax-free weekend holiday begins Aug. 11 and lasts through midnight Aug. 13.
"The sales tax exemption applies only to qualifying items you buy during the sales tax holiday. Items you buy before or after the sales tax holiday do not qualify for exemption, and there is no tax refund available," said the Texas Comptroller's website.
Texans can get qualifying items in-store, online, by telephone, mail, custom order, or any other means, however, the sale must take place during a specific period.
Qualifying Items less than $100
Binders

Blackboard chalk

Book bags

Calculators

Cellophane tape

Compasses

Composition books

Crayons

Erasers

Folders – expandable, pocket, plastic, and manila

Glue, paste and paste sticks

Highlighters

Index cards

Index card boxes

Kits*

Legal pads

Lunch boxes

Markers (including dry erase markers)

Notebooks

Paper – loose leaf ruled notebook paper, copy paper, graph paper, tracing paper, manila paper, colored paper, poster board, and construction paper

Pencil boxes and other school supply boxes

Pencil sharpeners

Pencils

Pens

Protractors

Rulers

Scissors

Writing tablets

Clothes

Masks

Shoes
Items That Do Not Qualify
items sold for $100 or more

clothing subscription boxes

specially-designed athletic activity or protective-use clothing or footwear

clothing or footwear rentals, alterations (including embroidery) and cleaning services

items used to make or repair clothing, such as fabric, thread, yarn, buttons, snaps, hooks and zippers

jewelry, handbags, purses, briefcases, luggage, umbrellas, wallets, watches and other accessories

computers

software

textbooks

certain baggage items (see below)

unspecified school supplies (see below)
Copyright 2023 KWTX. All rights reserved.