Cool desserts for hot East Texas days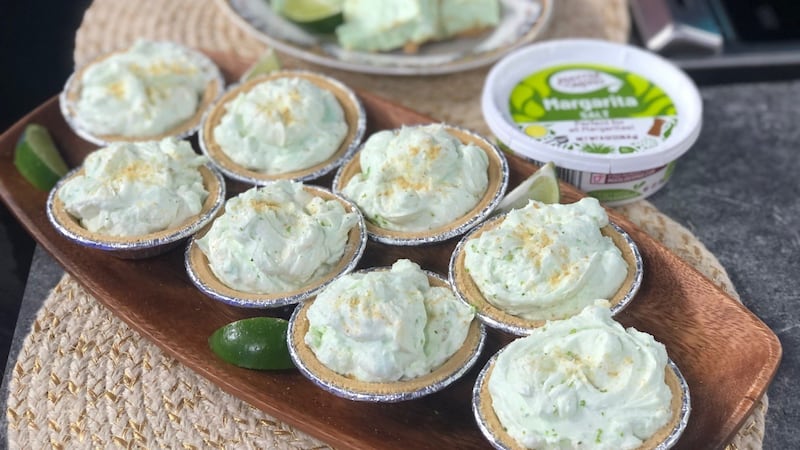 Published: Jul. 24, 2023 at 4:37 PM CDT
TYLER, Texas (KLTV) - The temperature is expected to reach around 100 degrees every day this week in East Texas. This leads everyone to search for ways to stay cool. What better way to cool off than from the inside out, by eating a nice, cold piece of pie? Here are a few dessert ideas that you might want to try soon.
First, this easy ice cream pie is a super easy to make dessert that gives you extra flavor and extra chill when you devour it.
Easy cherry ice cream pie by Mama Steph
Ingredients:
1 chocolate cookie pie crust
3 cups vanilla ice cream, softened
1 cup cherries, plus 1/4 cup cherries for topping (make sure cherries are halved and pitted)
1/2 cup mini chocolate chips, plus more to sprinkle on top before freezing
Method:
In a large bowl, combine the ice cream, mini chocolate chips, and the cup of halved cherries. Stir gently to combine. Pour into the chocolate crust. Top with the remaining cherries and more of the chocolate chips.
Freeze for at least four hours. Before serving, add whipped cream and a cherry on top, if desired.
Enjoy!
Next up, an easy no-bake peanut butter pie. If you like, instead of using a graham cracker crust, use an Oreo crust and you've got an approximation of Reeses peanut butter cups!
Mama Steph's Peanut Butter Pie
1 prepared 9-inch graham cracker crust
1 eight-ounce package lowfat cream cheese, softened
1/2 cup smooth peanut butter
2/3 cup powdered sugar
1 teaspoon vanilla extract
3 cups whipped cream, plus more for topping
Mini-peanut butter cups for topping, if desired
Method:
In a mixer bowl, combine cream cheese, peanut butter, vanilla and powdered sugar. Blend until smooth and fluffy. Add 3 cups whipped cream, then gently fold in, mixing until combined and all one color.
Pour the filing into the prepared crust, then top with more whipped cream and add candies, if desired. Chill for at least two hours before serving so you can cut it neatly and easily.
Finally, try these margarita-inspired cheesecake bars for summery lime flavor.
Margarita cheesecake bars by Mama Steph
1¼ cups graham cracker crumbs

1½ tablespoons light brown sugar

¾ teaspoon salt

⅓ cup unsalted butter, melted

16 ounces cream cheese, softened

1 cup sifted powdered sugar

2 teaspoons lime zest

2 tablespoons fresh lime juice

1 teaspoon orange zest

½ teaspoon vanilla extract

⅔ cup heavy cream, chilled

margarita salt (optional)
Lightly grease and then line a (8x8-inch or 9x9-inch) square baking pan with parchment paper, allowing a 1 ½-inch overhang on each side.
Whisk together the graham cracker crumbs, brown sugar, and salt in a mediu-sized bowl.
Stir in the melted butter to evenly coat. Firmly press the mixture into an even layer in the bottom of the prepared pan. Place pan in the freezer while you prepare the filling.
Filling:
Beat the cream cheese in a large mixing bowl at medium-high speed until fluffy, Add the powdered sugar, lime zest, lime juice, orange zest, and vanilla extract to bowl; beat at medium speed until combined. Mix in two or three drops of green food coloring, if desired.
In a separate bowl, whip the heavy whipping cream with an electric mixer until stiff peaks form. (about three or four minutes, typically. )
Fold the whipped cream into the cream cheese mixture. Spread in an even layer over the graham cracker crust, then sprinkle with a bit of margarita salt and any excess graham cracker crumbs you have on hand, and cover with plastic wrap. Place in the refrigerator eight hours or overnight. (Do not freeze.)
To serve, use the parchment paper "handles" to transfer the cheesecake to a cutting board. Use a serrated bread knife to cut into squares. Use a spatula to lift from the paper onto a serving platter. Refrigerate any leftovers.
Alternative: Buy single-serving graham cracker crusts (they come in packages of six, usually, and this will fill as many as 24 of those) and fill with the cheesecake mixture. Sprinkle each with a bit of margarita salt and graham cracker crumbs. Refrigerate 6 to 8 hours.
(TIP: If you want to make these for adults only to enjoy, you can add two tablespoons of tequila to the filling when mixing it up. Not for kiddos, of course!)
Check out more recipes like these on the East Texas Kitchen app; it's free on your phone's app store!
Copyright 2023 KLTV. All rights reserved.