Lufkin men arrested after leading deputies, police on chase in stolen vehicles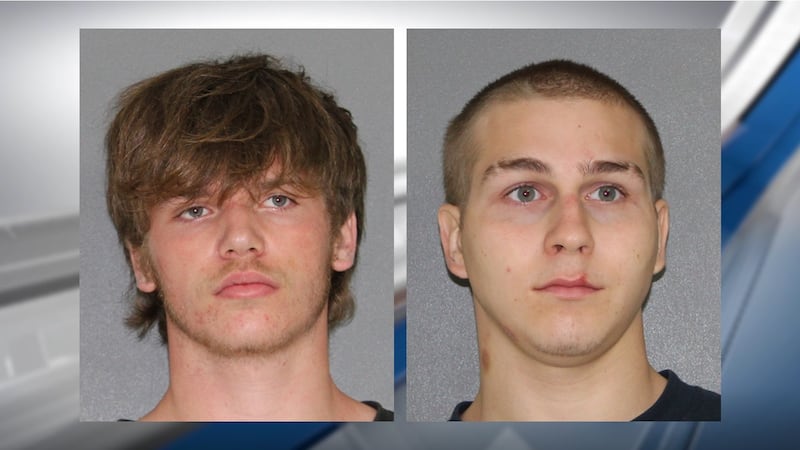 Published: Jul. 19, 2023 at 7:04 PM CDT
|
Updated: Jul. 20, 2023 at 11:01 AM CDT
LUFKIN, Texas (KTRE) - On Wednesday morning, an 18-year-old was arrested after the sheriff says he stole a pickup and led officers on a car chase in a second stolen vehicle.
Dylan Avery Jones of Lufkin was booked into the Angelina County Jail on charges of unauthorized use of a vehicle and evading arrest/detention with a vehicle.
Also arrested was David Dean Corbett, 17, of Lufkin. He is charged with unauthorized use of a vehicle and is in the Angelina County Jail.
According to Sheriff Tom Selman, events leading up to the arrest began at 10:50 p.m. on Tuesday, when Jones allegedly fired numerous rounds from a pistol. The rounds struck a house and a vehicle on Durst Street in Nacogdoches.
Jones left the scene and a short time later, according to the sheriff, he stole a 2018 Hyundai Elantra from Perry Drive in Nacogdoches.
At about 11:19 p.m., the Elantra was spotted traveling at a high rate of speed by a Lufkin police officer. The vehicle was headed westbound, and passed through the intersection of W. Frank Ave. and N. Raguet St. The officer tried to stop the Elantra but the driver refused to stop. He turned off the Elantra's headlights in an attempt to elude the officer, the sheriff said.
Lufkin police officers pursued the Elantra into Hudson on Hwy 94. Jones turned into a residence and bailed out of the car and ran.
He was spotted getting into a dark Chevrolet SUV near the Hudson Fire Station on Hwy 94, and then turned onto Mt. Carmel Road, heading toward the Rollingwood Addition.
Angelina County Sheriff's deputies had arrived to assist Lufkin police, so they went to Rollingwood to help find Jones.
Deputies set up a checkpoint on the only road leading in and out of the subdivision. While a DPS trooper and other deputies were searching for Jones in the neighborhood, the deputies at the checkpoint were told that two males had just stolen a pickup from a home on Rollingwood Drive.
Moments later, the stolen pickup, a 2002 Chevrolet Silverado, arrived at the checkpoint, trying to leave.
Deputies took Jones and Corbett, who was with him in the Silverado, into custody at that time,
Corbett was charged with Unauthorized Use of a Motor Vehicle, and Jones was charged with Evading Arrest in a Motor Vehicle as a result of the chase and Unauthorized Use of a Motor Vehicle from the Rollingwood theft.
Charges from Nacogdoches are pending in the shooting and Hyundai theft investigations.
Deputies recovered a 9mm Glock handgun from the stolen pickup that Jones was driving at the time of his arrest.
Copyright 2023 KTRE. All rights reserved.