SEC commissioner calls on Congress to set national standards for athlete compensation
Southeastern Conference Commissioner Greg Sankey says only Congress can truly set a national standard for name, image and likeness compensation in college athletics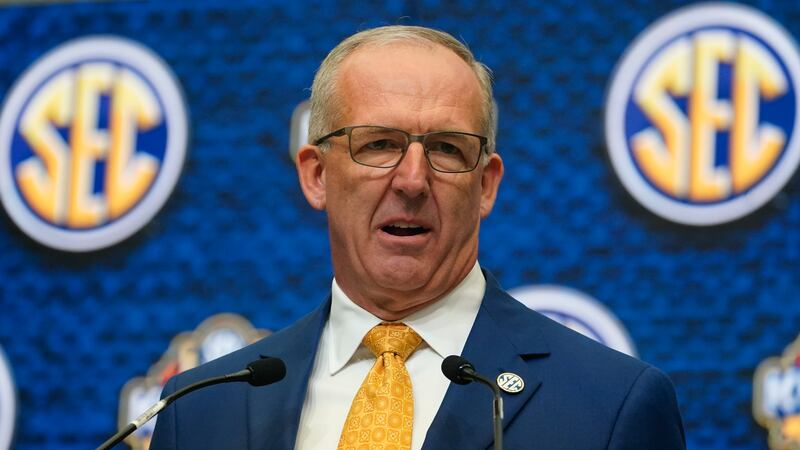 Published: Jul. 17, 2023 at 5:06 PM CDT
|
Updated: Jul. 17, 2023 at 5:07 PM CDT
NASHVILLE, Tenn. (AP) — Southeastern Conference Commissioner Greg Sankey made clear Monday that only Congress can truly set a national standard for name, image and likeness compensation in college athletics.
Sankey said NIL isn't a partisan issue and that state legislatures haven't yet enforced their NIL laws, some of which would bar the NCAA and conferences from adopting and enforcing their own standards.
"Congressional action is then the only way to provide a national uniform standard for name, image, and likeness activity and to draw the lines around the boundaries that do not become simply pay for play," said Sankey, echoing the stance of the NCAA on one of the most divisive issues in college sports.
Asked if a uniform NIL standard would help LSU, coach Brian Kelly said the challenge is there's not much regulation now. That leaves coaches trying to control what they can, which is difficult because NIL involves groups separate from universities.
Different laws in each state leaves the SEC unbalanced, he said.
"I'm not here to fix it. I'm here to navigate it. If I can lend my experience in any shape or fashion, I will do that," Kelly said. "But I can tell you what we're living, and that's third-party involvement and different rules of engagement by different states."
Sankey said the league heard again in late June from athletes asking for uniform NIL rules. They want help trying to decide which university to attend and to even the competition on the playing field in the SEC.
"Uniformity will ensure a high school student and his or her family do not have to investigate potentially dozens of different state laws or university policies to figure out how they can be active in this name, image and likeness world," Sankey said.
Sankey said the SEC and its 14 schools are used to providing support to athletes. But he said the students want protection for themselves and for international teammates to access NIL "that are consistent across the country" and not just a "patchwork" of state laws.
"Our student-athletes deserve something better than a race to the bottom at the state legislature level," Sankey said.
An area where state lawmakers can help, according to Sankey: Gambling regulations. He said too often SEC athletes and officials deal with threats from bettors angry over plays, calls and game results.
"Every state with legalized sports gambling must act to ensure enforcement of gaming regulations and put in place clearly stated laws that protect participants from hostile behavior, particularly barring individuals who engage in that behavior from any further involvement in sports gambling," Sankey said.
HELLO TEXAS
SEC Commissioner Greg Sankey said the 2024 edition of SEC Media Days will "light up the Dallas skyline" between July 15-18 at the Omni Hotel. It will mark the first time that the event will be held in Texas, home to Texas A&M, a league member since 2012.
Both Oklahoma and Texas join the SEC next year, expanding the league to 16 teams.
REMEMBERING THE PIRATE
SEC Commissioner Greg Sankey opened the league's annual media days not wearing a necktie specifically to honor former Mississippi State coach Mike Leach, who died last December at the age of 61.
Sankey said he talked backstage about the uselessness of neckties during media days in Atlanta a year ago.
"It was a conversation that went much longer than I anticipated and ended in the rhetorical question of why neckties survived, but powdered wigs went away," Sankey said. "That conversation was with Mike Leach. … We're going to miss Mike, but he's not going to be forgotten."
Leach coached three seasons at Mississippi State from 2020-22, leading the Bulldogs to a 19-17 record.
VANDY SPLASH
Before SEC Media Days kicked off in its backyard, Vanderbilt announced that it signed coach Clark Lea to a contract extension. The private university did not disclose terms.
Lea is entering his third season as Commodores coach. He led his alma mater to a 5-7 record in 2022, a three-win improvement from his debut year. Vanderbilt, which went 1-24 in SEC play from 2019-21, won multiple conference games last season for the first time since 2018.
Athletic director Candice Lee said she's thrilled with the program's development under Lea.
"He is relentless in his commitment to build a foundation that yields sustainable success," Lee said. "He approaches each day with the pride of an alumnus who personally understands the opportunity that lies before us, and the determination of a coach and leader who has the vision to fulfill it."
HONORING FIRST RESPONDERS
Sankey honored four of the first responders to the March 27 shooting at The Covenant School in Nashville. Dets. Ryan Cagle and Michael Collazo, Sgt. Jeff Mathes and Det. Zachary Plese of the Metropolitan Nashville Police Department were in attendance.
The commissioner said each will receive an SEC football helmets autographed by all 14 coaches. They also will be the league's guests in March at the SEC men's basketball tournament in Nashville.
___
AP college football: https://apnews.com/hub/college-football and https://twitter.com/ap_top25. Sign up for the AP's college football newsletter: https://tinyurl.com/mrxhe6f2