Congressman Moran files bill aiming to improve weather radar coverage in rural areas
Published: Jul. 14, 2023 at 6:52 PM CDT
TYLER, Texas (KLTV) - An East Texas congressman is working to identify areas where weather radar coverage could be improved. U.S. Rep. Nathaniel Moran (R-Tyler) has filed a bill that would require the government to conduct a study of weather monitoring equipment, like radars, in rural America.
"This bill specifically would require the government to undertake a study to see those gaps, to identify those gaps, and to provide specific information to Congress, so that we can then implement and authorize appropriations accordingly, so we can fill those gaps," Moran said.
To better understand the "gaps" referred to by Moran, you must understand how a weather radar works.
"It sends out a beam, and with that beam, it's picking up rainfall, hail, anything within the thunderstorm," said First Alert Meteorologist Katie Vossler, who said the radar uses a Doppler effect to determine whether particles in the air are moving toward or away from the radar site.
"That beam is sent out kind of in an arc, so as it comes out from the radar, the curve of the earth below it means that the further away from the radar that beam gets, the further up into the thunderstorm that the radar is looking," Vossler said.
While National Weather Service radars cover all of East Texas, coverage below 10,000 ft. is lacking in parts of the region.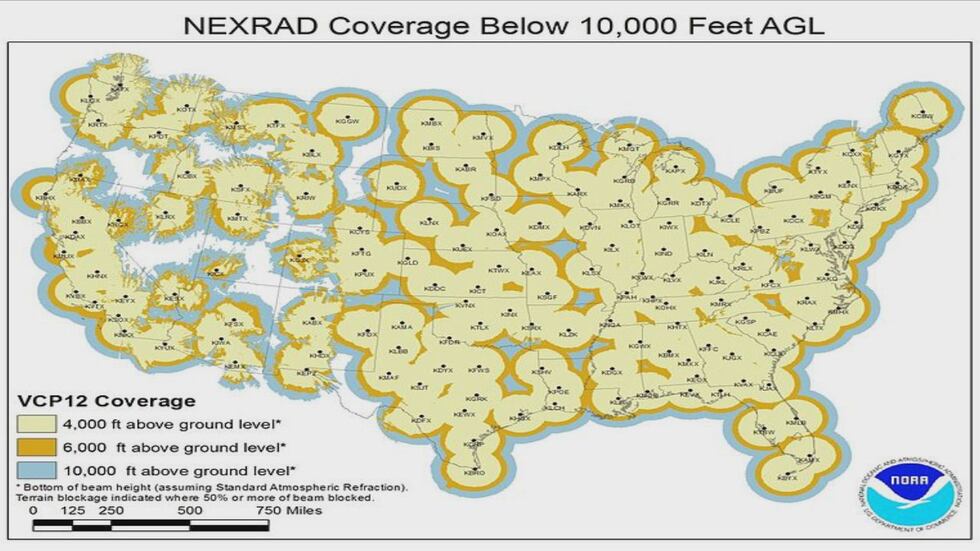 "We're able to see thunderstorms anywhere in East Texas, but the further you get away from that radar, the more you're looking at the top of the thunderstorm instead of the bottom, at the surface. And of course, it's at the surface that we're worried about what the weather is doing," said Vossler.
Moran's bill aims to identify areas in need of better radar coverage and those across the country with no coverage at all. He said his bill is just one piece of legislation that would go into the overall "Weather Authorization Act."
"It's a companion with a number of other bills that are hopefully going to pass through in that overall act that will begin to put a new generation of Doppler systems out there and ensure coverage across the United States," Moran said.
Copyright 2023 KLTV. All rights reserved.