Annual Tyler Police survey gives glimpse into public perception of crime, police dept.
The police department's annual customer service satisfaction received minimal response this year.
Published: May. 26, 2023 at 10:27 AM CDT
|
Updated: May. 26, 2023 at 6:55 PM CDT
TYLER, Texas (KLTV) - Each year the Tyler Police Department sends an invitation for hundreds of citizens to take part in a survey meant measure opinions on crime, life in Tyler, and how the public thinks that the department is performing.
Among the questions asked of respondents:
-Do you believe crime in Tyler is increasing/decreasing/stable/ don't know?
-How safe do you feel in your neighborhood?
-Overall, how would you rate the quality of life in Tyler?
Respondents were also asked to prioritize which crime-related issues were most important to them, including residential burglary, criminal mischief (property destruction/vandalism), auto theft, speeding, running red lights, robbery, auto burglary, commercial (business) burglary, neighborhood improvement, drug/narcotics violations, fraud and shoplifting. An option for "other crimes" allowed respondents to fill in the crimes that were of most concern to them.
To measure opinions, the Tyler Police Department sent out 1,500 postcards with QR codes to the online survey randomly to Tyler residents living in the following zip codes: 75701 (south of Front St., inside of South Loop 323), 75702 (north of Front St, to North Loop 323) and 75703 (south of South Loop 323, towards Noonday and north of Bullard city limits).
Through a public information request, KLTV news received the results of all survey respondents.
Out of 1,500 invitations sent out, a Tyler Police spokesperson says only 35 people responded.
In reviewing the responses provided to KLTV news, the small number of responses still shows differing attitudes on crime and police work, particularly between respondents who live in north, Midtown/central and south Tyler.
Among the responses:
A majority of respondents in 75701 (central/Midtown) and 75703 (south) stated they believe crime in Tyler is increasing, while the majority of respondents in 75702 (north) stated they believe crime is stable in their area.
75701 (Midtown/central Tyler)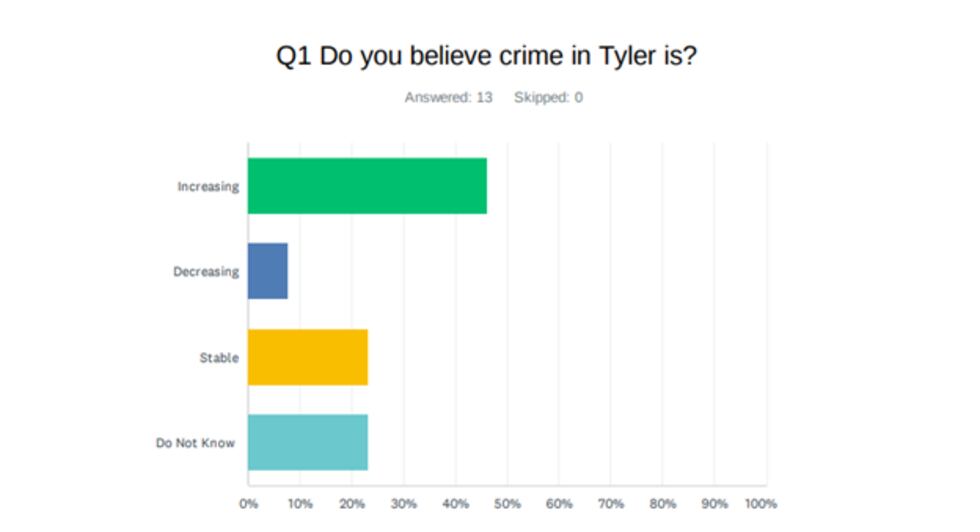 75703 (south Tyler)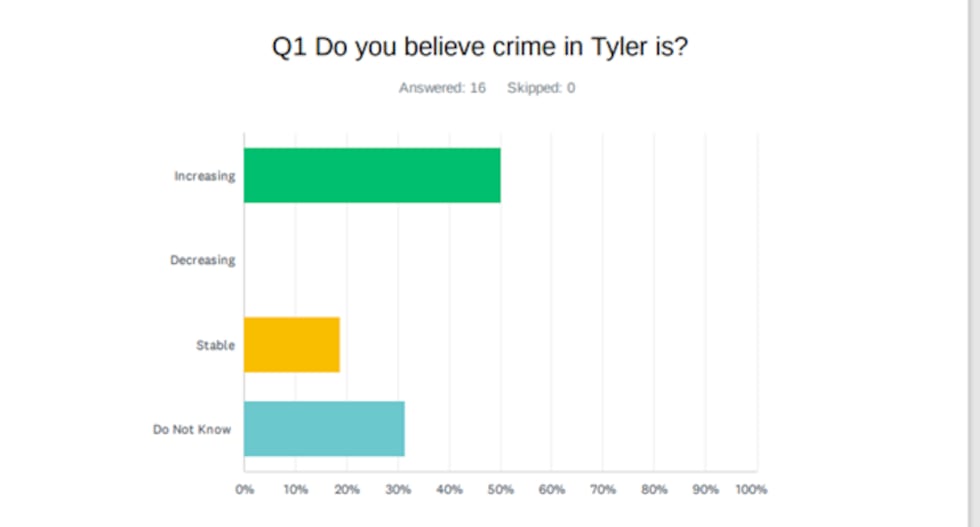 75702 (north Tyler)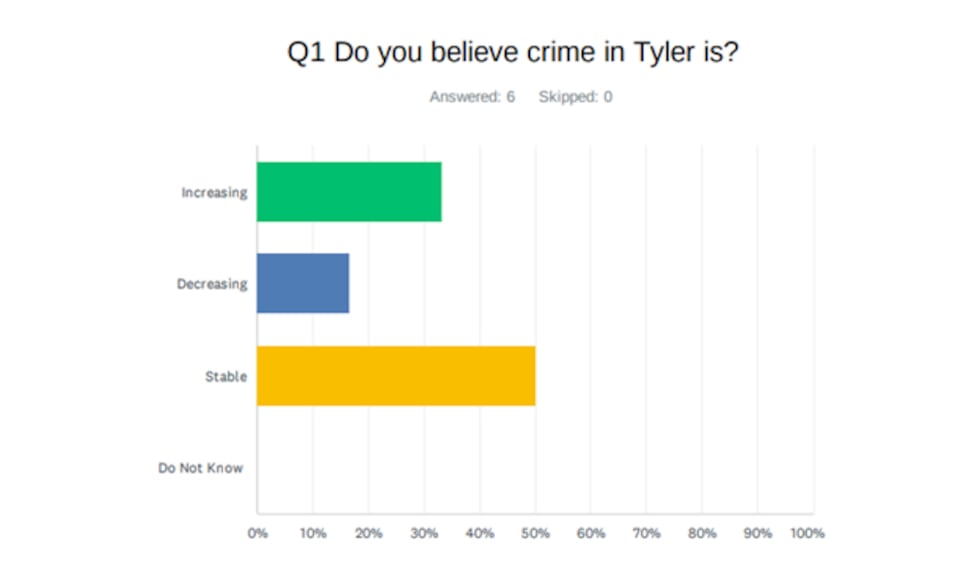 When asked how safe they feel in their neighborhood (very safe, safe, stable, unsafe, very unsafe): most (38%) in 75701 (central/Midtown) indicated "safe", while 43% in 75703 (south) indicated they feel "very safe". In 75702 (north), 50% indicated they felt "stable" about their neighborhood safety, while 33% indicated they felt "very unsafe".
75701 (central /Midtown Tyler)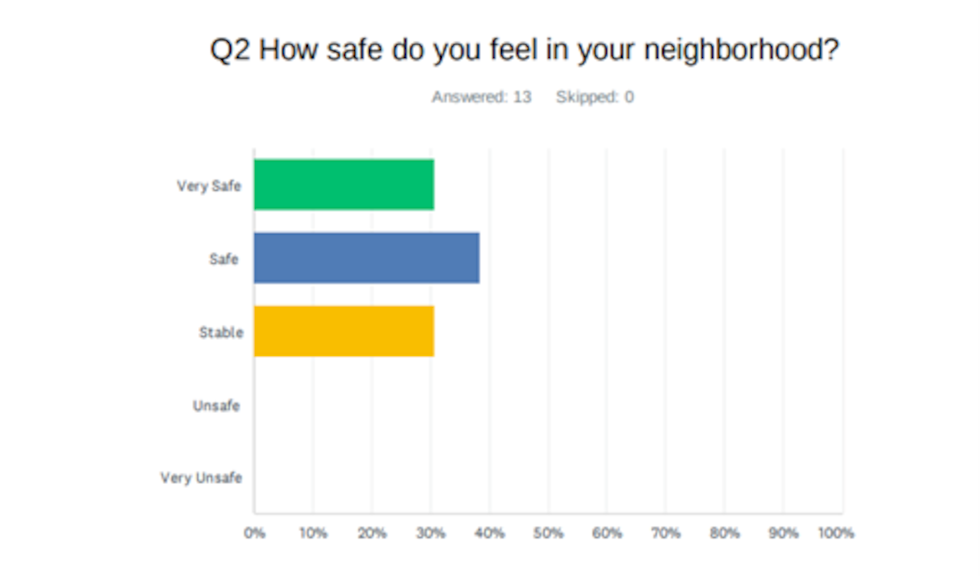 75703 (south Tyler)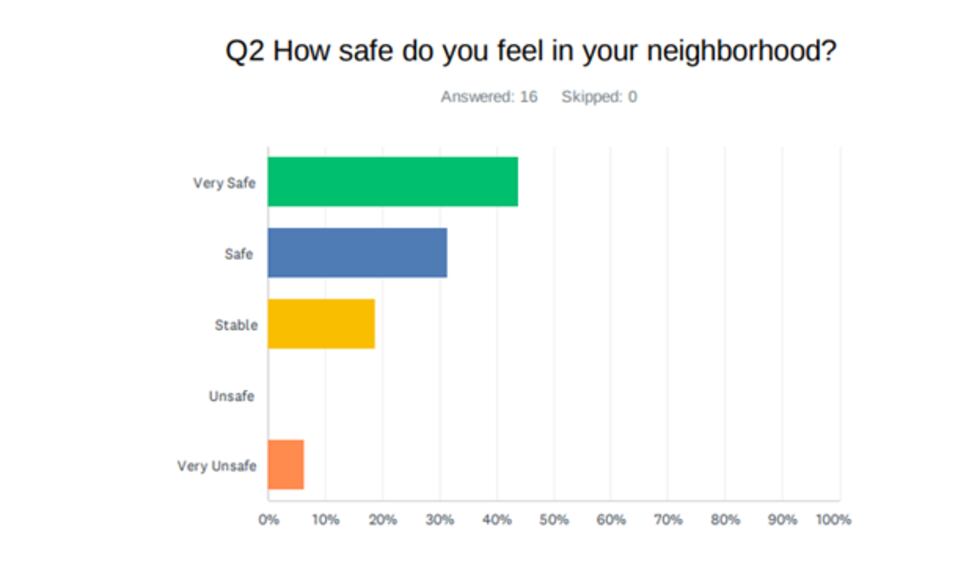 75702 (north Tyler)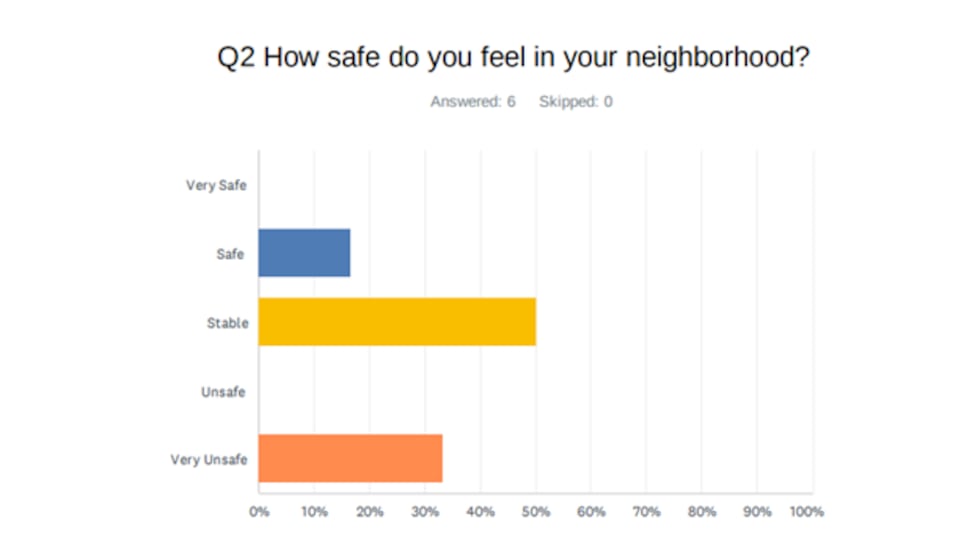 It's worth noting, Tyler Police's survey displayed responses mainly as a percentage. However, due to only having 35 responses, only a few responses can result in a large percentage.
In all three zip codes, when asked what type of contact the respondent had with Tyler Police Personnel in the last 12 months, most of the respondents who did have contact said they were reporting crime, or were involved in a traffic stop, an automobile crash or requesting public information.
In sections where respondents were allowed to manually enter their answers-
Responses in 75702 (north) include:
"I have called Tyler PD about people speeding along E. Erwin btwn (sic) Old Henderson and S. Fleishel as well as on S. Mahon Ave btwn (sic) E. Erwin and Front, but get little response."
"I have called several times about loud music, but the only way a person can be ticketed if I write out a formal complaint which all info is available to the complainant. So, the people only get warned, never ticketed!"
"Some of the officers need to be more respectful and at least show an interest in any concerns brought up by the citizens. But there have only been a handful of those officers. The department as a whole has greatly improved in the last year or so."
"There is no police presence in my neighborhood unless called."
"Very seldom see police patrols north of Front St. Why?"
Responses in 75703 (south) included:
"Listening to drag racing from major intersections (Grande / Broadway) at night can be annoying."
"I feel that officers placed in speed traps around town would better be served and use of time set at intersections catching red light runners. I watch several cars every day and every intersection running red lights."
"MENTAL HEALTH TRAINING & AWARENESS is a priority for me because of the number of people who are mentally challenged. Comments for our departments…. #1. Love how kind they are to young children and especially my granddaughter who always wants to go talk to the "paplicman"(sic) #2. Any contact that I have ever had with them has been pleasant and they were always relaxed and professional. I've never felt uncomfortable at any time."
"Keep up the outstanding work! We back our blue!"
"During a traffic stop I felt officer was extremely professional and took time to educate me on speed limits changing on Cumberland Rd. Very impressed with police professionalism, visibility, and overall awareness."
"More presence and visibility at night. I run into OWI drivers nightly on Paluxy, Loop (323) and Old Jacksonville Rd. We need DUI checkpoints randomly again, especially on holidays. Police presence at current is a joke during the night hours in Southern/central Tyler."
"We appreciate the motorcycle unit that patrols Old Bullard Rd, school zone and speeding violations. At night when school is out this road can be a raceway. Thank you, Tyler Police."
"Police should pay more attention to everyone running a redlight at every intersection every day, instead of trying to set speed traps and other insignificant obstacles."
In 75701 (central/midtown) responses included:
"I wish the police would patrol the residential streets more. Some days there are so many cars parked on the street you can hardly get down it. The people across have 6 to 7 cars on the street and drive most days."
"More $ spent in schools to keep kids out of gangs and anti-gang education for teachers. I taught for years before learning that ESL in kid's artwork stood for East Side Locos, not English as a Second Language. May God strengthen and protect our Tyler Police Team and all First Responders. You are a blessing to us!"
"I have always been very pleased when I had to call them for a situation. They were prompt and helpful."
When it comes to the overall quality of life in Tyler, 69% of respondents in 75701 (central/midtown) said it was "excellent" or "above average". 81% of respondents in 75703 (south) indicated "excellent" or "above average", in 75702 (north) 50% said quality of life was "average" in Tyler, while 33% said "excellent".
The complete summary of responses for each zip code survey is linked to this story.
A Tyler Police spokesperson tells KLTV news that surveys conducted in years past involved respondents mailing back the survey, or delivering it to police in-person. In year's past, they averaged around 100 responses. The department's use of a QR code linking to an online survey was a new method.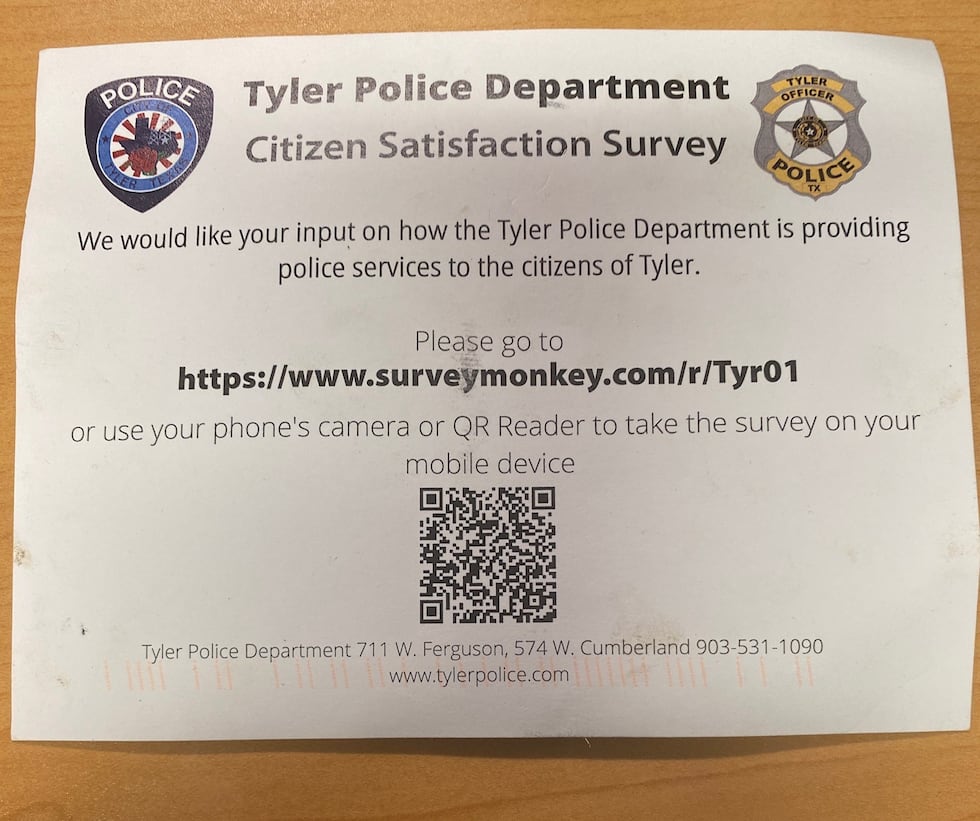 The Tyler Police Department maintains crime statistics on its website at this link:
Copyright 2023 KLTV. All rights reserved.