Hopkins County community of Dike votes against incorporation
Published: May. 8, 2023 at 11:23 AM CDT
DIKE, Texas (KLTV) - The May 6 ballot included a proposition to incorporate the community of Dike into a new city, but that proposition was voted down.
Voters rejected the proposition with 108 votes against and only 32 votes for the incorporation of Dike. The proposition was sparked by plans for the construction of a solar farm in the community that were approved by the Hopkins County Commissioners Court in 2020 and left some residents feeling under-represented. However, concerns about the responsibility of running a city, including potential higher taxes to support road maintenance and a dedicated fire department, created opposition.
The ballot also included races for mayor and commissioners for the potential new city. Had the proposition passed, Brett Lester would have won the position of mayor, while Pam Harder and Dirk Wessels would have been city commissioners. Lester won with 60% of votes in his race, while Harder and Wessels each had about 30% of votes in the race for two commissioner seats.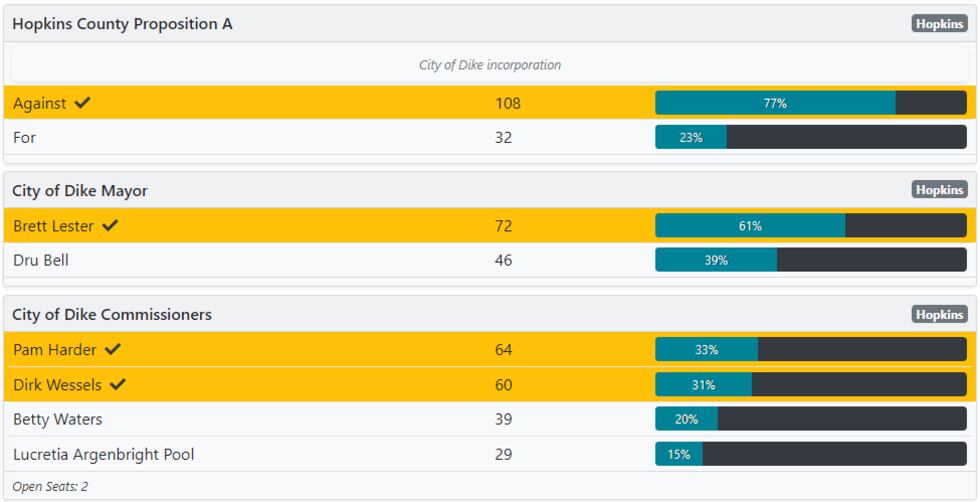 For more election results, click here.
RELATED:
Copyright 2023 KLTV. All rights reserved.