Video released of 18-wheeler crashing into firetruck along I-20 in Smith County
Video used to highlight legislation that would stiffen penalties for failing to move over, slow down
Published: Apr. 25, 2023 at 6:53 PM CDT
|
Updated: Apr. 25, 2023 at 8:40 PM CDT
SMITH COUNTY, Texas (KLTV) - Newly released video shows the moment an 18-wheeler crashed into the back of a firetruck already on the scene of another crash in Smith County.
The incident happened April 5, 2023, along Interstate 20 in Smith County. Thankfully, no first responders were seriously injured. Smith County ESD 2 Fire Chief Eric Greaser credits a blocking device on the back of the firetruck for the outcome.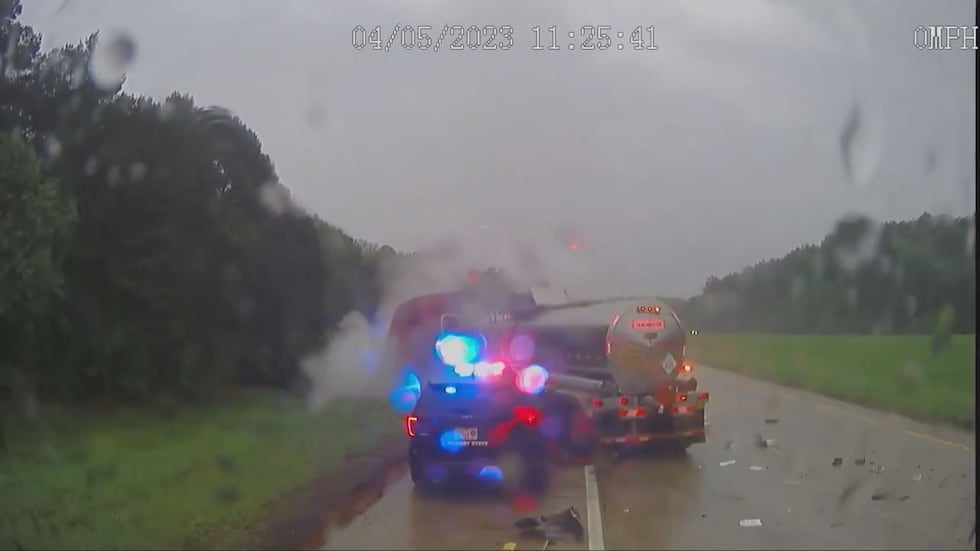 "No doubt that blocking apparatus saved lives that day," he said. "It did exactly what it was intended for. It prevented the impact into the back of the trooper and minimized the impact in the back of that engine."
While this story ended better than it could have, the same cannot be said for other incidents. Since 2019, at least 25 first responders have been hit and killed along Texas roads. Laws already require drivers to move over and slow down, but many first responders argue the $200 penalty is not enough. A bill in the Texas House of Representatives, HB 898, aims to change that.
"That bill, as I understand it, increases penalties for a 'move over, slow down' law that's already in place. So, this increases penalties for drivers that violate that, and we see that every day just like this one," Greaser said.
If passed, the bill would increase the penalty for drivers who fail to move over and slow down from $200 to over $1,000, along with allowing the courts to possibly suspend the person's driver's license and clear the way for possible jail time. The bill passed the Texas House on Tuesday with a vote of 139 to nine.
"I would ask them to help us serve our citizens," Greaser asked of lawmakers. "And help us by increasing those penalties for those that choose that it's not important when they see emergency vehicle lights active on the roadway, especially on our highways at highway speed, help us by increasing those penalties and enforcement so that we can keep our first responders safe so that they can go home to their families."
If passed by both chambers, the increased penalties would take effect Sept. 1, 2023.
Copyright 2023 KLTV. All rights reserved.