Smith County Sheriff's Office releases video in connection with county clerk's criminal charge
Sheriff's office releases bodycam video
Published: Apr. 6, 2023 at 3:53 PM CDT
|
Updated: Apr. 6, 2023 at 11:16 PM CDT
Editor's Note: A prior version of this story contained body camera video that inadvertently had a technical error resulting in an audio/video sync issue. We have since corrected the video. You can video the unaltered raw footage here.
TYLER, Texas (KLTV) - The video showing the Smith County Clerk interfering with the arrest of her adult son has been released.
Karen Phillips, 65, of Tyler, was arrested Tuesday on one count of interfering with public duties after she allegedly attempted to prevent the arrest of Derrick Phillips. Karen Phillips is the wife of Smith County Pct. 3 Commissioner Terry Phillips.
According to a probable cause statement, the incident started when a deputy observed a vehicle to have defective tail lamps and attempted to pull the vehicle over, but the vehicle did not stop until it pulled into the driveway of Karen and Terry Phillips' home.
According to the deputy, Derrick Phillips, a friend of the man pulled over, stepped out of second vehicle, and began interfering with the traffic stop. When a second deputy arrived to provide assistance, an attempt was made to arrest Derrick Phillips, who then ran into the residence.
In the bodycam footage, Karen Phillips can be seen shouting expletives and putting herself between the deputies and Derrick Phillips.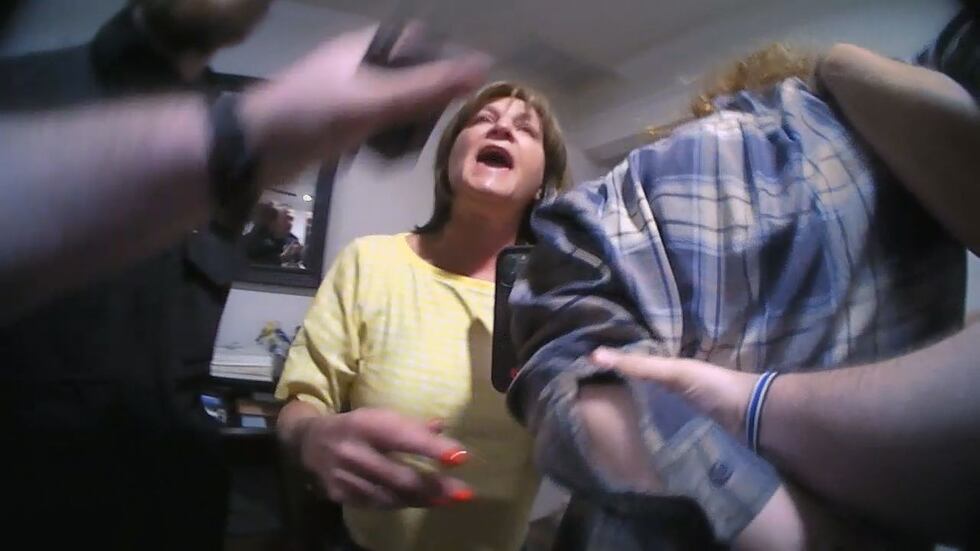 "Karen Phillips could be seen interrupting the traffic stop," Sheriff Larry Smith said. "She attempted to grab the deputy as he was running after the Phillips' son. And then tried to get between them as he (deputy) was getting the Phillips' son out of the house and into the marked unit."
The footage led to the arrest of Karen Phillips, who has since bonded out of jail. She and her husband have declined comment on the situation.
RELATED:
Copyright 2023 KLTV. All rights reserved.