Saturday Morning Weather At Your Fingertips
Mostly sunny to partly cloudy today. Highs in the upper 70s and low 80s.
Published: Apr. 1, 2023 at 7:14 AM CDT
EAST TEXAS, Texas (KLTV/KTRE) - Good morning, East Texas! Here is the weather where you live... Mostly sunny skies for our Saturday with temperatures climbing into the upper 70s and low 80s this afternoon. Through the midday hours we may see an increase in cloud cover, but it should still be a beautiful day. This evening, we'll cool into the 70s and 60s, and eventually the 50s overnight.
Sunday (Palm Sunday) will start off with partly to mostly cloudy skies and temps in the 50s and 60s. The first half of tomorrow looks dry, but during the afternoon and evening, thunderstorms will make their way into East Texas, some of which could produce some hail and strong wind. The tornado threat is near zero, but not completely out of the question. Storms will clear out late in the evening, and then we'll stay dry through Monday.
Highs early in the week will be closing in on 90-degrees before we see our next significant cool down midweek. Wednesday through Friday look like soggy days, with quite a bit of rain expected. Temperatures will run below normal through this period as well, with highs in the 60s and low 70s. Right now, it does look like the rain should clear by the time we get to Easter Sunday, but of course that is subject to change so far out. Have a great Saturday.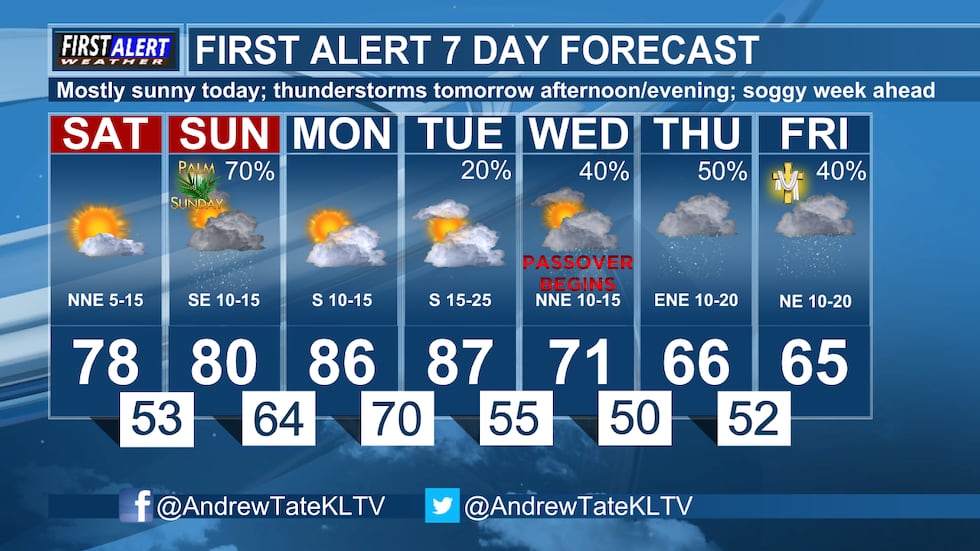 Copyright 2023 KLTV/KTRE. All rights reserved.