The Stew Review: John Wick: Chapter 4 a modern classic of action cinema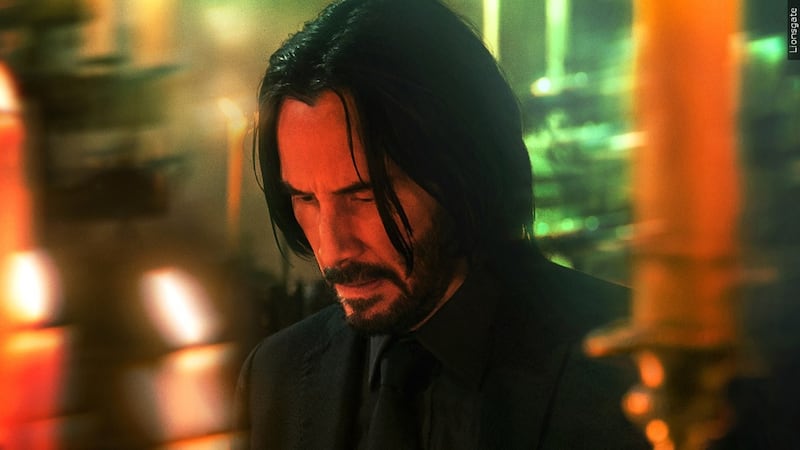 Published: Mar. 29, 2023 at 3:52 PM CDT
TYLER, Texas (KLTV) - In the lead up to its release, I'd heard no small amount of seemingly-hyperbolic praise heaped up on John Wick: Chapter 4 by friends lucky enough to see advanced screenings. Surely, I reasoned, this is merely pre-release hype fed by the thrill that comes with seeing something highly anticipated before everyone else.
I was wrong.
Believe the hype. This really is an incredible feat of moviemaking. John Wick: Chapter 4 is the rarest of sequels. Most film franchises are barely running on fumes by their third film, much less a fourth. Director Chad Stahelski and star Keanu Reeves, however, have delivered a movie with such ferocious style and breathtaking intensity that I walked away wondering if I'd hallucinated half of it.
The John Wick series has been one of consistent escalation. The first film feels almost quaint now with its eponymous protagonist leaving a miles-long trail of bodies through New York City on his sympathetic quest for vengeance. Now fully drawn back into the neon-drenched underworld he so desperately fought to leave, Mr. Wick brings his unparalleled expertise across multiple continents as we are immersed even further into this alternate reality of assassins and shadowy rulers. Chapter 3 never found the right balance of world building and characters, resulting in more than a bit of cinematic wheel-spinning, a problem Chapter 4 solves by shifting the focus from John as a loner against all odds to him navigating a web of relationships old and new in an all-out battle royale for his ultimate emancipation
He'll just have to go through the toughest, most ruthless opponents he's ever faced, including a former best friend, to get there. What unfolds is something exhilarating.
Chapter 4 is as much a love letter to every twin-fisted action flick Chad Stahelski has ever loved as it is a modern classic of the form. This may be the fourth time in a row that Keanu Reeves has pumped boxes of bullets into endless waves of underworld goons and assassins, but it's an experience that he and Stahelski have honed to a mirror sheen. Throw in the likes of Hiroyuki Sanada, Scott Adkins, Rina Samayawa, Shamier Anderson and the godlike Donnie Yen and the result is the most relentless action movie since Mad Max: Fury Road. Every time you think the movie has topped itself with inventive ways to beat, slice, stab, bludgeon, whip and otherwise maim both heroes and villains, Stahelski says, "Nah, hang on." Save for the aforementioned Fury Road, this may well be the ultimate form of an action movie, delivering a perfect blend of Asian-influenced mayhem and Stahelski's own decades of experience as a Hollywood stuntman.
It's a visual knock-out, too. The complexity of Wick's action successfully escalates with each film and Chapter 4 delivers a symphony of destruction to the point where it's nigh impossible to pick a favorite. The siege of the Osaka Continental featuring what may be the single best use of nunchucks ever in a movie? John's rampage through a dilapidated apartment building viewed largely from a top-down perspective? A fight in and around traffic at Paris' Arc de Triomphe that has to be seen to be believed? Any one of these would be considered the high watermark of any action director's career.
These scenes are electric thanks to the outstanding choreography and a level of visual panache that puts every other recent film of this kind to shame. Any given environment is stunning to look at thanks to phenomenal production design and art direction (as well as Dan Laustsen's gorgeous cinematography). But what makes these scenes as impactful as they are is something far more fundamental than fancy moves and good photography: Stahelski lets you see what's going on. You'd think something this basic would be a principle more widely embraced, but getting a Hollywood action movie where the lighting is intentional, the edits are minimal and the camera movement precise and steady is maddeningly rare. The John Wick films at large have embraced this fundamental approach, but Chapter 4 takes it to an echelon above where even its predecessors unquestionably succeeded.
What really makes this one sing is the cast, though. Stahelski has made a habit of putting fantastic character actors throughout this series, but the additions in Chapter 4 are, as with most everything else, a cut above. Even ignoring the fact that I could listen to Clancy Brown read the phone book, the gravitas he brings to a role like The Harbinger cannot be understated. It's abundantly clear that Bill Skarsgaard was put on this Earth exclusively to play movie villains. And Hiroyuki Sanada reminds us why he's been a mainstay of Asian cinema since the 1960s. But it's Donnie Yen who completely steals the show as John Wick's friend-turned-nemesis Caine. Yen has been a mega-star of Hong Kong cinema for years, but he's either been woefully underutilized (a la Blade II) or been cast to play second-fiddle (XXX: The Return of Xander Cage) and never given a true chance to fully shine for audiences in the West. Stahelski lets Yen cut loose in a way that is sure to blow the minds of at least a few moviegoers, and that's on top of him playing a character that feels every bit as sympathetic as Keanu's.
And speaking of Keanu, I'd be remiss if I didn't talk about his work in these films. Say what you will about the quality of his acting, I dare say no award-winning actor could bring the level of commitment to authenticity and the bottled fury Reeves lets loose across these four films. Keanu Reeves could play Forrest Gump, but Tom Hanks probably couldn't go toe-to-toe with some of cinema's greatest martial artists. The amount of pain and abuse John Wick endures is basically superhuman at this point, but Reeves manages to make the impact land and be felt because he believes in this character and the exaggerated world he inhabits.
It feels almost miraculous that this series exists, much less that it has flourished in such a way. In a landscape filled with movies based on pre-existing intellectual property and remakes, we now have four movies bursting with creativity and originality that also serve as love letters to the inspiring source material. If this is the last we see of John Wick, there's no better way to send him off.
Copyright 2023 KLTV. All rights reserved.