Saturday marks 86 years since New London school explosion in Rusk County
Explosion resulted in odor being added to natural gas
Published: Mar. 17, 2023 at 6:39 PM CDT
|
Updated: Mar. 17, 2023 at 9:58 PM CDT
RUSK COUNTY, Texas (KLTV) - Saturday will mark 86 years since the deadliest school disaster in America, and it happened right here in East Texas.
At the cenotaph in New London, 294 crosses represent the lives lost on March 18, 1937, when a spark from a shop sander ignited natural gas leaking beneath the New London School.
For over 20 years, John Davidson has shared the tragic story with those who visit the London Museum.
"It tells a story about resilience of people in the area," said Davidson. "People who come in here that have never been here are awed with the amount of things we have in here from the explosion day."
Among the items on display is a piece of the dress Davidson's 14-year-old sister was wearing when she died in the blast.
"She was the only child," Davidson said. "My mother and dad were 40-years-old. They weren't going to have any more kids. I came along three years later, and I was an only child. So, in reality if this wouldn't have happened, I wouldn't have been born."
Ardyth Davidson was among the 270 students confirmed to be killed in the explosion. Their deaths would not be in vain.
"Because of what happened here that day, they added to natural gas a manmade chemical called mercaptan. Supposed to smell like a million skunks. It never made it. Missed it by one skunk. And, you'll never get over that smell if you smell it," Davidson said.
It's an odor that has saved more lives than we'll ever know from the same fate as those at the New London School on March 18, 1937.
The annual memorial service to commemorate the tragedy is set to happen Saturday at 2:45 p.m. It will be followed by a reception at the museum, which will be offering free tours all day.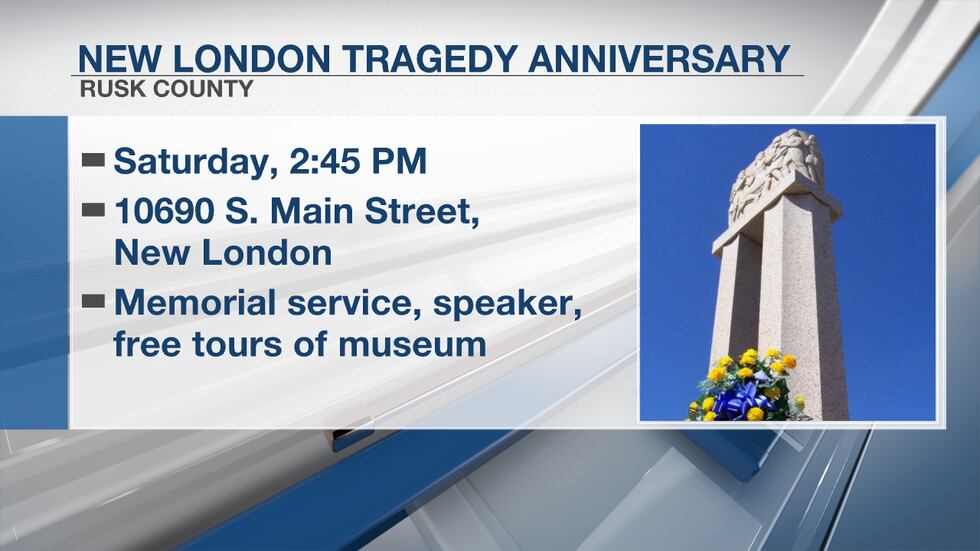 Copyright 2023 KLTV. All rights reserved.