Zavalla sophomore shows rabbits at Angelina County Fair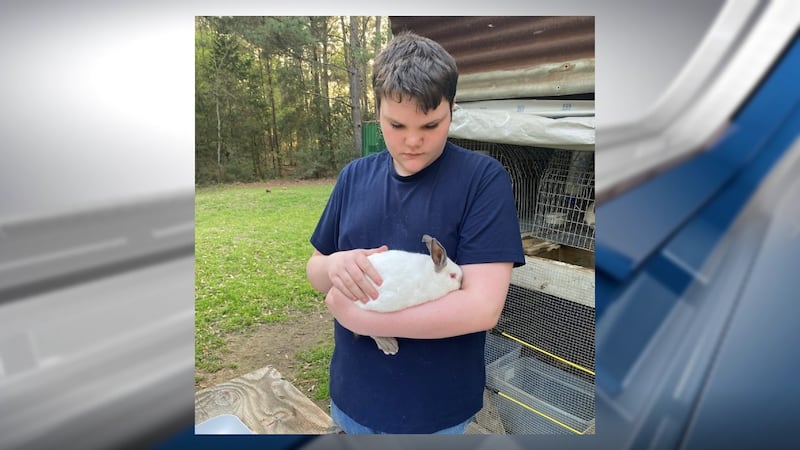 Published: Mar. 16, 2023 at 11:56 AM CDT
ANGELINA COUNTY, Texas (KTRE) - At 10 a.m. Wednesday at the Angelina County Fair, the breeding and market rabbit show kicks off. That day, Zane Fuller, a sophomore at Zavalla High, will compete against 71 other pens of rabbits from over 50 families across the county. This year will be Zane's second year competing with rabbits at the fair.
An estimated 72 rabbit pens from over 50 families will take part in the 2023 market rabbit competition.
There are two divisions regarding rabbits: breeding and market. Breeding rabbits are judged on their physical characteristics that can pass positive traits onto their offspring. In the market rabbit division, a pen of three will be evaluated for their carcass traits.
"I originally choose to start showing rabbits because I wanted to somehow get into showing animals projects and rabbits fit our space at home and had a low cost of entry." Zane said. "Getting ready to show and getting to sell in the auction is my favorite part of the Fair." Zane added, "The hardest part is the work ahead of time. It takes a lot of work to get the pens ready and set up."
Each market rabbit exhibitor will show three rabbits as one entry. All three must individually weigh between 3.5 pounds to 5.5 pounds at the check-in by the show superintendent. Within the breeding rabbit division, there will be a champion buck and champion doe. Breeding rabbits are not included in the auction on Saturday.
Rabbits require daily attention. They need lots of fresh clean water at all times. Exhibitors like Zane check daily for ear mites and work their hair. To best monitor growth, they weigh them every three to four days. Keeping records of weight gain help him maintain uniform weights in his pen of rabbits.
Zane is the son of Ray and Jeanine Fuller.
"He had a great time his first-time last year. I love that he learned the responsibility of taking care of animals," Ray Fuller said.
Ray raised hogs when he was in high school, and emphasized, "I thought he would benefit from the agricultural science program at school, learning valuable skills in such areas as agriculture, wildlife, and forestry."
Kris Hunt is the ag-science instructor at Zavalla High.
"It is my hope that the students competing in the Fair, no matter what contest they compete in, learn through hard work, dedication, and perseverance that they can accomplish anything," Hunt said.
Zane has entered and is raising five market rabbits. He'll bring three of them to the competition on Wednesday morning, March 22.
The auction will be at 4 p.m., Saturday, March 25. For a complete schedule of this year's County Fair, go to www.angelinacountyfair.com.
Cary Sims is the County Extension Agent for agriculture and natural resources for Angelina County. His email address is cw-sims@tamu.edu. To receive a monthly newsletter about local Extension educational events and other offerings, e-mail Angelina-TX@tamu.edu
Copyright 2023 KLTV. All rights reserved.