Poland to be 1st NATO member to give Ukraine fighter jets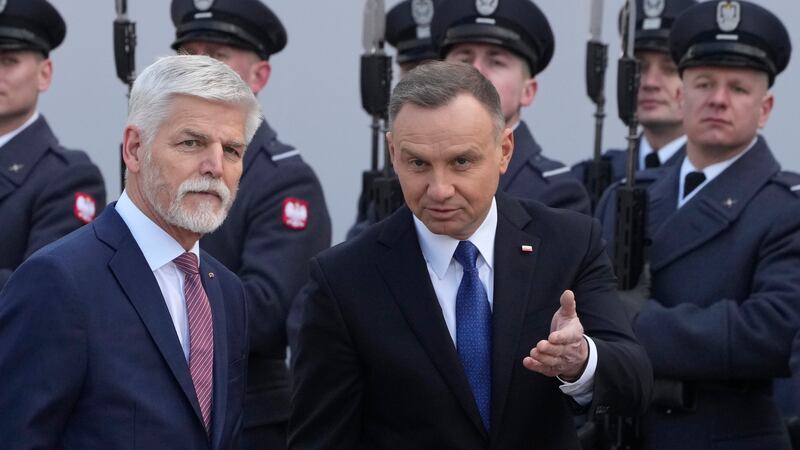 Published: Mar. 16, 2023 at 12:06 PM CDT
|
Updated: Mar. 16, 2023 at 2:52 PM CDT
WARSAW, Poland (AP) — Poland said Thursday it plans to give Ukraine about a dozen MiG-29 fighter jets, which would make it the first NATO member to fulfill Kyiv's increasingly urgent requests for warplanes to defend itself against the Russian invasion.
Warsaw will hand over four of the Soviet-made warplanes "within the next few days," President Andrzej Duda said, and the rest needed servicing but would be supplied later. The Polish word he used to describe the total number can mean between 11 and 19.
"They are in the last years of their functioning, but they are in good working condition," Duda said.
He did not say whether other countries would follow suit, although Slovakia has said it would send its own disused MiGs to Ukraine. Poland also was the first NATO nation to provide Ukraine with German-made Leopard 2 tanks.
On Wednesday, Polish government spokesman Piotr Mueller said some other countries also had pledged MiGs to Kyiv, but did not identify them. Both Poland and Slovakia had indicated they were ready to hand over their planes, but only as part of a wider international coalition doing the same.
The government in neighboring NATO member Germany appeared caught off guard by Duda's announcement.
"So far, everyone has agreed that it's not the time to send fighter jets," German Defense Minister Boris Pistorius told reporters. "I don't have any confirmation from Poland yet that this has happened."
The White House called Poland's move a sovereign decision and lauded the Poles for continuing to "punch above their weight" in assisting Kyiv, but it stressed the move would have no bearing on President Joe Biden, who has resisted calls to provide U.S. F-16s to Ukraine.
"There's no change in our view with respect to fighter aircraft at this time," White House National Security Council spokesman John Kirby said. "That is our sovereign decision. That is where we are, other nations can speak to their own" decisions.
The White House said Poland notified the U.S. of its decision to provide MiGs before Duda announced the move.
Before Russia's full-scale invasion in February 2022, Ukraine had several dozen MiG-29s it inherited in the 1991 collapse of the Soviet Union, but it's unclear how many remain in service after more than a year of fighting.
The debate over whether to provide non-NATO member Ukraine with fighter jets started last year, but NATO allies expressed concern about escalating the alliance's role in the war. The hesitation continued even as Ukrainian President Volodymyr Zelenskyy made increasingly vocal pleas for Western supporters to share their warplanes.
Duda made the announcement during a joint news conference in Warsaw with the visiting Czech President Petr Pavel.
Duda said Poland's air force would replace the planes it gives to Ukraine with South Korea-made FA-50 fighters and American-made F-35s.
Poland has provided Ukraine with crucial support during the war. It is hosting thousands of American troops and has taken in more Ukrainians than any other nation during the refugee exodus sparked by the Russian invasion.
The central European nation experienced Russian invasions and occupations for centuries and still fears Russia despite being a NATO member.
___ Follow AP's coverage of the war at https://apnews.com/hub/russia-ukraine
Copyright 2023 The Associated Press. All rights reserved.