Biden OKs Alaska oil project, draws ire of environmentalists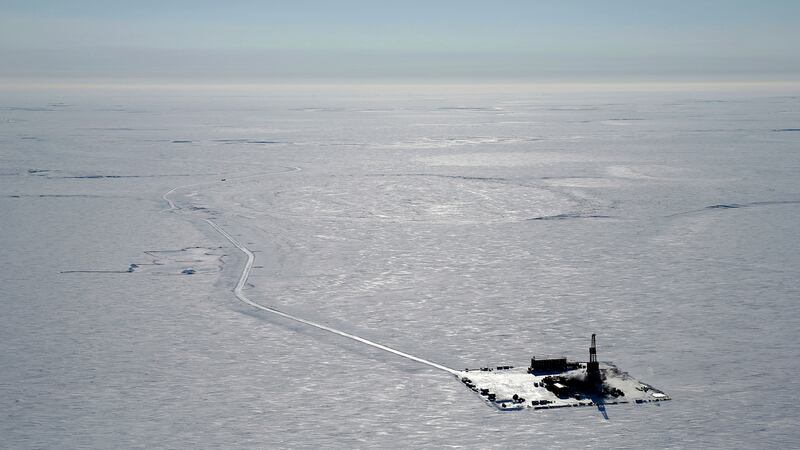 Published: Mar. 13, 2023 at 8:04 AM CDT
|
Updated: Mar. 13, 2023 at 8:35 PM CDT
WASHINGTON (AP) — The Biden administration said Monday it is approving a huge oil-drilling project on Alaska's petroleum-rich North Slope, a major environmental decision by President Joe Biden that drew quick condemnation as flying in the face of his pledges to slow climate change.
The announcement came a day after the administration, in a move in the other direction toward conservation, said it would bar or limit drilling in some other areas of Alaska and the Arctic Ocean.
The approval of ConocoPhillips' big Willow drilling project by the Bureau of Land Management will allow three drill sites including up to 199 total wells. Two other drill sites proposed for the project will be denied. ConocoPhillips Chairman and CEO Ryan Lance called the order "the right decision for Alaska and our nation."
The Houston-based company will relinquish rights to about 68,000 acres of existing leases in the National Petroleum Reserve-Alaska.
The order, one of the most significant of Interior Secretary Deb Haaland's tenure, was not signed by her but rather by her deputy, Tommy Beaudreau, who grew up in Alaska and briefed state lawmakers on the project Monday. Haaland was notably silent on the project, which she had opposed as a New Mexico congresswoman before becoming Interior secretary two years ago, until releasing a video Monday evening.
She described Willow as "a difficult and complex issue that was inherited" from earlier administrations. Because ConocoPhillips has held leases in the area for decades, Haaland said officials "had limited decision space" to block the project but focused on minimizing its footprint.
Haaland defended the Biden administration's record on climate change, saying, "I am confident that we are on the right path, even if it's not always a straight line."
Climate activists remained outraged that Biden approved the project, which they say puts his climate legacy at risk. Allowing the drilling plan to go forward marks a major breach of Biden's campaign promise to stop new oil drilling on federal lands, they say.
Monday's announcement is not likely to be the last word, with litigation expected from environmental groups.
The Willow project could produce up to 180,000 barrels of oil a day, create up to 2,500 jobs during construction and 300 long-term jobs, and generate billions of dollars in royalties and tax revenues for the federal, state and local governments, the company said.
The project, located in the federally designated National Petroleum Reserve-Alaska, enjoys widespread political support in the state. Alaska's bipartisan congressional delegation met with Biden and his advisers in early March to plead their case for the project, and Alaska Native state lawmakers recently met with Haaland to urge support.
Sen. Lisa Murkowski, R-Alaska, said Monday the decision was "very good news for the country."
"Not only will this mean jobs and revenue for Alaska, it will be resources that are needed for the country and for our friends and allies," Murkowski said. "The administration listened to Alaska voices. They listened to the delegation as we pressed the case for energy security and national security."
Fellow Republican Sen. Dan Sullivan said conditions attached to the project should not reduce Willow's ability to produce up to 180,000 barrels of crude a day. But he said it was "infuriating" that Biden also had moved to prevent or limit oil drilling elsewhere in Alaska.
Environmental activists who have promoted a #StopWillow campaign on social media were fuming at the approval, which they called a betrayal.
"This decision greenlights 92% of proposed oil drilling (by ConocoPhllips) and hands over one the most fragile, intact ecosystems in the world to" the oil giant, said Earthjustice President Abigail Dillen. "This is not climate leadership.''
Biden understands the existential threat of climate change, "but he is approving a project that derails his own climate goals,'' said Dillen, whose group vowed legal action to block the project.
John Leshy, who was a top Interior Department lawyer in the Clinton administration, said Biden's climate goals aren't the only factor in an environmental review process that agencies must follow.
Leshy, a professor at the University of California College of the Law, San Francisco, called the decision on Willow defensible, adding: "I think it reflects a balancing of the things they have to balance, which is the environmental impact and the lease rights that Conoco has.''
Christy Goldfuss, a former Obama White House official who now is a policy chief at the Natural Resources Defense Council, said she was "deeply disappointed'' at Biden's decision to approve Willow, which the BLM estimates would produce more than 239 million metric tons of greenhouse gases over the project's 30-year life, roughly equal to the combined emissions from 1.7 million passenger cars.
"This decision is bad for the climate, bad for the environment and bad for the Native Alaska communities who oppose this and feel their voices were not heard,'' Goldfuss said.
The Willow project has been a particularly galvanizing issue for young activists, who flooded TikTok with videos opposing the proposal.
Biden has not commented publicly on the project's approval. However, he talked about climate change with Kal Penn, an actor who served in the White House under President Barack Obama, in an interview that was taped last week and will be aired Monday evening on Comedy Central's "The Daily Show."
"We're going faster than anyone has ever gone," Biden said when asked about young people who want him to push harder. He said the energy situation "got really complicated" with the Russian invasion of Ukraine, adding that "we're going to need fossil fuel."
"So it's a matter of transitioning, but it's not like you can cut everything off immediately," Biden said.
Anticipating anger among environmental groups, the White House announced Sunday that Biden will prevent or limit oil drilling in 16 million acres in Alaska and the Arctic Ocean. The plan would bar drilling in nearly 3 million acres of the Beaufort Sea — closing it off from oil exploration — and limit drilling in more than 13 million acres in the National Petroleum Reserve.
The withdrawal of the offshore area ensures that important habitat for whales, seals, polar bears and other wildlife "will be protected in perpetuity from extractive development,″ the White House said in a statement.
The conservation announcement did little to mollify activists.
"It's a performative action to make the Willow project not look as bad," said Elise Joshi, the acting executive director of Gen-Z for Change, an advocacy organization.
City of Nuiqsut Mayor Rosemary Ahtuangaruak, whose community of about 525 people is closest to the proposed development, has been outspoken in her opposition, worried about impacts to caribou and her residents' subsistence lifestyles. "My constituents and community will bear the burden of this project with our health and our livelihoods,'' she said.
But there is "majority consensus" in the North Slope region supporting the project, said Nagruk Harcharek, president of the group Voice of the Arctic Iñupiat, whose members include leaders from across much of that region.
The conservation actions announced Sunday block drilling in the Beaufort Sea and build on President Barack Obama's actions to restrict drilling there and in the Chukchi Sea.
Separately, the administration moved to protect more than 13 million acres within the petroleum reserve, a 23-million acre chunk of land on Alaska's North Slope set aside a century ago for future oil production. Areas to be protected include the Teshekpuk Lake, Utukok Uplands, Colville River, Kasegaluk Lagoon and Peard Bay Special Areas, which serve as habitat for grizzly and polar bears, caribou and migratory birds.
___
Associated Press writers Becky Bohrer in Juneau, Alaska and Matthew Brown in Billings, Montana, contributed to this story.
Copyright 2023 The Associated Press. All rights reserved.