Habitual offender sentenced to 99 years in prison after high-speed chase in Central Texas
Felon led officers on high-speed chase in rental pickup stolen from Bush Intercontinental Airport in Houston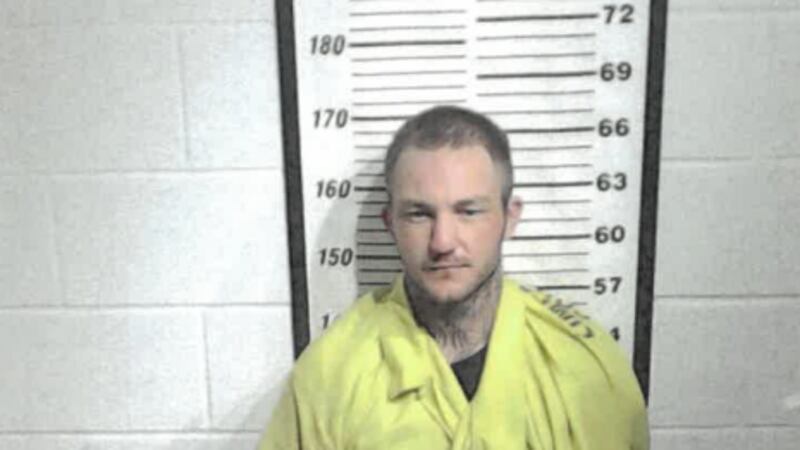 Published: Mar. 3, 2023 at 2:06 PM CST
|
Updated: Mar. 3, 2023 at 2:08 PM CST
LIMESTONE COUNTY, Texas (KWTX) - A Limestone County jury on Feb. 28 convicted Colbin John Wright on two felony charges of evading arrest or detention in a motor vehicle and theft, then sentenced the habitual offender to 99 years in prison the following day, the Limestone County District Attorney's Office announced.
On Dec. 3, 2021, Teague Police Department Officer Jake Fitch learned a stolen rental pickup truck from Bush Intercontinental Airport in Houston was traveling in the direction of his city.
Officer Fitch located the truck and conducted a traffic stop outside Teague. The driver of the truck stopped momentarily but sped away, leading to a high-speed chase down Highway 84 in Freestone County into Limestone County.
Police officers responding to the high speed chase lost track of the stolen truck inside the city limits of Mexia. The truck, however, was equipped with a tracking device that provided location information to the officers. Eventually, two suspects abandoned the truck in a wooded area near the Freestone and Limestone County line.
A large-scale search involving multiple law enforcement agencies ensued in heavily-wooded terrain. Limestone County Sheriff Murray Agnew and Limestone County Game Warden Thomas Rinn eventually arrested a female suspect who was determined to be the passenger riding in the stolen vehicle.
The Teague Volunteer Fire Department deployed its drone, which proved invaluable in tracking the second suspect across fenced fields and wooded terrain. During the pursuit, the suspect stole a riding mower from a residence to assist in his efforts to escape.
The second suspect was finally taken into custody by Mexia Police Department Captain Bobby Coslin and Freestone County Constable Richard McGowan. He was identified as Wright, who reportedly had warrants from Liberty County for evading arrest or detention with a motor vehicle and in Polk County for evading arrest with a previous conviction.
"Because the chase originated in Freestone County, Wright could have been prosecuted in either Freestone or Limestone County for the evading offense, but not both counties. Brian Evans, the District and County Attorney in Freestone County, worked in cooperation with Limestone County prosecutors to ensure the successful prosecution of Wright in Limestone County," officials wrote in a news release.
A jury deliberated about 40 minutes before returning guilty verdicts on both counts relating to the chase. After hearing the evidence produced at the trial and at the sentencing hearing, the jury sentenced Wright to 99 years for the evading in a vehicle and to 15 years in prison for the theft case, along with a fine of $5,649.
Wright had previously been convicted and sent to prison for aggravated assault and possession of a controlled substance, prior felony convictions that enhanced his punishment.
The prison sentences will run concurrently. Wright, who is 30 years old, will be eligible for parole when his actual time in TDCJ, along with any good conduct time earned, is equal to 25 percent of his sentence, prosecutors said.
The State called seven witnesses during punishment phase of the trial:
1. Mark Blankenship, Limestone District Attorney's investigator, who fingerprinted the defendant to prove up Wright's prior convictions, including Wright's first felony arrest a week after his 17th birthday for an evading arrest in a vehicle charge in Polk County. He received a probated sentence which was eventually revoked and he was sentenced to serve state jail time of 8 months.
2. Officer Anthony Lowrie of the Memorial Villages Police Department, formerly a Captain with Polk County Sheriff's Office, who testified about Wright's Assault on a Public Servant charge for ramming a patrol vehicle during a high-speed chase in Polk County, for which Wright received five years in TDC (the minimum sentence for a first-degree felony);
3. Officer Ronald Bogany of the Livingston Police Department testified regarding Wright's attempt to steal his mother's travel trailer, and being caught with methamphetamine, resulting in another TDC sentence of two years (the minimum sentence for a third-degree felony).
4. Officer Ranson Martel of the Liberty County Sheriff's Office testified regarding arresting the defendant after a traffic stop where methamphetamine was found in a magnetic box attached to the underside of the vehicle Wright was driving. During that arrest, Wright's female passenger had methamphetamine and a pistol on her person. He also testified that Wright was a member of the Aryan Brotherhood prison gang.
5. Former Polk County Deputy Terri Mayer, now a Justice of the Peace, testified regarding other bad acts involving Wright. She took the initial family violence call from Wright's pregnant girlfriend, who reported that Wright held a handgun to her head. Wright was indicted for Aggravated Assault with a Deadly Weapon; the charge was later reduced and he was sentenced to a year in the Polk County jail. Deputy Mayer also testified she worked a stolen firearm call in Polk County; the stolen shotgun was later found at Wright's Liberty County residence with the barrel sawed off. Mayer was also with her partner Polk County Deputy Rey Davalos, when Wright fled from them on foot.
6. Liberty County Deputy Mark Dubose testified that he tried to pull Wright over for a traffic violation. Wright led him on a high-speed chase, abandoned the truck he was in, and fled on foot — swimming the Trinity River to escape while holding a pistol above his head.
7. Polk County Deputy Rey Davalos, along with Deputy Terri Mayer, answered a suspicious activity call at a cemetery. A female located there said Wright fled into the woods upon their arrival. Finding Wright walking along the highway later, he again fled and evaded both officers on foot.
Copyright 2023 KWTX. All rights reserved.