Kitchen Pickin': Tupperware fail, but uranium glass find
Published: Mar. 2, 2023 at 4:21 PM CST
|
Updated: Mar. 6, 2023 at 3:44 PM CST
EAST TEXAS (KLTV/KTRE) - This week, Jeff strikes uranium for just the second time but realizes a Tupperware find wasn't as good as he thought.
Tupperware grater slicer bowl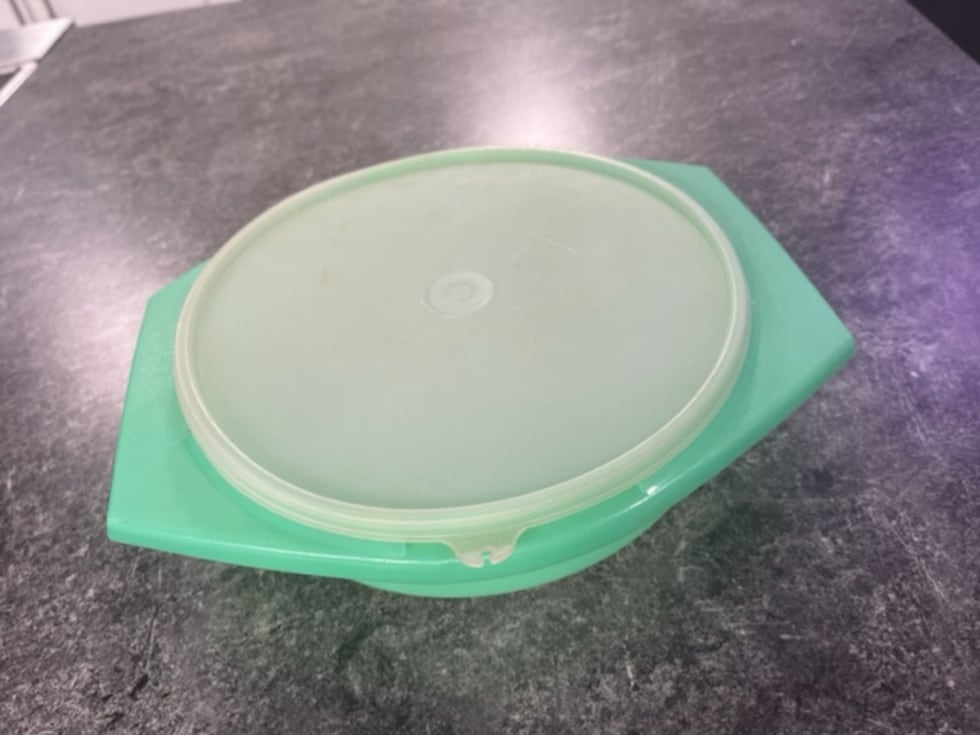 Jeff: I found this at an estate sale and thought it was unusual enough to get. But it's missing one key part. The Tupperware grater slicer bowl doesn't have a grater! Well, I can still part it out, as I've had a lot of luck selling off lids.
Steph: This was an unfamiliar piece for me. I'm so glad you brought it to show us; no one I knew had this cheese grater. I like it a lot. Tupperware was so innovative with things like this in the '70s. As for the grater piece, maybe you'll come across one at a yard sale soon. You seem to have good luck with that.
Revere Ware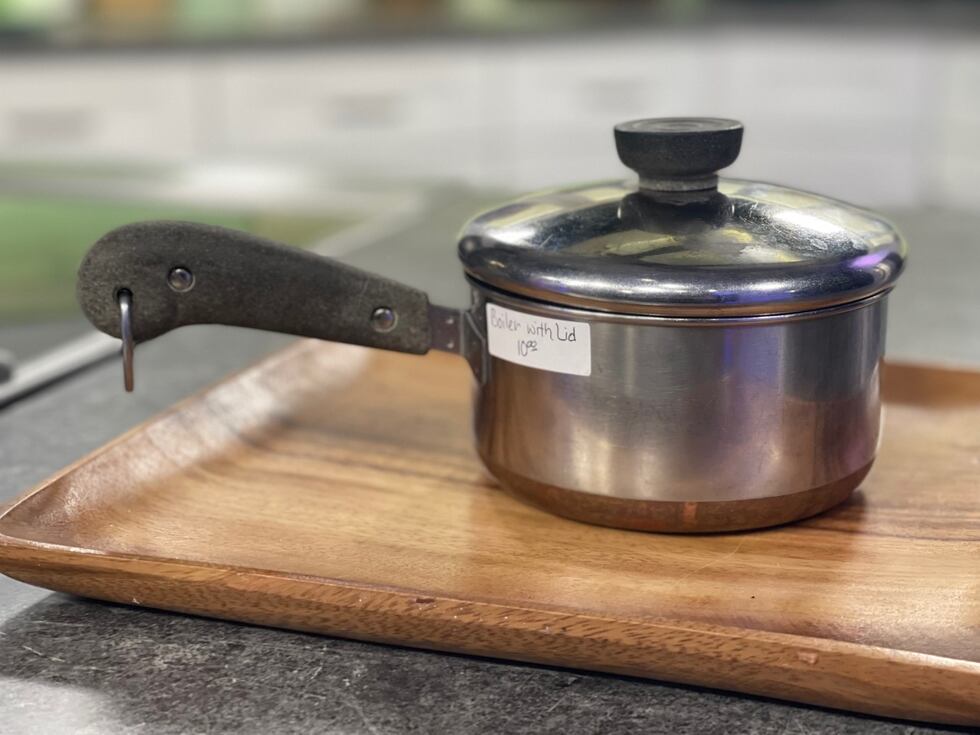 Jeff: This copper bottom is all the rage. Mrs. Awtrey loves picking up this brand. We found it on the first day of an estate sale and held out until Saturday when it was 50 percent off. I believe we picked up three pots like this at that house. But this was the only one with a lid. Steph taught me how to clean this and the wife and daughter got it shined nice.
Steph: Revere Ware has been popular for many years. The copper-clad line was first introduced in 1939, and cooks kept them going through the early 2000′s after they were sold off to World Kitchen, Inc. After that they were made overseas, and I don't know about the quality at that point. I believe yours was a made-in-the-USA version, and was still in great, useable condition. I'm glad it cleaned up well for you.
Telaflora tin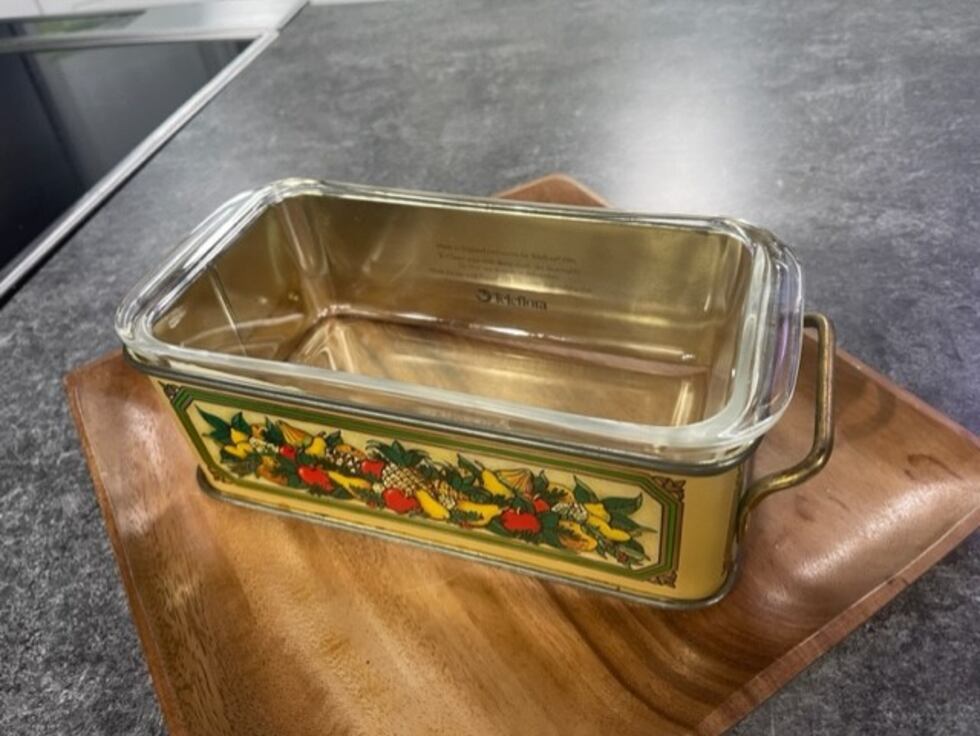 Jeff: Another Mrs. Awtrey special. Another estate sale put on by some nice ladies. We look at Pyrex all the time, but this decorative tin around it is something I hadn't seen before. My research shows this comes from 1981.
Steph: I like this piece. It's always nice to have a good Pyrex loaf pan, (I have several) but the addition of this Teleflora metal sleeve around it is unique. Even though it is from the '80s, I think the design holds up.
Uranium glass
Jeff: This is one of the most fun pickups out there and only the second time I've come across it. Something really satisfying about seeing a green piece of glass, pulling the blacklight flashlight out of my pocket and watching the glass just light up. I often forget to bring my flashlight with me but I make an extra attempt when I go to estate sales.
Steph: This is really a nice piece. Uranium glass, in general, is unique and beautiful, and I know some collector out there will be happy to take it off your hands.
Pier One tea pot and cup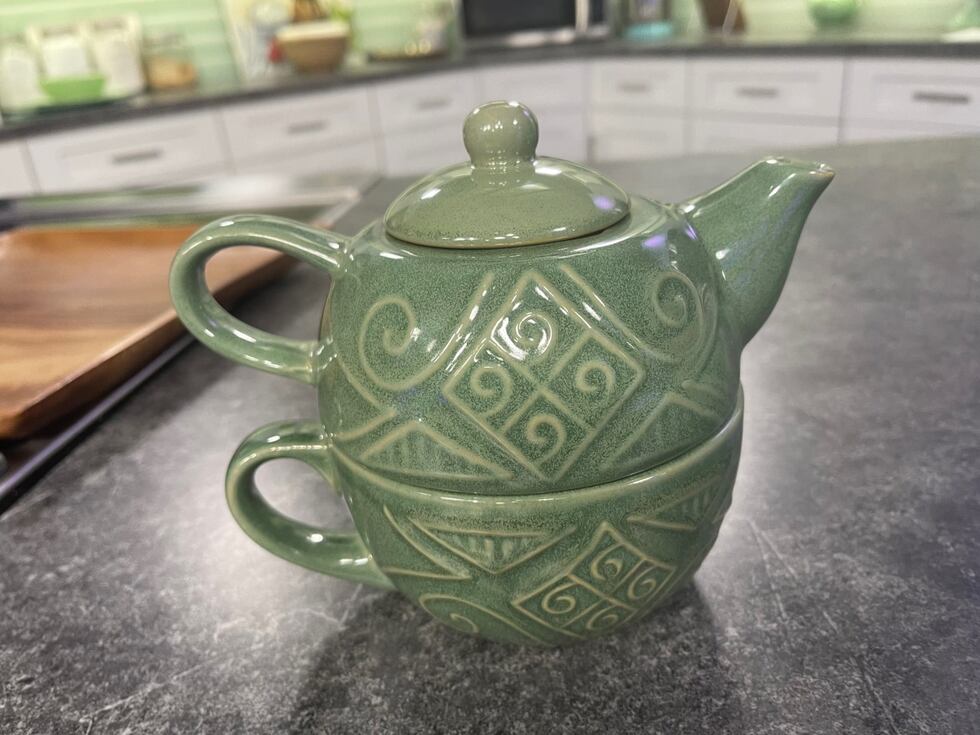 Jeff: I haven't had any luck with Pier One yet, but I hear it's a BOLO brand and this looked so cool. I really like the color and feel of it.
Steph: I'm so tempted to take this off your hands, buddy. I love the color and the design. But I think I'll refrain and let an actual tea drinker have the pleasure of owning it, since I rarely drink it. It is pristine and someone should snatch it quickly.
Copyright 2023 KLTV. All rights reserved.