Rose Heights Church in Tyler celebrates lead pastor's 40 years of ministry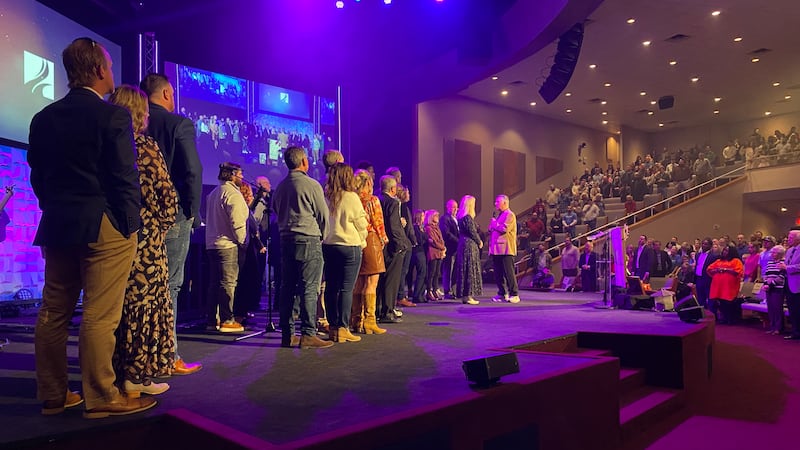 Published: Jan. 22, 2023 at 4:53 PM CST
TYLER, Texas (KLTV) - After 40 years in ministry, an East Texas pastor and his wife were celebrated at Rose Heights church this morning. Community leaders, church members and pastors shared the impact that Lead Pastor Doug Anderson has left on the church as he transitions to Pastor Emeritus.
This morning was filled with worship, gratitude and many accolades for Rose Heights Lead Pastor Doug Anderson and his wife, Gina. Anderson took on the role of lead pastor in 2003 but served in many positions prior at the church. Main Campus Pastor Allen Townsend said Anderson's ministry has been unique.
"Not all pastors begin as children's pastors and work through all of the different ministries that he has. Nor do many pastors spend so much of their career at the same church, so we're thankful for his investment to our church family and the growth that he's had," Townsend said.
Tyler Mayor Don Warren spoke, as well as U.S. Representative and Former Smith County Judge Nathaniel Moran. Throughout the service, pastors from all over had messages for Anderson, as well as his family.
"As long as he's been my father, he has also been my pastor. To me, on stage, off stage, at home -- your character and your integrity is always just top notch," said Anderson's son, Reece.
Anderson took time to thank church staff and leadership.
"I honor you and I thank you, leadership team, for all that you mean to me personally. You have helped me, you have stood by me, you have supported me and Gina, and we thank you so much, with all of our heart. We love you dearly," Anderson said.
At the end of the service, Anderson announced that on behalf of the leadership team and himself, they unanimously recommend Townsend to the congregation to be the next lead pastor.
"A large part of this will just be continuing the vision and the legacy that he's set for us. He's laid such an incredible foundation for us as a church, so we long to see that continue to go forward," Townsend said.
Next Sunday, Jan. 29, the congregation will vote on Anderson and the leadership team's recommendation for Townsend to take on the role of lead pastor.
Copyright 2023 KLTV. All rights reserved.