Mahomes returns following reported high-ankle sprain injury.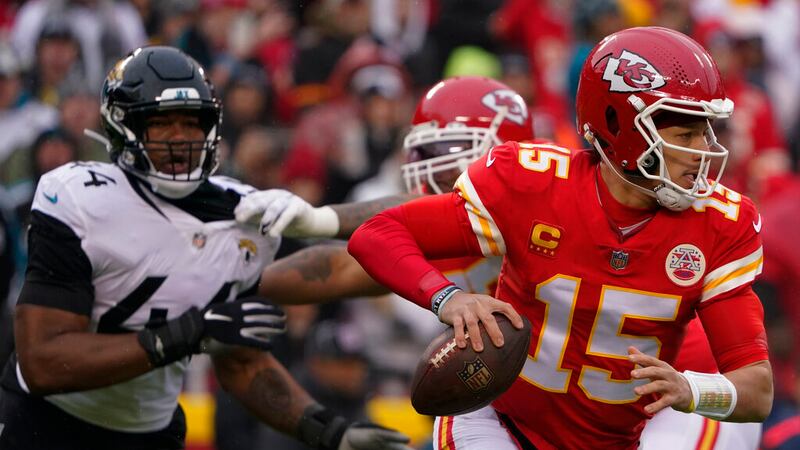 Published: Jan. 21, 2023 at 4:22 PM CST
KANSAS CITY, Mo. (KCTV) -- After missing the second quarterback of Saturday's playoff game against Jacksonville, Kansas City Chiefs quarterback Patrick Mahomes return to the game in the third quarter.
Mahomes led the Chiefs to one first-down on the opening drive of the half, but the Chiefs were forced to punt.
Mahomes re-entered the game with the Chiefs up 17-10.
NFL Insider Ian Rapoport reports X-rays on Mahomes were negative, but he may have suffered a high-ankle sprain.
ORIGINAL STORY
Kansas City Chiefs quarterback Patrick Mahomes was injured in the first quarter of Saturday's game against Jacksonville.
Backup quarterback Chad Henne entered the game early in the second quarter with the Chiefs leading 10-7.
Mahomes was moving up in the pocket late in the first quarter when Jaguars pass rusher Arden Key landed on his right ankle. The All-Pro quarterback managed to make it to the end of the quarter, when the Chiefs training staff taped his ankle, and he proceeded to lead them to a field goal to regain a 10-7 lead.
It was clear that Mahomes was struggling on his ankle, though. On third down, he was unable to scramble for what would normally have been an easy first down, instead flinging a pass incomplete into the turf in front of him.
During the Jaguars' ensuing possession, Mahomes appeared to get into a heated argument with Chiefs coach Andy Reid and his training staff. He eventually threw down his jacket and headed up the tunnel to the locker room, where he spent a few minutes while longtime backup Chad Henne headed onto the field.
Mahomes, who was 12 of 15 for 84 yards with a touchdown when he departed, stood behind Reid and quarterbacks coach Matt Nagy as the Chiefs began their drive at their own 2-yard line. Henne proceeded to lead the Chiefs on a 98-yard drive that Henne finished with a short touchdown fling to Travis Kelce with 3:45 left in the half.
This isn't the first time the 37-year-old Henne has been pressed into duty in the playoffs.
During a divisional-round game against the Browns in January 2021, Mahomes went into the concussion protocol during the third quarter. Henne went 6 of 8 for 66 yards down the stretch, including an audacious fourth-down pass to Tyreek Hill that helped the Chiefs to a 22-17 victory and a spot in the AFC championship game.
Copyright 2023 KCTV. All rights reserved.