Gov. Abbott says in inauguration speech Legislature will prioritize budget surplus, schools and power grid
Abbott enters third term after decisive reelection win in November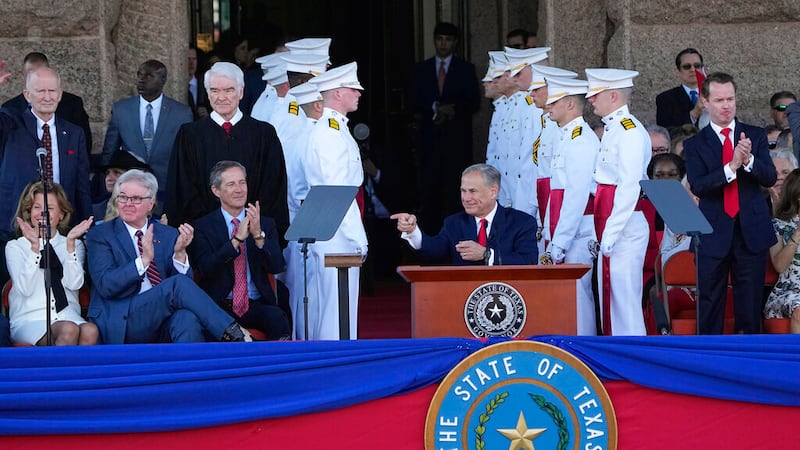 Published: Jan. 17, 2023 at 1:55 PM CST
AUSTIN (TEXAS TRIBUNE) - Gov. Greg Abbott, in his third inaugural address Tuesday, emphasized that the legislative session would be centered on the historic budget surplus, "parental rights" in schools and public safety.
Notably, he pitched a focus on infrastructure that included the power grid, after the 2021 winter storm and blackout left millions of Texans in the dark and hundreds dead. Abbott trumpeted grid improvements that he successfully pushed in the months after but acknowledged there is more work to do.
In doing so, he aligned himself with Lt. Gov. Dan Patrick, who has called the grid a top priority for the session. Abbott, while running for reelection last year, was dismissive of critiques that there were unresolved grid issues and declared it fixed.
"We all know that increased demand is going to be placed on the grid as Texas continues to grow," Abbott said. "So this session, we will build a grid that powers our state — not for the next four years, but for the next 40 years."
Abbott is on track to becoming Texas' second-longest-serving governor, behind Rick Perry, who served more than 14 years. Abbott enters his third term after a decisive reelection win in November and with big ambitions for the session, which include the "largest property tax cut in the history of the state of Texas," a promise he repeated in his inaugural address. Abbott also begins his third term as a potential candidate for the White House in 2024, something his aides say he will consider after the legislative session concludes in May.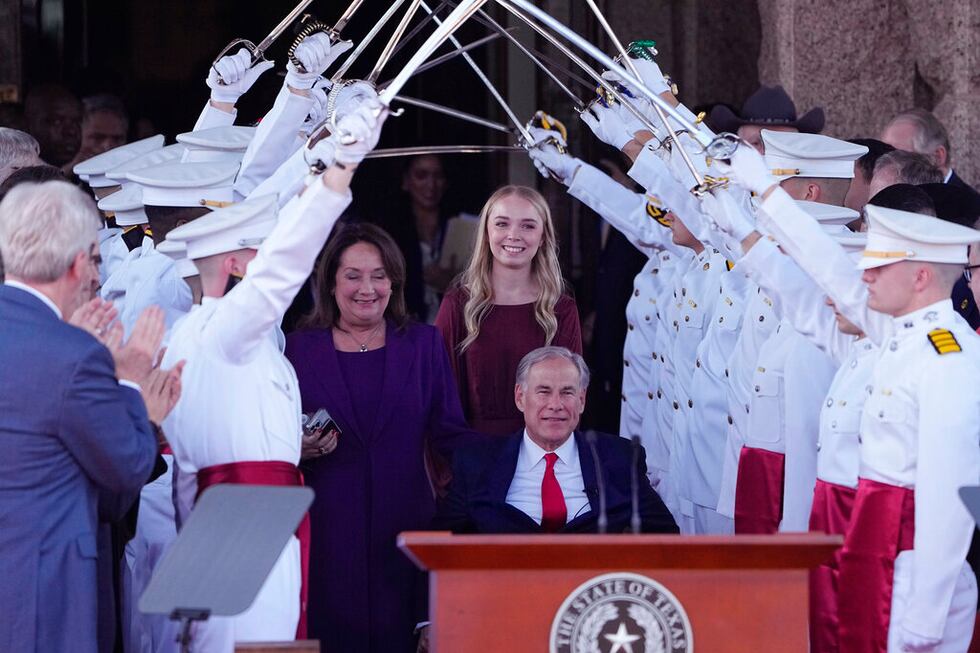 Patrick was also sworn in for a third term Tuesday morning on the north steps of the Texas Capitol in Austin, on a stage below a massive Texas flag. Both he and Abbott were first elected to their current positions in 2014.
"Governor, we have done it again," Patrick said to Abbott. "Three-peat."
Both of their speeches were dripping with Texas exceptionalism; Abbott declared the state "America's undisputed economic leader." And he said that was evident in the massive $33 billion budget surplus, which he stressed "belongs to the taxpayers" in pitching a record property tax cut.
Patrick has been more careful — if not more specific — in making promises on property tax relief. In his speech, he said there would be "billions of dollars" in relief and that leaders would find a way to ensure it is sustainable. He also said the Senate will introduce a budget this week that would increase the homestead exemption from $40,000 to $70,000, a larger bump than he has previously discussed.
But "the most important thing we can do" this session, Patrick said, is "strengthen the grid," reiterating his desire to build more natural-gas capacity.
Abbott also addressed infrastructure beyond the power grid, saying lawmakers must improve the state's roads, water supply and ports.
When it came to schools, Abbott said they should be "for education, not indoctrination" and that they should get "back to teaching our students the fundamentals." He also plugged school choice saying parents "deserve the freedom to choose the education that's best for their child." In his reelection campaign, Abbott signaled his strongest support yet for vouchers, or allowing public dollars to fund students attending private schools.
"The governor and I are all in on school choice," Patrick said, acknowledging concerns in rural communities that such program would undermine their public schools. "To the naysayers that say school choice hurts rural Texas, the governor and I will have a plan to protect those schools financially and to make sure those parents have choice also where they are in a failing school."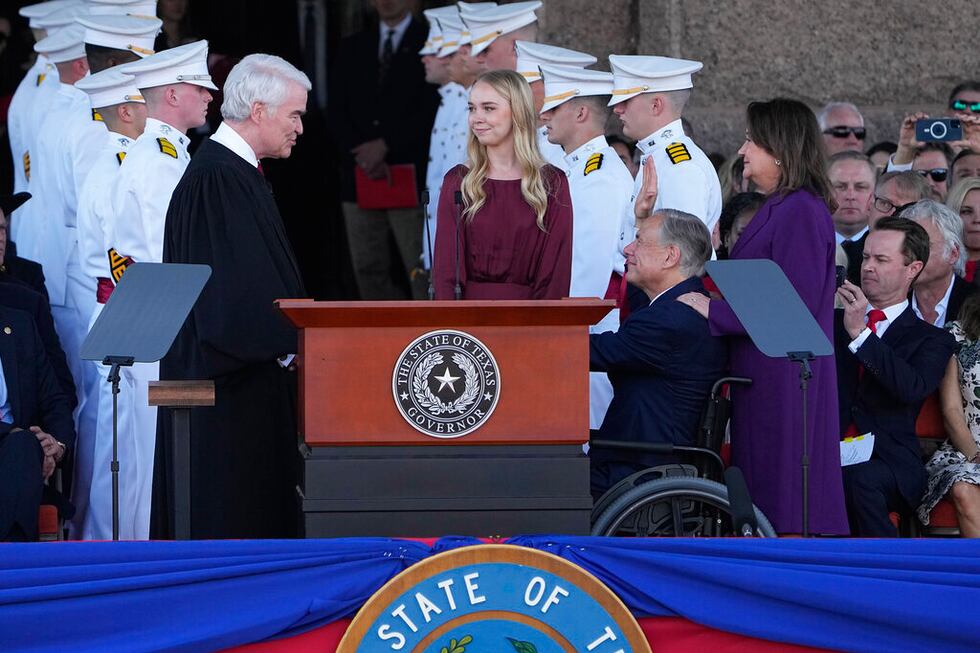 Patrick was perhaps most vocal in doubling down on previous statements he's made targeting tenure for public college professors in Texas who teach critical race theory. Patrick first proposed the idea in February of last year.
"I don't want teachers in our colleges saying America is evil and capitalism is bad and socialism is good. And if that means that some of those professors who teach that don't want to come to Texas, I'm OK with that," Patrick said, adding that he wants "professors who love this country, who love this state."
Abbott also nodded to the fallout from the Uvalde school shooting in May. While Abbott and other Republican leaders have resisted any new gun restrictions, they have focused their proposals since the shooting on securing school buildings, and Abbott said in his speech that he and lawmakers "will not end this session without making schools safer."
Neither Abbott nor Patrick specifically mentioned Uvalde in their speeches.
Abbott spent more time discussing cracking down on violent crime in other ways. He called for "mandatory sentences on criminals caught with guns," generally aligning himself with Patrick, who campaigned on a 10-year minimum sentence for gun-related crimes. Abbott also promoted his aggressive efforts to secure the border under President Joe Biden, suggesting that a related priority for the session will be stopping the "deadly fentanyl pouring across the border."
Abbott's speech echoed many of the themes from his reelection campaign, when he defeated Democratic opponent Beto O'Rourke by 11 percentage points. Abbott is expected to provide more detail about his proposals during his State of the State speech to the Legislature on Feb. 16. That speech will also include his emergency items, which are priority proposals that the Legislature can start working on immediately.
Abbott also enters the legislative session viewed as a possible candidate for the White House in 2024. The governor has long kept open the possibility he could run, and while he has been a regular on Fox News, building his national profile around border security issues, he has not made some of the typical moves other potential 2024 candidates have been making, such as traveling to early-voting states.
"When the session's over, he will take a look at the situation and see if there's a need for his voice, his experience, to enter the fray," said Dave Carney, Abbott's chief political strategist. "But until then, we're not going to New Hampshire or Iowa or South Carolina — the things that you wanna do if you were blindly ambitious to run. But he will take a very logical approach to it and see what the market would bear."
Former President Donald Trump has already launched a comeback bid, which Abbott has offered no comment on. Patrick has endorsed Trump for 2024 and mentioned the race in his speech Tuesday, "we're going to need a change in the White House in '24 to get the border secure because this president is not doing his job."
Another red-state governor, Florida's Ron DeSantis, has emerged as the most formidable threat to Trump, and like Abbott, DeSantis is expected to wait until after his state's legislative session this year to make any announcement about 2024.
But for two years now, Abbott has seemed to be locked in a quiet rivalry with DeSantis over attention-grabbing conservative policy. Abbott announced Sunday, for example, that he would sign a bill banning certain foreign entities, such as Russia and China, from buying land in Texas — an issue on which DeSantis has been outspoken lately in his state.
Tuesday's speeches were the main attraction of two days of inaugural events in Austin. There was an inaugural mass Monday evening at Saint Mary Cathedral, followed by a fireworks show that night at the Capitol. After the ceremony Tuesday, the inaugural committee is hosting a "Taste of Texas" luncheon on the other side of the Capitol, offering specialties from restaurants around the state. And on Tuesday night, Abbott and Patrick are set to attend a "Celebration of Texas" ball at Austin City Limits Live at The Moody Theater.
With an estimated price tag of at least $3 million, this year's inaugural events appear to be scaled back compared with Abbott's first two inaugurations. The Texas Tribune has reported how Abbott's first two inaugurations cost far more than those of recent predecessors, topping $5 million each. They also included hefty payouts to staffers and fundraisers — $1.9 million in 2018.
Regardless, the inauguration is regularly an opportunity for state leaders to reward donors and lavish perks on them. Sharing a row with Abbott on the inaugural stage were Tilman Fertitta, the Houston businessman who chaired this year's inaugural committee, as well as Javaid Anwar, the Midland oil mogul and Abbott's No. 1 donor.
Corporations are barred from contributing to campaigns in Texas, but they can fund inaugurations. The program for Tuesday's inauguration showed that top corporate sponsors including the pipeline company Energy Transfer, the grocery-store giant HEB and Las Vegas Sands, the gaming empire that wants to legalizing casinos in Texas.
Abbott and Patrick were not the only politicians who spoke at the ceremony. The lieutenant governor was introduced by former state Sen. Eddie Lucio Jr., a Brownsville Democrat who did not seek reelection and has split with his party to vocally support Patrick over the years. Patrick was also introduced by state Sen. Brandon Creighton, R-Conroe, who chairs the Senate Education Committee and is poised to play a major role in Patrick's agenda this session.
"We're gearing up to advance one of the most conservative sessions in Texas history, a forward-thinking agenda this nation has not seen," Creighton said.
Disclosure: Austin City Limits Live has been a financial supporter of The Texas Tribune, a nonprofit, nonpartisan news organization that is funded in part by donations from members, foundations and corporate sponsors. Financial supporters play no role in the Tribune's journalism. Find a complete list of them here.
Copyright 2023 KWTX. All rights reserved.