12 Days of Christmas Recipes: 10 minute dinners for busy holiday evenings
Published: Dec. 23, 2022 at 7:57 PM CST
TYLER, Texas (KLTV) - Although we often plan large meals for Christmas gatherings with family and friends, sometimes we just need a simple recipe for a quick dinner so we can relax and enjoy each other's company.
Here are a few ideas that can be made in about 10 minutes:
Italian Meatball Soup
8-10 ounces frozen cooked meatballs (I used Italian-seasoned frozen, but you can use plain if that's what is available, or even make your own from scratch, if you prefer, and pre-cook them
one cup chopped carro
one cup chopped celery
2 TBS olive oil
9-10 ounce package frozen or refrigerated cheese tortellini
1 quart (four cups) chicken broth
3 cups water
1 1/2 tsp dried oregano
1 tsp fennel seed
1 tsp minced garlic (or substitute garlic powder)
1/2 to 1 tsp dried red pepper flakes
1/2 tsp salt (or to taste)
4 cups baby spinach - about three ounces (or substitute your favorite greens, but spinach cooks down most quickly)
Method: In a Dutch oven or stock pot, heat olive oil over medium heat.
Add celery and carrots, and saute for 3 minutes. Add the meatballs, and allow to saute with the vegetable mixture for about two more minutes.
Add spices, broth, and water. Bring to a boil, stirring to incorporate spices.
Drop in the tortellini, and cook for 3-5 minutes. (The tortellini will rise to the top when it's ready.)
Add the spinach, and allow to wilt for a minute or so in the hot broth (You may omit adding the greens, if you prefer, but I'd love you to get that flavor and nutrition in your soup!)
Serve, topping with parmesan and alongside some garlic bread.
Dinner in 10: Pasta with winter vegetables
12 ounce box of penne or ziti pasta, cooked
3 TBS olive oil
2 cups butternut squash, cubed
8-12 ounces mushrooms, sliced
4 teaspoons minced garlic (jarred is fine, or mince several fresh cloves)
1/3 cup diced onion
1/2 teaspoon red pepper flakes
1/2 cup sliced and drained black olives
1 1/2 cup grated Parmesan cheese
1 TBS dried oregano
salt and pepper
1. Cook pasta according to package directions; reserve one cup of pasta water, or use chicken or vegetable broth in its place later in the recipe.
2. Place olive oil in large skillet or Dutch oven over medium-high heat. When warm, add cubed squash and sliced mushrooms; sprinkle with about 1/4 tsp salt and pepper. Saute for about 4 minutes over medium heat.
3. Add diced onion and red pepper flakes to pan, and saute for three more minutes.
4. Add garlic, and stir in, allowing to warm.
5. Add one cup of parmesan and the cooked pasta to the pan, along with 1/2 cup of the reserved water or your broth, and stir in. (the reserved water or broth can be used according to your preferences). Stir in the oregano, and serve while warm.
Top with remaining parmesan, and enjoy!
Quick Chicken and Dumplings
1 tablespoon butter

1/2 cup chopped onion (about half a medium onion)

1/2 teaspoon each salt and pepper

1/2 teaspoon garlic powder

1/2 teaspoon celery seed

1 bay leaf

1 bag chicken fajita strips, or about 2 cups meat from a rotisserie chicken

1 10 to 12 ounce bag frozen mixed vegetables

1 1/2 cups water

1 tablespoon flour

1 can chicken broth (15 oz)

Eight 6-inch tortillas
Method:
In a Dutch oven or soup pot, melt butter over medium heat; add onions, and saute until onion is translucent, about 4 minutes. Add bay leaf, celery seed, garlic powder, salt and pepper, and stir in well.
Add frozen vegetables and chicken, and cook for about five minutes, stirring frequently.
While veggies and chicken are cooking, whisk together water, broth and flour in a small mixing bowl. Set aside.
Cut eight 6-inch tortillas into strips about 1/4 inch wide. If you'd like shorter dumplings, you may cut the strips in half, as well.
Add the flour/water/broth mixture to the pot, and bring to a simmer. Allow to simmer for at least three minutes, then add the tortilla strips. Cook for two to three minutes. (trust me, they don't taste like tortillas! They really become dumplings.)
Remove bay leaf, if using, and serve immediately. Enjoy!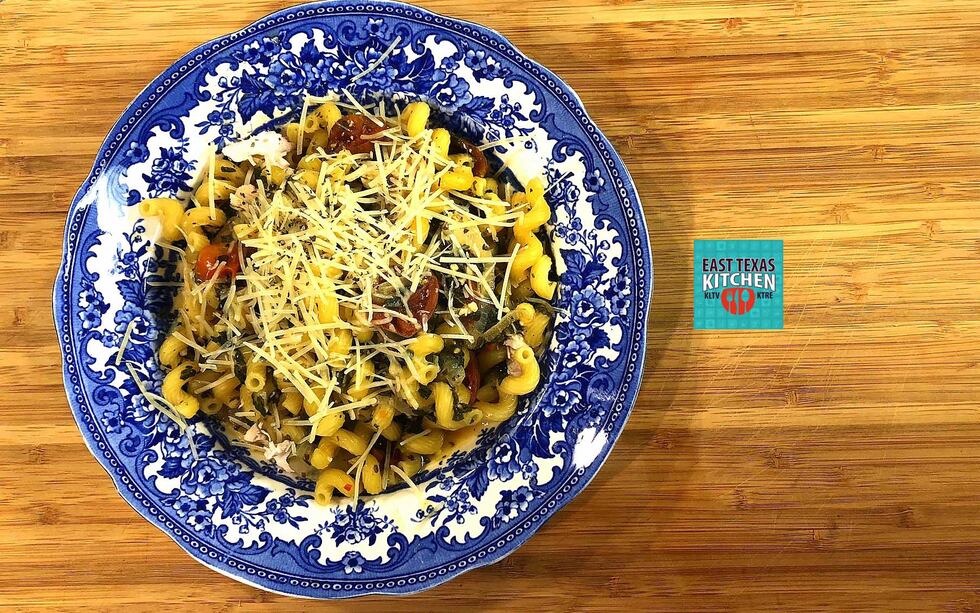 One-pan vegetable-chicken pasta by Mama Steph
Ingredients:
12 ounces of linguine
8 to 12 ounces of grape or cherry tomatoes, halved
1 medium white or yellow onion, thinly sliced
1/4 to 1/2 teaspoon red pepper flakes (more if you like lots of heat)
4 cloves of garlic, or 2 teaspoons of garlic powder
2 tablespoons olive oil
4 1/2 cups water or chicken broth
Fresh basil, if available; otherwise, add 1 teaspoon dried basil to the pan after cooking, and stir in well
Salt and pepper, to taste
Rotisserie chicken meat (about 2 cups)
Freshly grated Parmesan cheese, for serving
Method
1. In a large skillet of frying pan with high sides, create a layer with all the sliced tomatoes.
2. Lay the dry pasta across the tomatoes. No need to break it.
3. Spread the onion, basil and garlic across the pasta, and top with red pepper flakes, 1/2 tsp pepper, and 2 tsp (or to taste) salt, sprinkling across the ingredients to distribute evenly.
4. Gently pour water over all ingredients, and bring to a boil over high heat. Drop in the chicken meat.
5. Continue to boil the mixture for about 9 minutes (check pasta package cooking suggestion), turning pasta frequently with tongs, until pasta is done and water has evaporated.
6. Remove from heat, season to taste with more salt and pepper, if needed, and divide among four bowls.
7. Serve topped with Parmesan and a drizzle of olive oil, and fresh basil leaves, if available
Italian omelette by Mama Steph
Ingredients:
For the omelette filling:
Grape tomatoes, sliced in half
1/4 cup of chopped pepperoni
1/4 teaspoon red pepper flakes
1/4 teaspoon Italian seasoning
Chopped fresh mozzarella, or shredded mozzarella, whichever you have on hand
Olive oil
Place a tablespoon of oil in a skillet, and place skillet over medium-high heat.
When pan is hot, add the tomatoes, pepperoni, cheese and seasonings, adding any others you might enjoy. Saute for just a couple of minutes until the tomatoes are softened and hot.
For the omelette:
4 eggs
salt and pepper
Whisk the eggs well, then pour into a nonstick skillet that has a tablespoon of oil or butter melted into it. Sprinkle salt and pepper lightly across the surface of the eggs. Allow the edges to barely cook, then push in toward the center of pan with spatula, causing the liquid to be equally dispersed.
When nearly dry, add the tomato mixture to one side of the omelette, then fold the empty half over the filling. Allow to heat for another minute, and then slide off onto a plate. Top with any leftover filling, sprinkle with cheese, or eat as-is, your choice!
P.S. If the omelette doesn't look perfect, it is absolutely ok. Just call them Italian scrambled eggs and devour them.
Enjoy!
Copyright 2022 KLTV. All rights reserved.