East Texas Kitchen on ETN: Recipes for Christmas
Published: Dec. 15, 2022 at 9:00 PM CST
|
Updated: Dec. 15, 2022 at 10:08 PM CST
TYLER, Texas (KLTV) - These three recipes are simple even for beginners to make. They're satisfying and delicious, and feel a crowd, too!
Mama Steph's Christmas Morning Breakfast Casserole:
1 pound loaf of French bread; day old, if possible. If it's fresh, you can cube it up, spread it out on a baking sheet on 200 degrees until if feels a bit toasted.
1 pound breakfast sausage, plain or hot
6 eggs
2 cups shredded sharp cheddar cheese
5 green onions, sliced
2 cups half and half
1 can (four ounces) chopped green chiles
1 1/2 teaspoons worcestershire sauce
1/2 teaspoon salt
1/8 teaspoon ground mustard
1/8 teaspoon ground smoked paprika
1/2 teaspoon black pepper
1/2 teaspoon hot sauce, like cholula or tabasco (use more if you like; you may like it hotter, and that's fine)
Method:
In a skillet, brown the sausage, breaking it up into small pieces as it cooks. Set aside when no longer pink.
Butter a baking dish; 8x11 or 9x13.
Place the bread cubes into the dish.
Top the bread with the sausage and cheese.
In a large bowl, whisk the eggs, then add the remaining ingredients, and whisk together well. Pour over the bread.
Cover and refrigerate overnight, or at least a couple of hours, if possible.
When ready to bake, preheat oven to 350. Remove the cover and bake for about 45 to 50 minute. A knife inserted in center should come out clean. Let stand five or ten minutes before cutting and serving.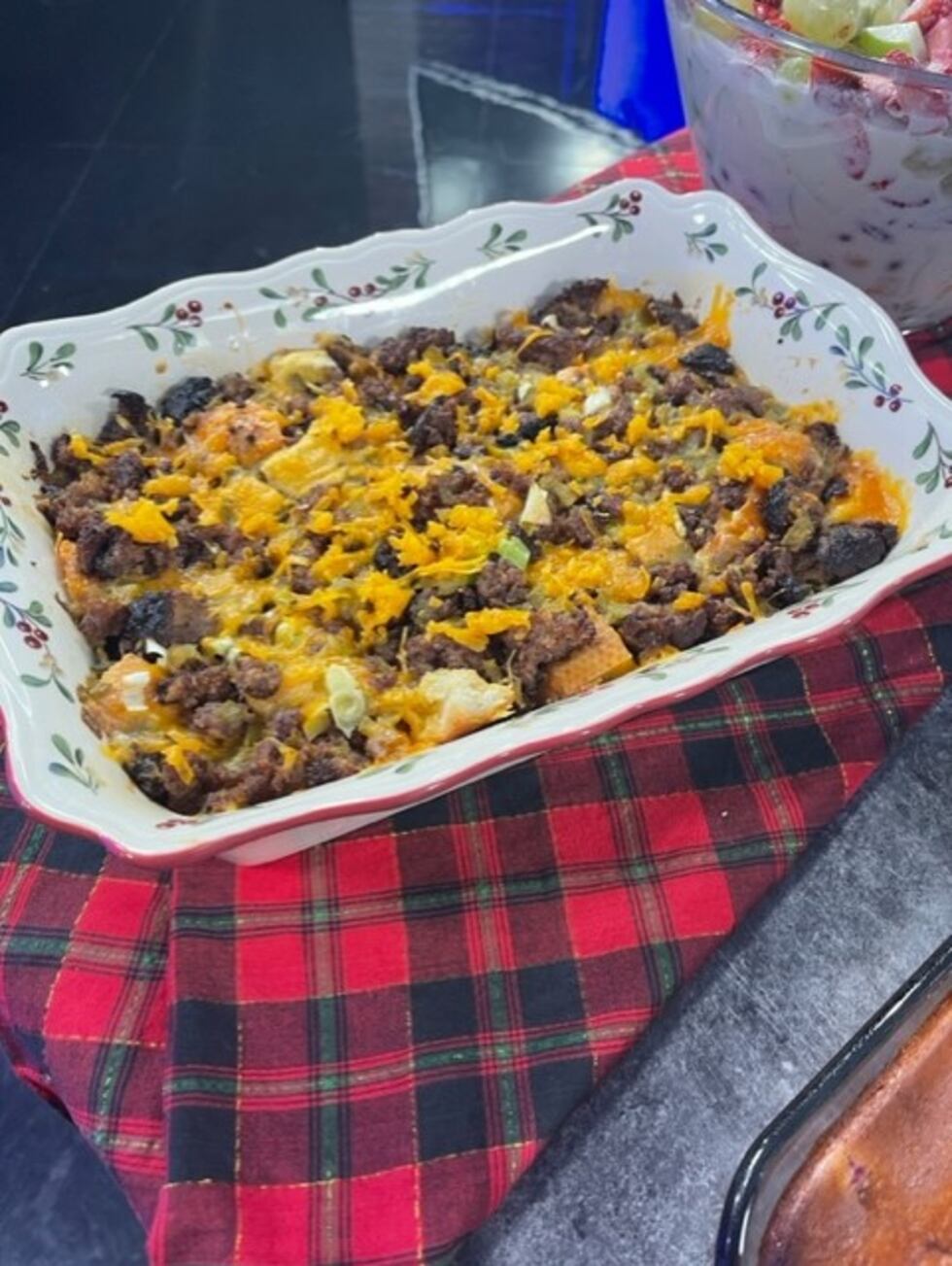 From Vanesa Olvera with Noticias del Este de Texas and Telemundo, a delicious fruit salad traditionally served on Christmas.
(If you can't see the video above, click here: Ensalada Navidena.)
Ensalada navideña
1 can evaporated milk
1 and 1/2 condensed milk (or to taste)
1 cream cheese
1 can of fruit cocktail
3 green apples
3 red apples
green grapes
strawberries (1 pound)
1/2 cup chopped pecans
1/2 cup raisins
Cut the grapes in half, cut the strawberries into 4, cut the apples into squares (I cut the apples till the end so that it does not darken) and add them to a large bowl
In the blender add the cream cheese, evaporated milk and condensed milk. Blend.
Pour over the fruit
Add the raisins and pecans.
Mix well
Test the flavor and if you like add more condensed milk.
Let stand for at least an hour for the fruit to grab flavor
Decorate with cherries and pecans
Finally, I made a cranberry cake my blogger friend Fran makes and wrote about over ten years ago, and I've been making it every year since.
Cranberry cake with warm butter sauce
Ingredients:
2 ¾ cups flour
2 ¼ cups sugar (divided)
2 teaspoons baking powder
1 teaspoon baking soda
¼ teaspoon salt
2 cups sour cream
½ cup milk
¼ cup oil
½ teaspoon almond extract
2 eggs
3 ½ cups fresh cranberries (this is exactly the amt. contained in the bags at my grocery store)
½ cup butter
½ cup whipping cream
1 teaspoon vanilla
Method:
Preheat oven to 375F. Grease and flour bottom only of 9×13 pan. In a large mixing bowl, combine flour, 1 3/4 cups sugar, baking powder, soda, and salt. Mix well. In medium bowl, beat sour cream, milk, oil, almond extract and eggs. Add sour cream mixture to flour mixture. Stir just until dry ingredients are moistened. Gently fold in cranberries. Spoon into prepared pan. Bake at 375F for 45 to 55 minutes or until toothpick inserted in center comes out clean.
BUTTER SAUCE:
In small saucepan, combine 1 cup sugar, 1 stick of butter and the whipping cream. Bring to a boil. Simmer over low heat for 2 minutes, stirring constantly. Remove from heat, stir in vanilla. Serve warm sauce over cake. (20 servings)
Enjoy!
If you can't see the video above, click here to watch it: Cranberry cake with warm butter sauce)
Copyright 2022 KLTV. All rights reserved.