WILLIAM DAVIS SENTENCING DAY 4: Davis' brother, high school coach among witnesses defense calls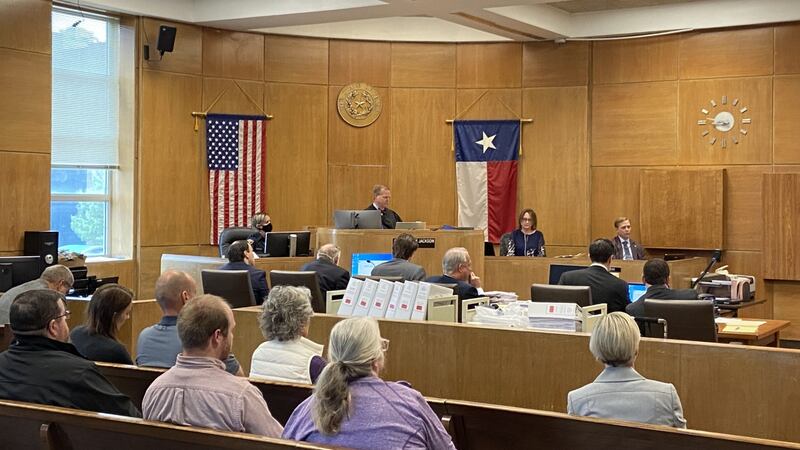 Published: Oct. 26, 2021 at 9:32 AM CDT
TYLER, Texas (KLTV) - 2:51 p.m. - The next witness was a Detention Sergeant at the Smith County Jail.
He said he never had an issue with Davis as an inmate. He described him as normal, upbeat, and pleasant to talk to. He says Davis was the victim in a fight at one point in the jail. Davis never had any disciplinary action taken against him.
The next witness was Lisa Collins, a Smith County detention officer. She said she never saw Davis have a problem with other inmates.
The next witness was Sergeant Jacob Harper, a Supervisor at the Smith County Jail. Harper describes Davis as compliant and respectful in jail.
The trial ended just before three Tuesday. Judge Jackson says some evidence will be presented tomorrow morning. Deliberations will begin after that.
2:11 p.m. - The next witness was David Davis, William Davis' brother.
David says his parents are in no shape to testify, citing health and emotional reasons.
David says he and William enjoyed playing sports together. David says he feels terribly for the victims and their families.
In cross examination, prosecutor Lance Long brings up David's career as a physical therapist and says trust between patients and the people who take care of them is paramount.
1:42 p.m. - Among some of the witnesses the defense will call, they plan to bring Davis' brothers, high school football coach, and an expert, Davis' attorney says in his opening statement.
The first witness was Amanda Adair, who went to high school with William Davis.
Adair recalls her time in high school with William Davis, who most knew as "Billy" back then.
She says he was a football standout and salutatorian of their high school. Adair says she was never scared of Davis.
The prosecution began cross examination. Prosecutor Lance Long says Davis was capable of making the choice not to kill patients. Adair agrees.
The next witness was Billy Davis (No relation to William Davis), Davis' high school football coach.
Billy Davis describes William Davis as hardworking when he was in his football program at West Rusk High School. He says "Billy [William Davis] wasn't the fastest or the strongest, but he had the heart."
Billy Davis asks the jury to spare Davis' life, citing a sermon he heard at chuch Sunday about the price of a life. William Davis wipes tears during this testimony.
In cross examination, he says he wasn't aware of all of the allegations Davis is accused of.
11:34 a.m. - The next witness called by the prosecution was Jeff Greenaway, Chris Greenaway's brother.
Greenaway says he was made aware by Chris' wife, Donna, that his brother had become unresponsive following a 'significant event' in the hospital after his surgery.
The next witness was Steve Lafferty, John Lafferty's son.
Steve describes how his family has pitched in to help on the family farm after his father died.
"This has been a nightmare that will not end," Steve said on the years following his father's death.
Joseph Kalina's widow took the stand.
"We miss him every day," she said.
The prosecution in the trial of William Davis rests their case in the punishment phase.
10:32 p.m. - For death row inmates, Bryant says inmates have a room to themselves. The defense begins questioning.
Bryant discusses the reality of violence within the prison system. Bryant says prisons are currently less crowded due to COVID-19, case backlogs lead to this.
The prosecution continued to call witnesses as day four of the sentencing phase of the William Davis trial got underway Tuesday.
The state recalled Radiologist, Dr. Charlie Crum, the first witness of the day.
The prosecution showed brain scans of Rickie Glenn who survived his 'significant event.' Dr. Crum says the patterns seen in the other patients is also seen here. Scans show air in the brain.
Crum describes what is seen on the brain scans. He says the bright areas of the scan indicate dead brain matter that a person can't recover from.
The next witness was Stephen Bryant, Regional Director with the Texas Dept. of Criminal Justice.
Bryant described the two sentences Davis is facing, life in prison without parole and the death penalty. Bryant says there are five levels of lockup in TDCJ facilities, G1 through G5. People found guilty of capital murder typically go to the G3 level.
Cells are typically 6x10. Davis would share a cell with another inmate. Inmates are allowed to have jobs, can visit the prison commissary for basic items.
G3 offenders are allowed to have visits from family and friends.
Copyright 2021 KLTV. All rights reserved.