Strike Team from Dallas assigned to West Texas to help with upcoming fire danger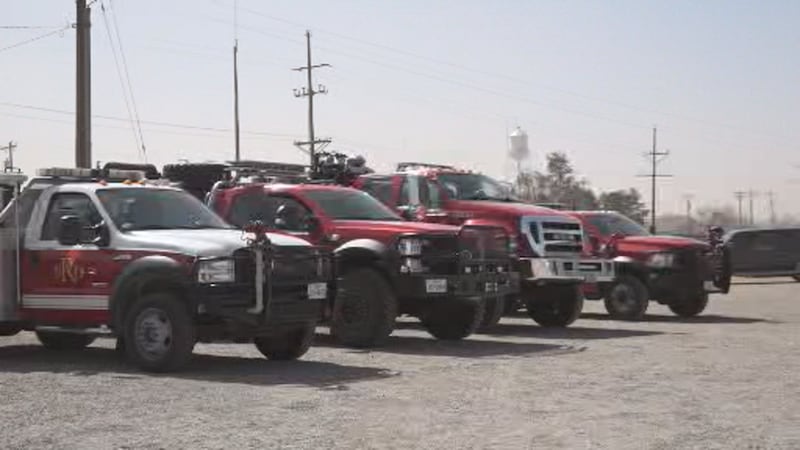 Updated: Mar. 10, 2021 at 6:12 PM CST
LUBBOCK, Texas (KCBD) - Drought conditions, strong winds and heat are creating the perfect storm for high fire danger on the South Plains.
Chief Tim Smith, with the West Carlisle Volunteer Fire Department, says the conditions look familiar.
"It's probably the worst drought, or is the worst drought, according to the experts, since 2011. 2011 was a huge fire season, so the conditions are ripe and ramping up to be just like it was in 2011," Smith said.
He says the department is revving up for a potentially dangerous fire season, starting now.
"We're always on standby, but we're in a heightened sense of awareness where we make sure our crews are in place and make sure our resources are good. Everything's tuned up and ready to go," Smith added.
Chris Graham, with the Texas A&M Forest Service, says they're ready to help volunteer fire departments at a moment's notice.
"The risk is very high, It is a very significant fire day as far as extreme temperatures, low RH's and high wind," Graham said.
The agency sent in a request to the state early, to get additional help for what's coming.
A strike team, complete with six additional engines from around the Dallas area, has been sent in to help.
"Locally we have four dozers staffed, three of those are here local and we brought in another D5 from East Texas," Graham said.
The strike team is set to stay in the area for two weeks.
Smith says the Lubbock County Commissioner's court has also given their motor grader operators notice that they could be dispatched to a wildfire.
Graham says you can help lower the danger.
"I wouldn't be welding today, when you're driving around dispose of your cigarette butts properly, make sure if you have a trailer, make sure your chains are wrapped up and not sparking," Graham said.
Graham says the wind can cause power lines to knock together, creating a spark.
He says if you see something, say something.
Smith urges you to yield to first responders if you encounter a wildfire.
"So, make sure that you slow down, don't drive through smoke, and just be very cautious. No outdoor burning today and please, please use common sense," Smith urged.
Smith says you can create a defensible fire space around your property, by mowing weeds, making sure your grass is trimmed close to your house and not have anything like firewood stacked outside.
Copyright 2021 KCBD. All rights reserved.