'She was my everything': Mother speaks about daughter's death at Fort Bliss, reveals daughter was sexually assaulted in military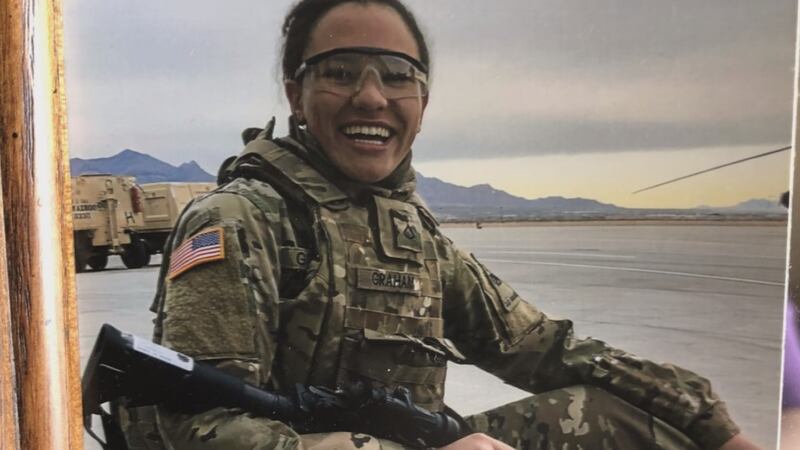 Updated: Jan. 5, 2021 at 9:22 AM CST
CHERRYVILLE, N.C. (WBTV) - The U.S. Army Criminal Investigation Command Special Agents are currently investigating the death of a 19-year-old soldier from Cherryville at Fort Bliss, A United States Army post in Texas.
According to a press release from the 1st Armored Division and Fort Bliss Public Affairs Office, Asia Graham was found unresponsive in her barracks room on December 31, and was pronounced deceased by Fort Bliss Department of Emergency Services personnel.
The release stated that Graham was a Human Resource Specialist who joined the U.S. Army in July of 2019. The release included remarks from Col. Geoffrey Whittenberg, 1st Armored Division Combat Aviation Brigade commander.
"The Iron Eagle team is deeply saddened by the loss of our friend and teammate. We send our deepest condolences and prayers to her friends and loved ones," said Whittenberg.
"Pfc. Graham was a valued member of the Iron Eagle team and did an outstanding job for this Battalion. Her loss is felt not just in our formations but across the Army. We lost a skilled human resource specialist who wanted nothing more than to serve her country and her battle buddies." Whittenberg added.
Lt. Col. Allie M. Payne, U.S. Army Public Affairs Officer, released an update Monday regarding the investigation into Graham's death, noting that investigators do not suspect foul play in the case. The update also noted that Graham's cause of death is pending the results of an autopsy.
WBTV spoke to Graham's mother, Nicole Graham, in an interview Monday afternoon. The grieving mother spoke fondly of her daughter, saying the two had a great relationship.
"She was just beautiful. She was just a beautiful soul, like her smile lit up the room," said Nicole Graham.
She said her daughter graduated from Burns High School in Cleveland County and planned to follow in her father's footsteps by joining the Army. Nicole Graham said her late husband, Tony Graham, served in the Army for 23 years before losing his battle with cancer.
"She was my everything, my heart, my soul, my everything. She was the best daughter a mother could ever wish for," explained Nicole Graham.
While it is unclear exactly what happened that led to Asia Graham's death, Nicole Graham said she was told that her daughter died of asphyxiation.
The mother said her daughter did encounter trouble in the Army, explaining that Asia was reportedly sexually assaulted by another soldier in 2019.
Payne issued the following statement regarding the sexual assault claims:
"Pfc. Asia Graham made an initial report of an alleged sexual assault on June 1, 2020. At the time, Pfc. Graham alleged a fellow Pfc. stationed at Fort Bliss sexually assaulted her in December of 2019. As with all allegations of sexual assault, Army Criminal Investigative Command investigated the matter. Charges were preferred against the alleged offender on October 22, 2020, which includes one specification of sexual assault pertaining to Pfc. Graham. Those charges are pending adjudication. Team Bliss is committed to ensuring the fair administration of military justice at all levels of command. Commanders at Fort Bliss remain fully committed to ensuring good order and discipline in their formations while ensuring that every accused Soldier enjoys a presumption of innocence until proven guilty."
Nicole Graham said she doesn't believe the Army responded well to her daughter's initial sexual assault claims.
"I was with the military life. I spoke very highly about the military, but in her situation, I think the leadership failed her," said the mother. "Do I think she was murdered? No. But do I think if it would have handled better from the beginning, I think she would have had the proper help before and she would have been OK."
The grieving mother said she is now working to make sure her daughter's body is returned to North Carolina and her alleged assailant is brought to justice.
"I'm trying to be strong but I just – I just want her back. I just really want her back," said Nicole Graham.
Copyright 2021 WBTV. All rights reserved.