Pastor of La. church charged, accused of disobeying governor's order
Police chief says decision was 'reckless and irresponsible'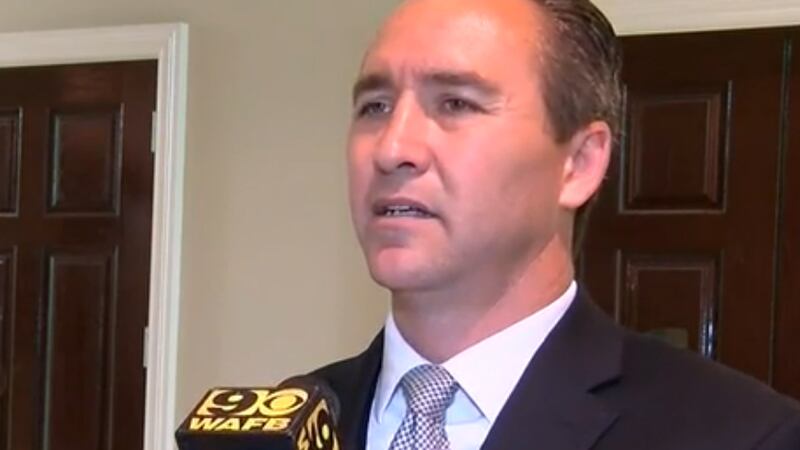 Updated: Apr. 1, 2020 at 4:48 AM CDT
CENTRAL, La. (WAFB) - The pastor of a church in Central, La. will be charged with six misdemeanor counts of disobeying the powers of the governor, prosecutors said Tuesday.
On Tuesday, March 31, Chief Roger Corcoran with Central Police Department issued Mark Anthony Spell, (Aka: Tony Spell), pastor of Life Tabernacle Church in Central, a misdemeanor summons for six counts of violating the governor's executive order (LA R.S. 29:724E) following his decision to host multiple large gatherings.
"Over the last two weeks I have worked with the sheriff, state police, the state fire marshal, Reverend Tony Perkins, and others to address this matter outside of legal action. Mr. Spell made his intentions to continue to violate the law clear," he said in a statement. "Instead of showing the strength and resilience of our community during this difficult time, Mr. Spell has chosen to embarrass us for his own self-promotion.
"Mr. Spell will have his day in court where he will be held responsible for his reckless and irresponsible decisions that endangered the health of his congregation and our community," Corcoran said. "This is not an issue over religious liberty, and it's not about politics. We are facing a public health crisis and expect our community's leaders to set a positive example and follow the law."
East Baton Rouge District Attorney Hillar Moore says one count was issued for each time Spell allegedly held a gathering at his church that exceeded the limit set by the governor.
Moore says the reason Pastor Spell was the only one charged is that he's the one who allegedly "encouraged others to violate" the law.
"Without his actions, the others would not come," Moore said. "Practically, it would be very difficult to charge that number of people even if we were not in the crisis we are in."
Spell has continually disobeyed orders by Governor John Bel Edwards that large groups should not gather during the ongoing coronavirus pandemic. He has held multiple church services with hundreds in attendance.
RELATED: Baton Rouge area pastor defies governor, welcomes large gathering into church service
Pastor Spell is accused of violating the governor's order that prohibits groups larger than ten from gathering in one place. According to state law, the governor is legally able to issue such orders, proclamations, and regulations in times of emergencies or disasters.
But Spell believes this order violates his right to religious freedom.
"This is a scary time for our nation. Our religious freedoms are under persecution and attack," Spell said. "This is an attack on all Christians across the world."
Chief Corocoran though, says that's just not the case.
"This is about a health issue. This has nothing to do with religion at all," the chief said. "It's about health. We don't want anyone to get sick and when you have that many people up in his congregation, up together and they're not practicing the six foot rule, it's not going to work."
Spell also questions why some businesses remain open while he is asked to stop holding services.
"If this is not about religion, then are the Waltons not being issued summons and arrested for keeping Walmart open?" he asked. "Nobody will tell us as God fearing Christians and Americans that we are non-essential in our society."
"I'm a person of faith," Governor Edwards said during a press conference. "I happen to believe very much in the awesome power of prayer. I also believe in science, and the scientists at the CDC say that the measures we are taking will minimize the spread."
"The law enforcement authorities in East Baton Rouge Parish have been extremely patient. There have been numerous conversations with the pastor and they have done everything that they could to try and get him to become compliant before they took this step today. Maybe this will be the step that gets his attentions and brings him into compliance," Edwards said in a press conference Tuesday.
Just hours after Pastor Spell was charged, hundreds flocked into Life Tabernacle for its 7:30 p.m. service Tuesday night. Before they could get in, their temperature was checked and a metal detector was used to make sure no one had any weapons on them.
Dozens of cars with people inside them lined Hooper Road in front of the church to watch and see if anyone would stop the pastor from holding services.
Three East Baton Rouge Parish Sheriff's Office units drove into the parking lot of the church before the service began.
"I have an 18-year-old that's trying to graduate high school, that she can't because of the social distancing that they keep telling us that they need to have, and I have to look at her while she's looking at the news and saying well he's [Spell] defying the laws," said Donna Butler, who came to the church to watch.
Moore says right now, the parish prison is not taking in anyone unless they are a violent offender due to the coronavirus outbreak.
"Surely no paper stands in the way of someone that wants to violate again, just like a protective order doesn't stop an abuser. Obviously, the governor's order has gone unheeded, and we'll see again, maybe tonight [Tuesday], whether he [Spell] complies with the governor's order or not, and we'll see whatever action has to be taken after tonight or next Sunday," said Moore.
Pastor Spell has vowed to continue holding services, even if he's eventually arrested.
"When you close every door in this city, we'll close this door and we'll go underground, but we are going to assemble and congregate as God fearing Christians," he said. "If they are to arrest me and take me out of this congregation, my assistant pastor will step in immediately, when he is arrested, the third man will step in."
Click here to report a typo.
Copyright 2020 WAFB. All rights reserved.