ETX Food Bank launches food distribution to fight hunger during the holidays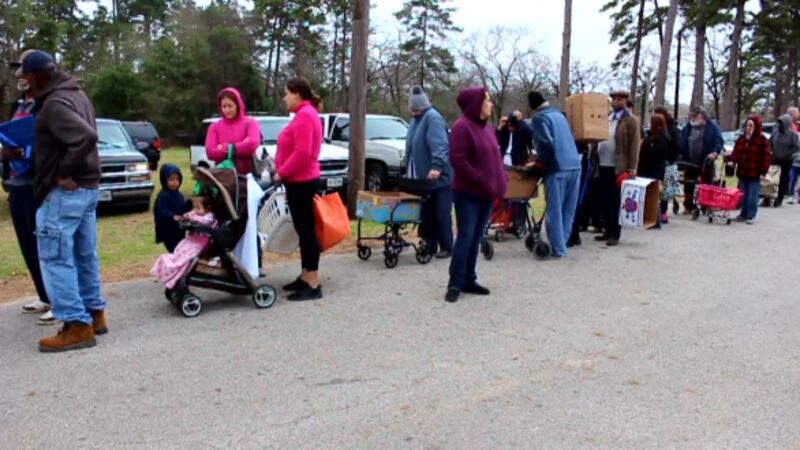 Updated: Dec. 19, 2019 at 12:58 PM CST
TYLER, Texas (KLTV) - Here in East Texas, 1 in every 4 kids and 1 in 5 adults don't know where their next meal is coming from.
That's why the East Texas Food Bank is providing a way for families to get some help before the holidays.
East Texans struggling with hunger do not go away during the holidays.
That's why the East Texas Food Bank is helping give back to families who are having a hard time affording food.
Tim Butler, Program Services Director, East Texas Food Bank tells KLTV '"let's say you have three kids in your family that really rely on the national school lunch program: they get breakfast and lunch at either free or at a reduced rate at school. They don't have that resource for three weeks."
Butler says the East Texas Food Bank will be providing hundreds of families in East Texas with holiday food assistance.
"I think the true heart of Christmas is helping your neighbor and I think this is what we're doing with this Christmas distribution," explains Butler.
This year, volunteers will be supplying families with complete essentials to make sure everyone has enough food to put on their table.
"Adding whole frozen chicken so they can put a holiday meal together, five different types of canned goods, in addition two different types of produce."
Organizers say volunteers are working hard to prepare for distribution day to see that mouths are fed.
"The volunteer center is doing so much work getting all the volunteers there and making sure we've got enough hands on deck to help 500-700 people," says Butler.
And butler believes every person deserves a meal. "Think about your happiest Christmas as you're a kid or an adult and help make that a reality for people who may not be experiencing that right now."
The event kicks off here at the East Texas Fairgrounds starting Friday Dec. 20 at 10 a.m. until 2 p.m.
Organizers say no documentation is required to receive the items, but households will be asked to fill out a short form.
If you signed up during the thanksgiving distribution, you will not need to sign up again.
Families are also being encouraged to bring grocery bags or boxes to collect their food in.
Organizers tells us they are expecting more 500 families, so they are encouraging people to arrive one hour early.
Copyright 2019 KLTV. All rights reserved.