Kilgore College, UT Tyler enter agreement on nursing degrees
Partnership aims to provide smooth transition from associate to bachelor degree programs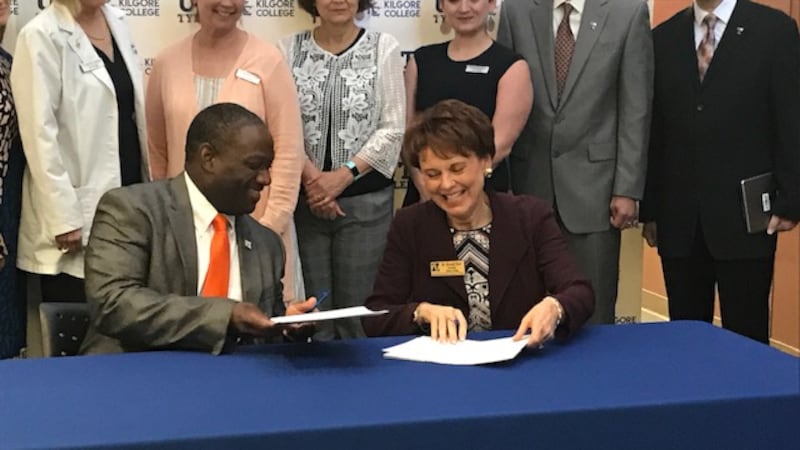 Updated: Jul. 19, 2019 at 4:19 PM CDT
LONGVIEW, Texas (KLTV) - East Texas students pursuing nursing degrees are getting some help through a new partnership.
UT Tyler and Kilgore College on Friday entered an agreement to improve pathways for students to earn nursing degrees.
Under the Memorandum of Understanding, undergraduate students admitted to the Kilgore College Associate Degree in Nursing program and planning to pursue a Bachelor of Science in Nursing will be offered admission to UT Tyler.
"This is the next step in deepening our partnership with UT Tyler. This is going to mean a lot of good things with regards to student success for our nursing students," said Kilgore College President Brenda Kays. "This is something that basically we receive from the Texas Higher Education Coordinating Board as a way that community colleges could work more closely together."
Nursing students going from KC to UT Tyler will still need to meet admission requirements. The agreement will be implemented this fall.
"As many of us know, the nursing shortage throughout East Texas, throughout all of Texas, is becoming more and more severe. So, two great institutions, the University of Texas at Tyler and Kilgore College, coming together to ensure the future of the nursing population is very important," said UT Tyler President Michael Tidwell.
Copyright 2019 KLTV. All rights reserved.