Texas Senate passes bill to increase access to high-speed internet in rural areas of state
Senate Bill 14 would be done through the help of Texas electric cooperatives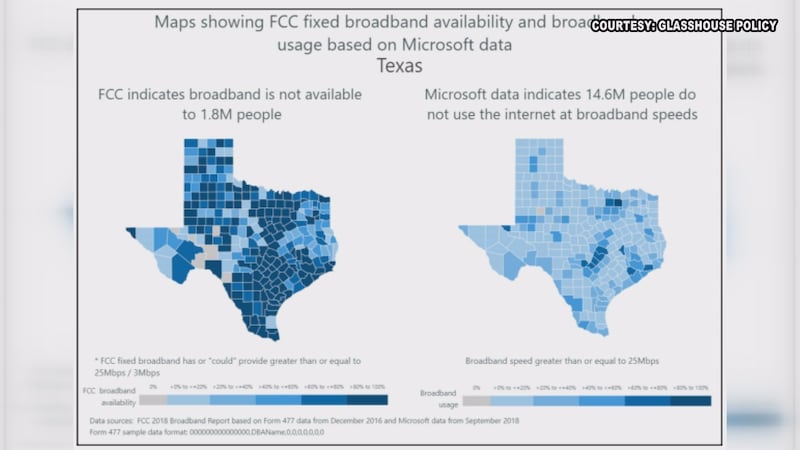 Updated: Apr. 4, 2019 at 3:00 PM CDT
AUSTIN, TX (KLTV) - Internet access in rural areas of Texas up until now have out of reach to students, professionals, and households. A Texas lawmaker's idea to remedy this situation was given life Thursday, when Senate Bill 14 was passed by the Texas Senate.
Senator Robert Nichols (R) of Jacksonville put forth SB 14 to ensure broadband infrastructure expands deeper into rural Texas. The bill passed the Texas Senate on Thursday.
Lt. Gov. Dan Patrick issued this statement Thursday following the passage of SB 14:
"I commend Sen. Nichols and the Texas Senate on the passage of Senate Bill 14, which will help expand broadband infrastructure deeper into rural Texas. Senate Bill 14 will make sure that all Texans have access to the internet. It's key to providing our students a better education and creating jobs by ensuring businesses a better connection with the rest of Texas, the country and the world."
Nichols filed the bill because there are large areas of rural Texas that do not have access to high-speed internet, or even cell phone coverage - many of them within the senator's district.
Nichols' plan would be done through the help of Texas electric cooperatives. According to SB 14, these co-ops are nonprofits that "more than 300,000 miles of distribution lines" that could be tapped into for broadband support. The idea is to use the existing electricity infrastructure to deploy broadband to the members they serve and meet their need for high speed internet.
Robert Nichols is the state senator for Senate District 3. First elected in 2006, Nichols represents 19 counties, including much of East Texas and part of Montgomery County.
RELATED: Lawmaker files bill to increase access to high-speed internet in rural areas of Texas
Copyright 2019 KLTV. All rights reserved.