Lawmaker files bill to increase access to high-speed internet in rural areas of Texas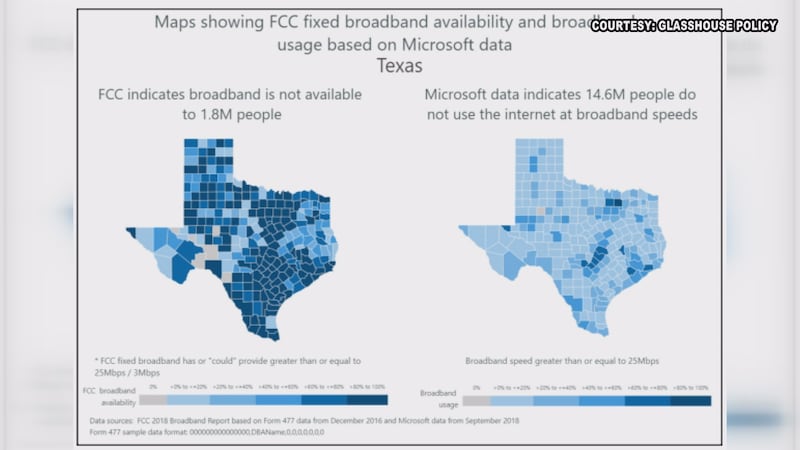 Updated: Feb. 28, 2019 at 11:02 AM CST
EAST TEXAS, TX (KTRE) - Beyond its used for online shopping and bringing your favorite shows, high-speed internet has become essential for everyday life. That inspired a Texas lawmaker to file a bill that would help increase access to broadband internet for rural areas in Texas.
There are large areas of rural Texas that do not have access to high-speed internet, or even cell phone coverage, many of them within State Senator Robert Nichols' district. Nichols filed Senate Bill 14, which would help increase access to broadband internet for rural areas in Texas.
"I'm getting a lot of support because all of the other plans for broadband that have been proposed use subsidies," said Nichols. "This one asks the state for nothing, it asks the federal government for nothing."
Nichols' proposed plan would be done through the help of Texas electric cooperatives. According to SB 14, these co-ops are nonprofits that "more than 300,000 miles of distribution lines" that could be tapped into for broadband support. The idea is to use the existing electricity infrastructure to deploy broadband to the members they serve and meet their need for high speed internet.
"They already have the authority to do broadband and that type of stuff, all the electric co-ops have it," said Nichols. "Big areas of rural are not served by anybody for high-speed internet. I'm talking 50 megabytes-per-second type quality that they have in urban areas. And, what this bill does, is about the easements and it allows them to use those poles and easements for broadband; it's real simple."
Ben Wei, a consultant with Ericsson, says a lack of adequate internet access doesn't just impact people wanting to visit Facebook, Instagram or Netflix. One example he gives is that the lack of high-speed internet -- or access to connectivity -- is costing the region jobs.
"Increasingly, every business is data driven, you need internet connectivity no matter what and in the end in the long run if DETCOG can't reverse the situation you do stand a chance to lose out on new business opportunities when businesses come in and invest in a region," Wei said.
"It's not longer an amenity or a luxury, it's a necessity" said DETCOG Executive Director Lonnie Hunt.
If SB 14 passed, it would not be a mandate, it would be optional for co-ops to offer to its members. Nichols said each co-op would lay out a presentation, similar to a board meeting or stockholders meeting, and the co-op's members would either agree to do it or not.
The bill is still in its early stages; Nichols said it has been filed and has been referred to the Business and Commerce Committee.
"Lieutenant Governor Patrick assigned it a high priority number, so it's what's called a low bill number," Nichols explained. "That tells members of the House and the Senate that this is important for the state and it's a priority of the lieutenant governor."
Robert Nichols is the state senator for Senate District 3. First elected in 2006, Nichols represents 19 counties, including much of East Texas and part of Montgomery County.
Copyright 2019 KTRE. All rights reserved.