Man police say robbed store, lit woman on fire, held on $4 million bond
Police Chief says this isn't Thompson's first run-in with law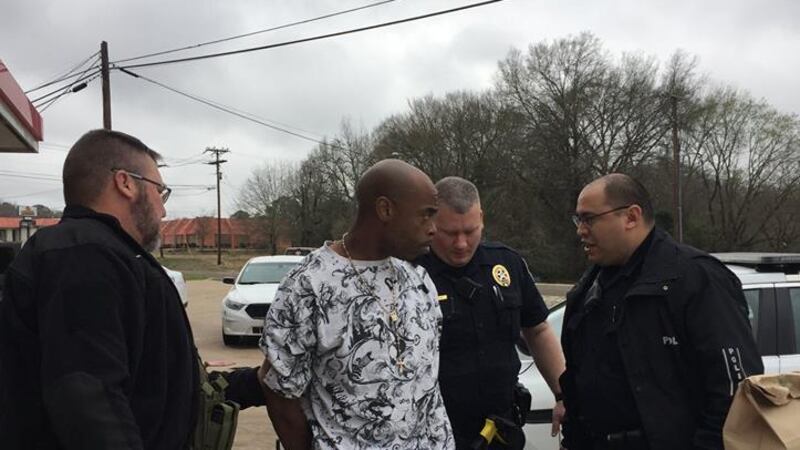 Updated: Feb. 21, 2019 at 11:20 PM CST
PALESTINE, TX (KLTV) - An East Texas man is behind bars after police say he robbed a convenience store and lit a woman on fire.
Robert Thompson, 40, is jailed for the attack Thursday at the Pit Stop in Palestine. He was arrested that evening on warrants for aggravated assault with a deadly weapon and aggravated robbery.
Officials say images caught on surveillance camera helped them track down Thompson.
"He was wearing a chain that looked like a rosary [during the robbery] and he was still wearing that," said Palestine Police Chief Andy Harvey. "Those little details help us catch these guys."
Harvey says the surveillance video appears to shows the suspect restraining two women, a cashier and a customer, with duct tape, then dousing them with lighter fluid and setting the customer on fire before fleeing.
"Thank God that the victim, although she did suffer some burns to her hair and head, she was able to put out the fire before it became life threatening," Harvey said.
RELATED: Police arrest armed robbery suspect accused of duct-taping clerk, setting customer on fire
Store owner Muhammad Khan says Thompson stole around $800, but he's just thankful both women are alive.
"All I can say is thank God that nobody got hurt that bad," Khan said. "Other things can be replaced."
The female victim was taken to a burn hospital in Dallas.
Officials began an intense search for Thompson and caught up with him hours later at another convenience store in Palestine.
"Officers found him at the JJ's Quick Stop on Palestine Avenue," says Harvey. "This individual could have hurt not only these individuals, but gone to other places and done the same. Who knows what was going on his mind."
Harvey says this isn't Thompson's first run in with the law. He has previous drug offenses on his record and has been in jail before.
Thompson is now in the Anderson County Jail on bonds totaling $4 million.
Khan says Thompson purchased the lighter fluid used in the attack at the Pit Stop before returning to the store five minutes later.
Police are also questioning a woman who was in the car with Thompson when he fled the store.
Copyright 2019 KLTV. All rights reserved.